This is a roundup ready for the Fall! I have "hand-picked" some of the best Apple Recipes I can find! Check out these awesome Apple recipes!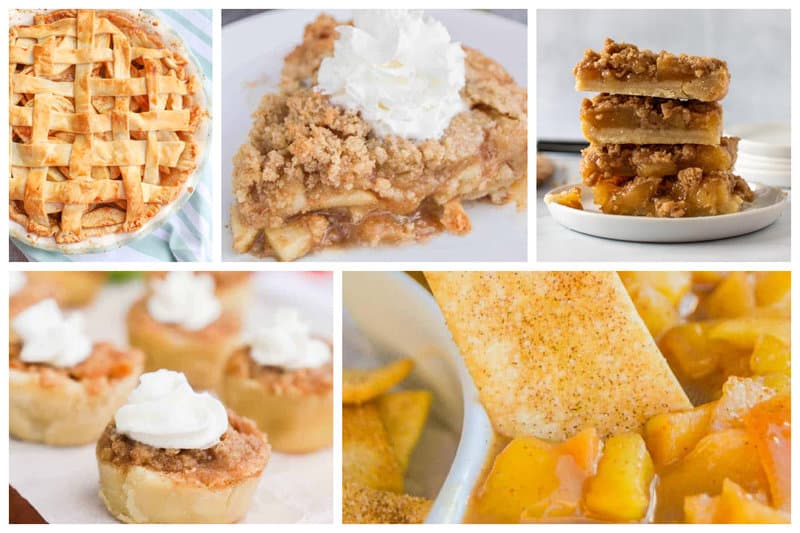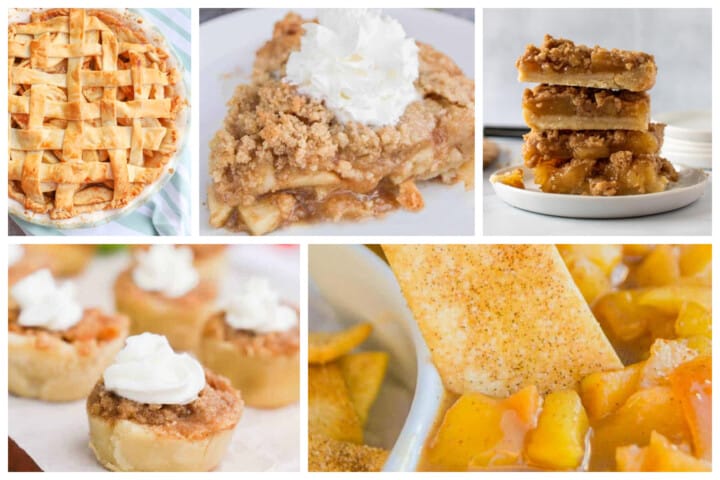 Apple Recipes:
Fall is not just for pumpkins. Apple picking is one of my favorite fall activities. We always end up coming home with more than we need and I love trying some new apple recipes. Try them all out and let me know what your favorite recipe was.
Best Apples to Bake with:
When it comes to apples you can use your favorite type but I wanted to share which apples are best for baking.
Granny Smith: These are my favorite to use when baking. I use them when making pies, crisps, and tarts.
Pink Lady: These apples also work great for pies and work great in cakes, breads, and bars.
Honey Crisp: I use these apples in pies, tarts, and bars.
Red Delicious: These apples are a little softer and I like to use them for sauces, cakes, and butter.
Golden Delicious: These apples are also little softer and best in sauces, cakes, and butter.
When shopping you want to look for apples that have no bruises or holes. The best way to tell if an apple is fresh, is the smell! Fresh ripe apples will have a strong and delicious apple aroma.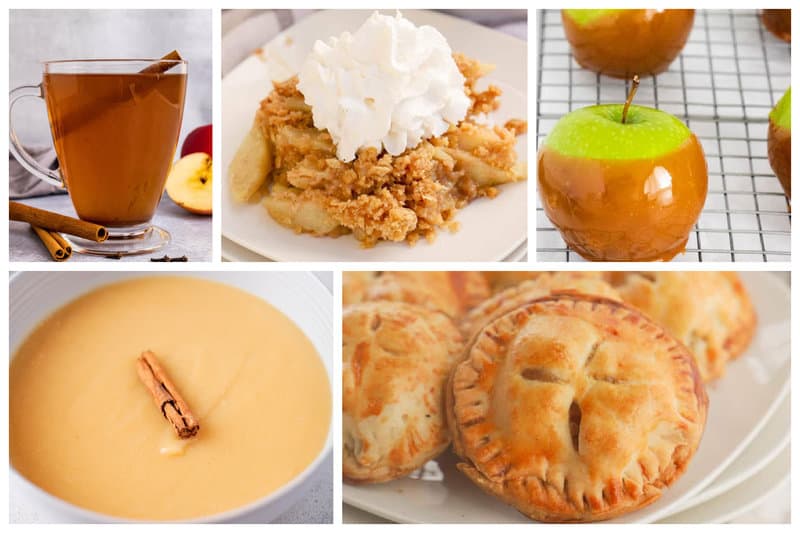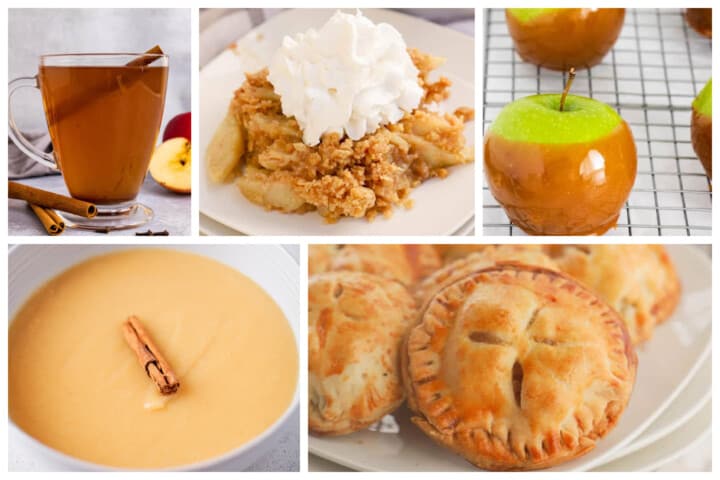 Slow Cooker Apple Cider - Fill your house with the best Fall scent ever while creating this classic hot drink!
Easy Apple Crisp - Enjoy a layer of sweet apple pie filling topped with a brown sugar crumble! You've got to try it with a scoop of vanilla ice cream or whipped cream!
Caramel Apples - Learn how to make these fun and easy caramel apples! You can even coat the caramel with delicious toppings as well.
Apple Pie Cookies - You'll get all the classic delicious apple pie taste in bite sized form! Top with whipped cream and you're good to go!
Slow Cooker Cinnamon Applesauce - You'll love this sweet treat with sliced apples, cinnamon, and brown sugar. Let the slow cooker do the work for you!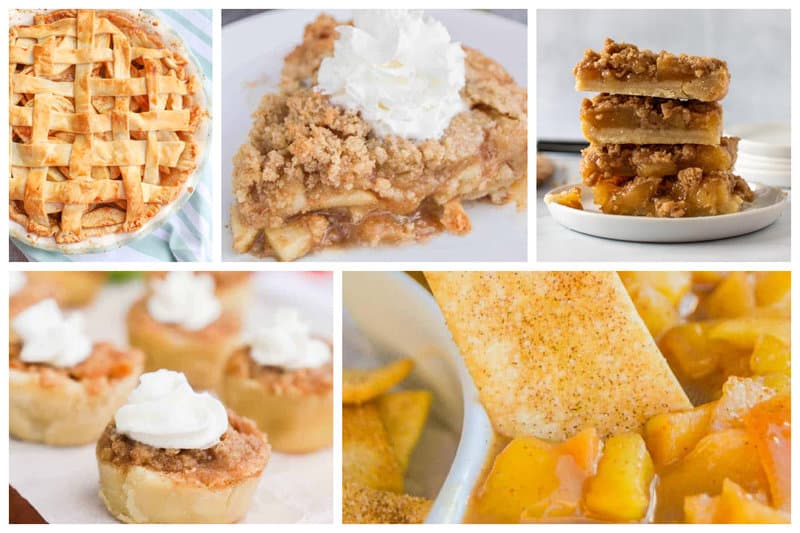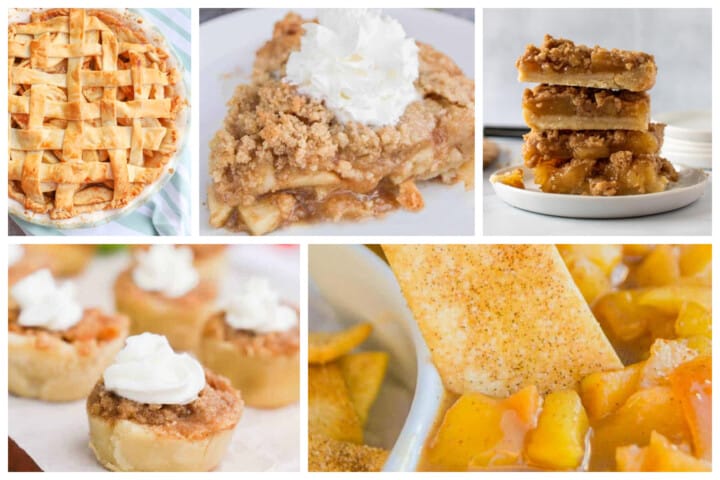 Apple Pie Dip - Try this tasty Apple Pie Dip with some homemade cinnamon and sugar strips for dipping!
Dutch Apple Pie - Everyone loves this dessert; it has amazing reviews and it's one of my personal favorites! You can't go wrong with warm apples coated in brown sugar with a crumble topping!
Dutch Apple Pie Bars - Just like the classic Dutch Apple Pie, but in a bar form! Simple to make and easy to eat!
Mini Muffin Tin Apple Pies - These adorable mini apple pies are a great way to serve each guest their own personal pie without the hassle of slicing and serving!
Blue Ribbon Apple Pie - There's just something about a classic apple pie that hits the spot, especially when it looks this good!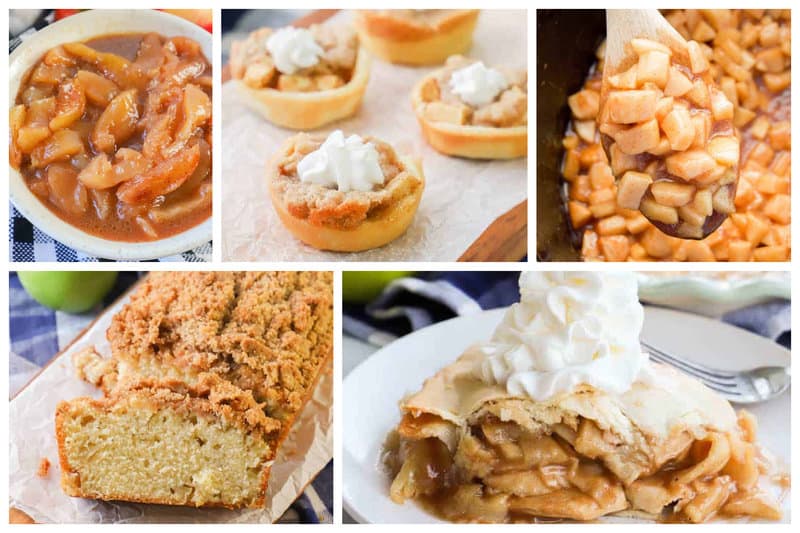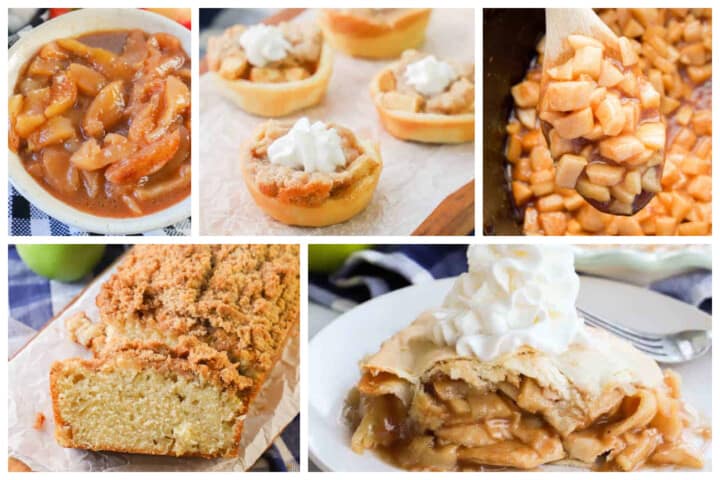 Slow Cooker Apple Pie Filling - Use this filling in your pies or eat it as is with some whipped cream!
Mini Dutch Apple Pie - Now you can enjoy the best pie in a bite sized form! The brown sugar crumble tastes incredible with the apple pie filling.
Slow Cooker Fried Apples - Let the slow cooker make this yummy cinnamon treat for you! Your house will smell amazing too!
Dutch Apple Pie Bread - Create a tasty dessert or sweet breakfast with this apple-filled bread topped with a buttery crumble.
Classic Apple Pie - This always comes out for Thanksgiving, you just can't go wrong with a classic!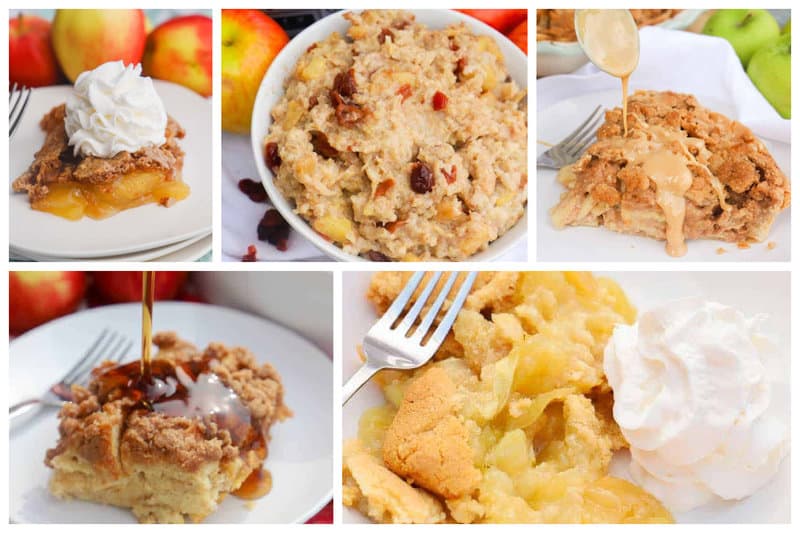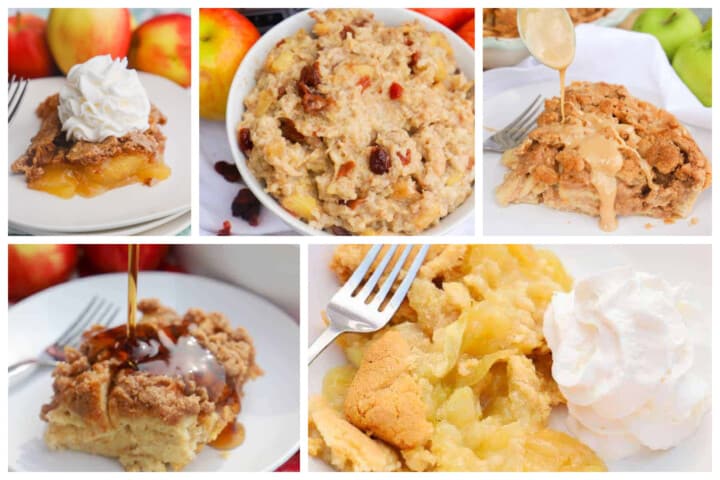 Slow Cooker Cranberry Apple Oatmeal - Nothing beats a healthy breakfast that the kids even love! 
Caramel Dutch Apple Pie - This tasty apple pie is baked with caramel and topped off with a caramel drizzle!
Apple Cinnamon French Toast Casserole - It's like a perfect crisp Fall morning in the form of a casserole!
Apple Cobbler - This easy to make dessert will want you going back for more! Just start with an apple base then sprinkle on the cobbler topping.
Apple Spice Dump Cake - With 3 simple ingredients you'll have a tasty Fall dessert that looks too good to eat!
How Many Apples do I need?
When baking with apples is great to now about how many you will need.
To get 2 cups of chopped or sliced apples you will need 3 medium sized apples.
Since apples can vary in size it's good to know that 2 large apples can be replaced by 3 medium apples or 4 small apples.
How to Store Apples:
If you do end up buying to many apples, then you can store them for snacking or more baking.
Whole apples: We store our whole apples in the fridge in a draw that is usually around 35-40 degrees F and they stay good for 2 weeks.
Sliced apples: If you already sliced your apples, you could store them in an airtight container for 3-4 days in the fridge.
They can go brown easily and you can try and prevent that with these steps.
Salt water: Soak sliced apples in salt water (½ teaspoon salt to 2 cups of water) for 2-3 minutes. Then rinse them and store.
Lemon juice: Toss sliced apples in lemon juice. This will prevent browning for a few hours.
Show me what you are making, use hashtag #TDOARH

Here is one of my all-time favorite apples recipes for you to try first!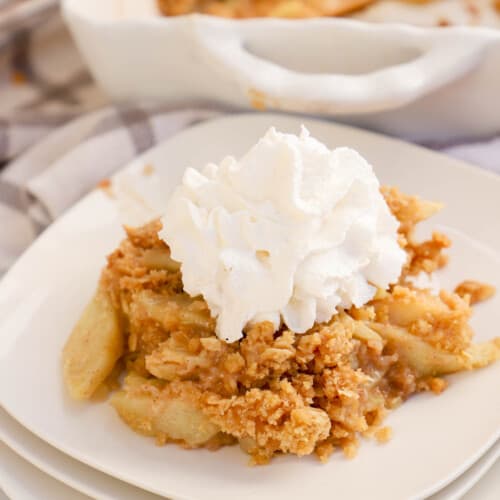 Easy Apple Crisp
This Easy Apple Crisp has a thick and sweet layer of apple filling that's topped with brown sugar and oat crumble. Baked in the oven and served with cold vanilla ice cream on top.
Ingredients
Apple Filling:
2

pounds

Granny Smith apples

3

tablespoons

Butter

2

tablespoons

Flour

3

tablespoons

Apple juice

(no sugar added)

1

tablespoon

Lemon juice

½

teaspoon

Vanilla extract

¼

cup

Brown sugar

½

teaspoon

Cinnamon
Crumble Topping:
½

cup

Flour

½

cup

Old fashion oats

½

cup

Brown sugar

½

teaspoon

Cornstarch

¼

teaspoon

Cinnamon

¼

teaspoon

Salt

⅓

cup

Butter

(cold and cubed)
Instructions
Preheat oven to 350 degrees. Prepare a small casserole dish with non stick cooking spray or butter. 

Start by peeling, coring, and slicing your thinly slicing your apples. Place them in a large mixing bowl. Melt butter and pour over apples. Toss until apples are coated.

Add remaining apple filling ingredients (flour, apple juice, lemon juice, vanilla extract, brown sugar, cinnamon). Toss again until apples are coated. Place all apples in prepared casserole dish.

For your topping add flour, oats, brown sugar, cornstarch, cinnamon, and salt to a mixing bowl. Whisk together until well combined. Add butter and use clean hand to pinch and press until you have a crumbly texture. Add this topping to your casserole dish.

Bake for 30-35 minutes or until topping is golden brown and apples are tender. Let rest for 10-15 minutes then serve. 
Notes
Do I have to peel my apples?
I've made this recipe both ways with peeled and unpeeled apples. You can do it however you like. Unpeeled apples do add an additional texture to the apple crisp cause the peels do not get as soft as the apples will during baking. One thing to make sure you do is if you are not going to peel your apples, wash them well the natural wax on the fruit is cleaned off. This will make sure the peel also coats well for the filling.
Take your Apple Crisp to another level by adding these to it:
One thing I sometimes will add to my apple crisp topping is finely chopped pecans or walnuts. Adding nuts to the topping really brings an additional excellent flavor to this dessert.
Right after it is baked and out of the oven, drizzle some caramel sauce over the top to add a nice additional sweetness to the Apple Crisp.
While I used whipped cream for this recipe, a scoop of vanilla ice cream is amazing on top.
Nutrition
Calories:
301
kcal
Carbohydrates:
47
g
Protein:
2
g
Fat:
12
g
Saturated Fat:
7
g
Cholesterol:
31
mg
Sodium:
185
mg
Potassium:
181
mg
Fiber:
3
g
Sugar:
32
g
Vitamin A:
430
IU
Vitamin C:
5.9
mg
Calcium:
30
mg
Iron:
1
mg