Christmas and sweets go hand in hand. From cupcakes to pies here are some of the best Christmas Dessert Recipes.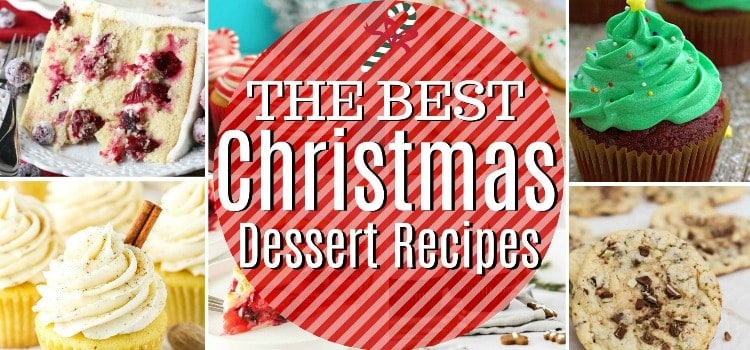 Festive Desserts
The desserts are just as important as all the food when it comes to Christmas.
I wanted to gather and share with you some of my favorite recipes to serve for dessert on the big day or treats for Christmas parties. 
Pies:
From apple to cranberry here are a few of the best pie recipes for your celebration.

White Christmas Pie - A Family Feast
Cranberry Christmas Pie - Barefeet in the Kitchen

Raspberry Cream Pie - Life in the Lofthouse
Eclair Pie - Adventures of a DIY Mom
Mixed Berry Pie - Just so Tasty
Cakes and Cupcakes:
We love celebrating with a cake for the birth of Jesus! Here are a few of my favorites to make.

Sparkling Cranberry White Chocolate Cake - Life Love and Sugar
Chocolate Peppermint Cake - Beyond Frosting
Christmas Tree Frosted Cupcakes - This Silly Girl's Kitchen
Gingerbread Cupcakes - Butternut Bakery

Christmas Tree Cake - Preppy Kitchen
Chocolate Orange Bundt Cake - Lord Bryon's Kitchen
Eggnog Cupcakes - Life Love and Sugar
Peppermint White Chocolate Cupcake - Cents-able Momma
Melting Snowman Cupcakes - Sarah's Bake Studio
Cookies:
Cookies are the classic Christmas treat. These are some of my favorites we love making each season.

Yellow Cake Batter Christmas Cookies
Chocolate White Chocolate Chip Cookies

Chocolate Christmas Sprinkle Cookies
Other Treats:
I wanted to throw in a few more favorites. We love having these with a Christmas movie or bringing them to a party.

Here are a few more of my favorite Christmas post:
If you tried any of my recipes I would love to hear from you, leave me a comment below.
You can also connect with me on FACEBOOK, INSTAGRAM, and PINTEREST. I would love for you to follow along and discover more amazing recipes.
Show me what you are making, use hashtag #TDOARH