These Christmas Morning Breakfast Recipes are perfect for the big day. From egg casseroles to sweet monkey bread these recipes are all delicious.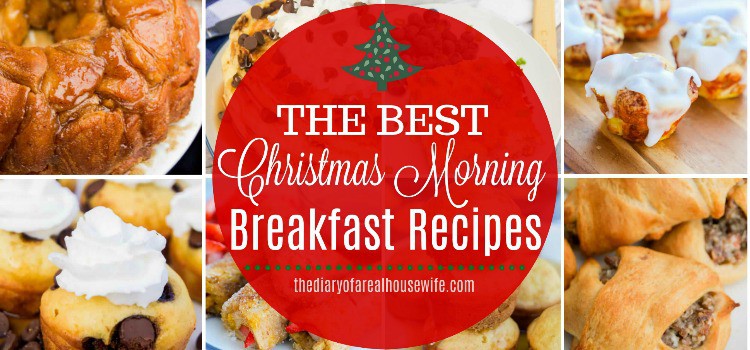 Christmas Morning
Christmas morning breakfast is just as important as the dinner.
You know you have to make it really good if you're going to get the kids to sit down and eat before open presents.
Growing up my mom always put together a huge fruit tray and made a casserole.
I think i've made cinnamon rolls every year that I've been married. Today I've rounded-up some awesome recipes for you to pick from.
Casseroles Recipes:

Cheesy Potato Breakfast Casserole
Cream Cheese Sausage Casserole
Make-Ahead Low Carb Breakfast Casserole

Sausage Hash Brown Breakfast Casserole
Cracker Barrel Hashbrown Casserole
Cinnamon Roll Breakfast Casserole
Sweet Recipes:

Strawberry Stuffed French Toast Roll-Ups

Cream Cheese French Toast Rol-Ups
Blueberry Cream Cheese French Toast Roll-Ups
My Favorite Recipes:

Cream Cheese Sausage Crescents

Crescent Roll Candy Can Pastry - 3 Yummy Tummies
Overnight Pecan Pie French Toast - Baker by Nature
Snowman Pancakes - Lil' Luna
Bread and Muffins:

Double Chocolate Oatmeal Muffins
Peanut Butter Chocolate Chip Muffins
Chocolate Chip Pancake Mini Muffins

Chocolate Chip Oatmeal Muffins
What will you make Christmas morning? Do you eat breakfast before or after gifts?
If you tried any of my recipes I would love to hear from you, leave me a comment below.
You can also connect with me on FACEBOOK, INSTAGRAM, and PINTEREST. I would love for you to follow along and discover more amazing recipes.
Show me what you are making, use hashtag #TDOARH