The Disney Food and Wine Festival is fun for the entire family. Food, dance parties, and characters spots everyone in the family will have at Epcot while enjoying food from around the world.

Plan your trip ahead of time:
When it comes to Disney we all know it's important to plan ahead of time. Reservations and fast passes are essential, but when heading to the Disney Food and Wine Festival knowing these tips in Epcot will help plan what you will be eating. With tons of options and lots of lines it's great to have a plan on what places you want to stop in for, and what you don't care to pass. We spent 3 days in Epcot eating our way through the festival, and still was not able to try everything. While you only get a small portion it adds up quickly so after just a few stops everyone was pretty full.
When you arrive each station will have a menu on the street to read so you know what you will be waiting in line for (see above). These menu boards can get pretty crowded so I love using the My Disney Experience App to see what each station has. You can even do it now from home, and write down each place you want to stop at and what places you may end up skipping. Once you download the app you can go to Epcot then change your category from wait time (the default) to Dining. You will see both the Restaurants that are always in Epcot and the Food and Wine booths. When you see "Marketplace" then you know it's a booth, and then it will tell you the location. Once you click on your selection you can click view menu.
Being prepared will also help you stay in budget. While this food is cheaper than a meal at a restaurant you will want to try several things. So keep your budget in mind while planning.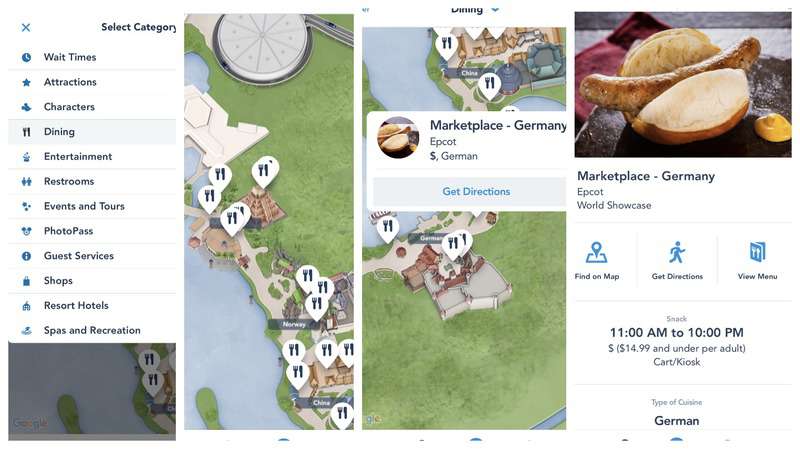 Let the kids pick some food:
Trying new foods isn't as fun to the kids as it is to us. My boys love the rides, and could skip out on the snacks. When you plan make sure to add some of their favorites to the list. Disney Food and Wine Festival has lots of adventurous foods, but also a lot of classic that the kids will enjoy also. Here are a few of our favorites to keep an eye out for.
Loaded Mac 'n' Cheese (Marketplace - Active Eats)
Canadian Cheddar Cheese and Bacon Soup with Pretzel Roll (Marketplace - Canada)
"Schinkennudeln" Pasta with ham, onions, and cheese (Marketplace - Germany)
Roast Bratwurst in a Petzen Roll (Marketplace - Germany)
Loaded Greek Nachos (Marketplace - Greece)
Cannoli (Marketplace - Italy)
Warm Irish Cheddar Soup with Irish  Brown Bread - pictured below (Marketplace - Ireland)
Berry or Chocolate Belgian Waffle - pictured below ( (Marketplace - Belgium)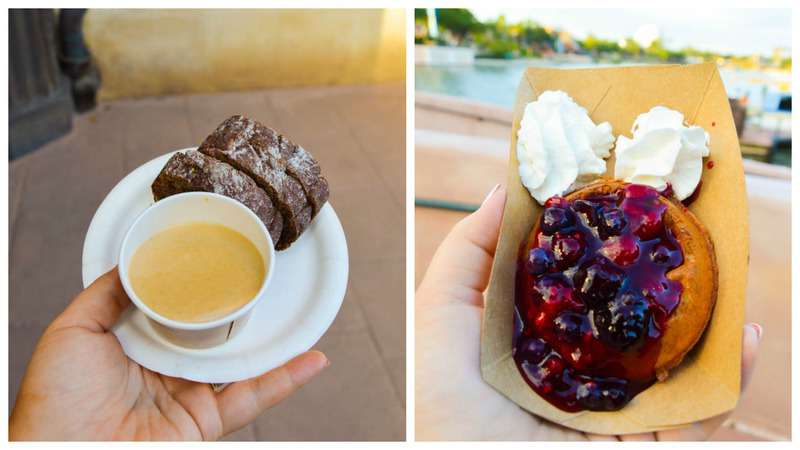 Don't worry though if your kids wouldn't want anything off the menu. Epcot is still full of lots of fun food for the kids that are not part of the Food and Wine Festival. You can still get all your favorites. No matter what they have to offer my kids will never pass up a Mickey Shaped Ice Cream!
Mickey Waffle  (The Land Cart) - Clementines and Vegetable Plate ( The Land Cart) - Mickey Ice Cream Bar (Found all over the park in ice cream and drink stations)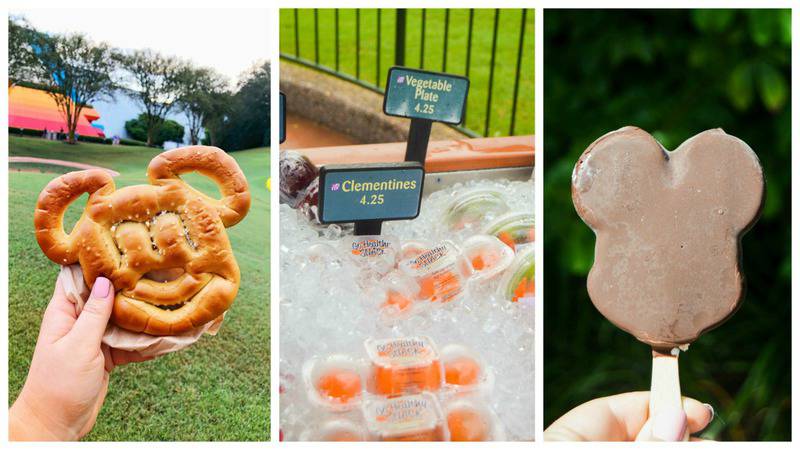 Budget
Enjoy some music and dancing:
Take a time out and enjoy some music. During the Disney Food and Wine Festival Tips you can enjoy live concerts at the Eat to the Beat Concert Series. You find the entire list of bands on Disney 2018 Schedule.  Grab a snack and rest your feet while you enjoy some music.
Not a fan of the band? Don't miss out on the Dance Party! On Friday and Saturday evenings you can enjoy the Disney Du Jour Dance Party! With a DJ and even characters to dance with! You could find Remy and Emile, Nick Wilde and Judy Hopps, Lilo and Stitch, Chip and Dale, or even Clarabelle Cow and Horace Horsecollar. While there is no schedule for who will be there dancing the night away with any of these characters is something I think your kids will love.
Take a break in the air conditioning:
Even in the fall it can still be pretty hot in Orlando. When you need a break from the heat try stopping at the festival center located next to Mission: SPACE. Inside you will find more food and drinks along with great shopping! One of my favorite spots inside is the Ghirardelli chocolate station! Also any of the seminars or demonstrations by famous chefs will be located here.
If you are traveling with small children make sure to check out the Baby Care Center. Inside you will find a nursing room with rocking chairs, changing room, feeding area with highchairs, a kitchen with microwave, oven, and a  sink, along with a main room with a television, table, chairs, and sofa. This also makes the perfect nap spot for your toddler.
If you are in need the shop in the baby center does offer items like formula, baby food, juice, diapers, sunscreen, and wipes. These baby care centers are not just in Epcot. You will find one at each park and they can be located on your map in the My Disney Experience App.
Get a festival passport:
Grab a Disney Food and Wine Festival Festival Passport and collect stamps as you travel to the different booths around the world. The passports are free so get one for each kid and let them have fun collecting the stickers while you travel around Epcot. You can find these at any of the Disney Food and Wine Festival shops or inside the festival center. Inside you will also find menus for the different marketplaces along with schedules for the concerts and seminars.
You can also pick up and play the Remy's Ratatouille Hide & Squeak scavenger hunt. These maps and stickers will cost you $6.99 each. If you don't want to pay for it just have fun looking for him in each location. You can also do a quick Google search for the 2018 map if you want to check it out before you buy it. We had lots of fun trying to find him in each country without the map.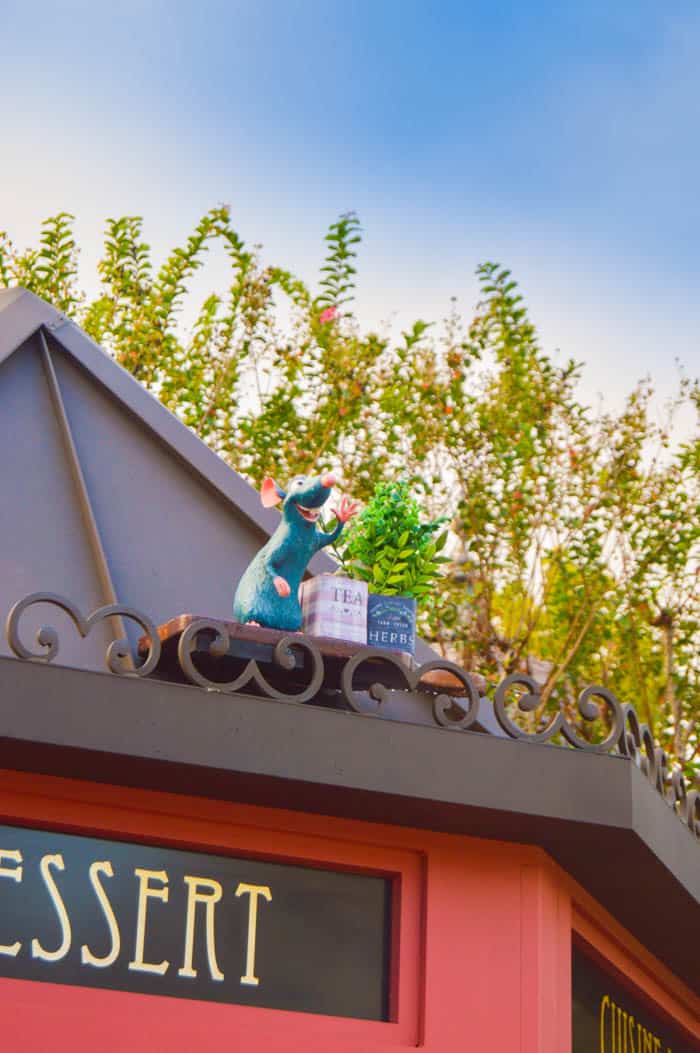 Ride the rides and meet your favorite characters:
Of course all the same rides and characters that you love at Epcot are still there to enjoy during the festival. As you plan your menu check out what other attractions are around the area to do. Don't forget to click on attractions in your My Disney Experience App to see where you can start the Disney Phineas and Ferb Showcase Adventure and check out the Kidcot Fun Stops in each Country. Once you are done with that switch over to Entertainment on the app to get times for shows like Jeweled Dragon Acrobats in China or to hear the British Revolution band on the streets in the United Kingdom.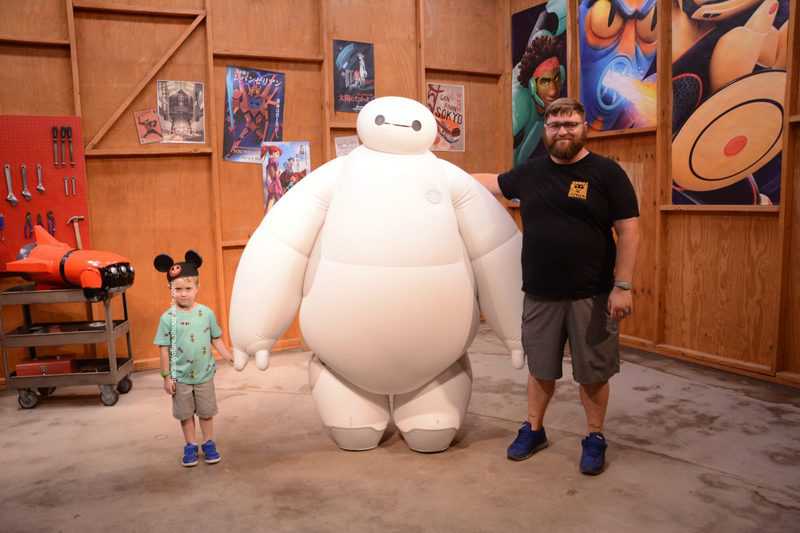 Start early in the day:
While the food and wine marketplaces will not be open until 11am I still like to arrive at open. We have time to enjoy a lot of the rides and stores before the world showcase is opened up. Once it's open you can enjoy all the yummy food they have. The Disney Food and Wine Festival can get pretty packed at night, and the perfect place to party. When traveling with the kids we love to start early, and head out before the crowd comes in.
Overall I think the Disney Food and Wine Festival can be great fun for the entire family, and personally my favorite event Disney has! Leave a comment with your tips on taking kids and what you will be trying from the menu.

Love this recipe? Pin it!!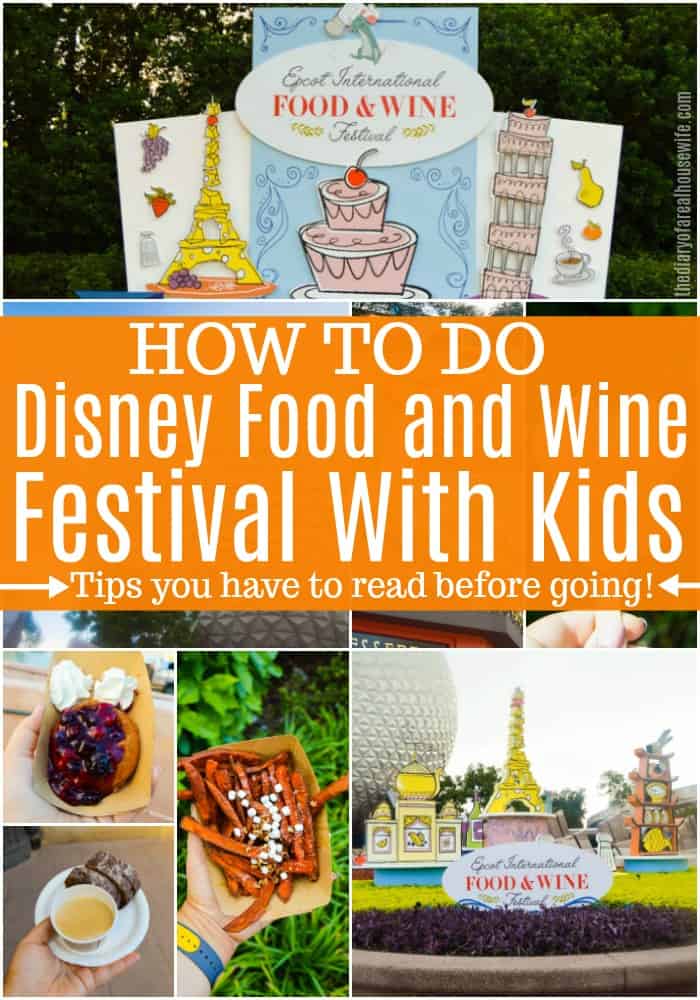 SaveSaveSaveSave
SaveSave
SaveSave
SaveSave
SaveSave
SaveSave
SaveSave
SaveSave
SaveSave
SaveSave