If you're like me, you've got loads of craft scraps sitting around just waiting to be used. Throwing away perfectly good fabric scraps seems like such a waste. But they just sit there, taking space until you find the right project. A project just like this fabric scrap sensory tub for toddlers.
Fabric Tub Sensory Tub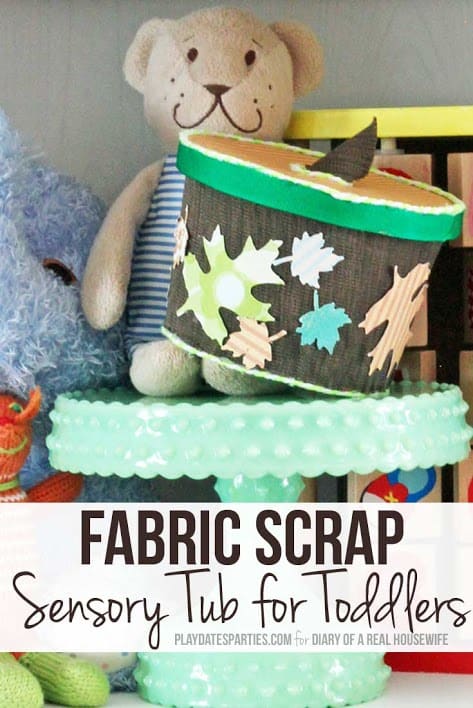 Hello friends! My name is Leslie, and I blog over at From Play Dates to Parties. I love to share recipes, party crafts, holiday inspiration, and stories about my family of 5. I was so excited when Jennie invited me to guest post for her today and hope that you will find this tutorial helpful.
A couple weeks ago my husband came down with a head cold, which he quickly passed along to me. One day, my one-year-old saw me blow my nose and started begging for a tissue of his own. He put the tissue against his face and immediately blew a raspberry right into the tissue. It was so perfectly unscripted I couldn't help laughing. Of course, this meant that every time he saw me with a tissue, he wanted to repeat this little performance.
So instead of wasting tissue after tissue, I figured he should have his own little fake 'tissue' box.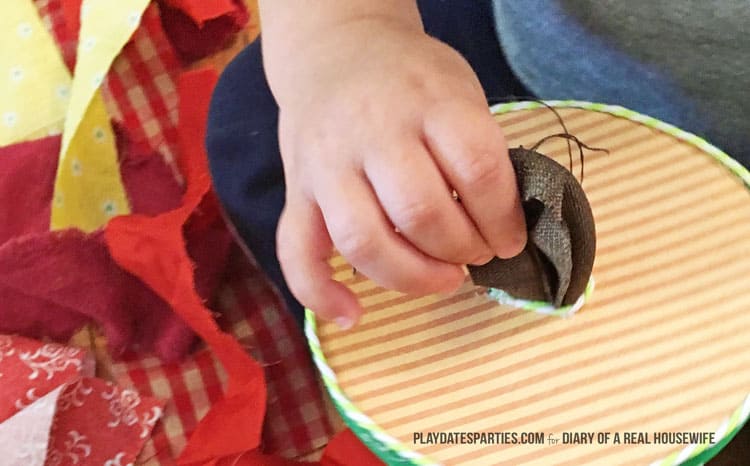 It only took about an hour to make, using a leftover food tub, scrap paper, fabric scraps, twine and ribbon. I even made use of leaf punches that I bought for our toddler-friendly Halloween Harvest party.
But let me say, this little toy is more than just a fake tissue box. It's really a miniature scrap fabric sensory tub. The small hole at the top helps to develop fine motor skills while the continuous stream of fabric scraps encourages curiosity. The possibilities for learning and play are almost endless.
More ways to play with your fabric scrap sensory tub:
Talk about the shapes and colors on the outside of the tub.
Play guessing games with the fabric. Try to guess and identify which color will come next.
Have your toddler put the fabric back into the bin. Don't worry if it's not rolled up perfectly.
Use the tub as a drum. See if it makes different noises on the top, sides, and bottom.
Roll the tub around the room for your baby to chase.
Let baby talk into the empty tub and see how it magnifies his or her voice.
Fill the tub with noisy objects like a few small blocks or large coins and shake it (make sure they aren't choking hazards that could slip through the hole on top).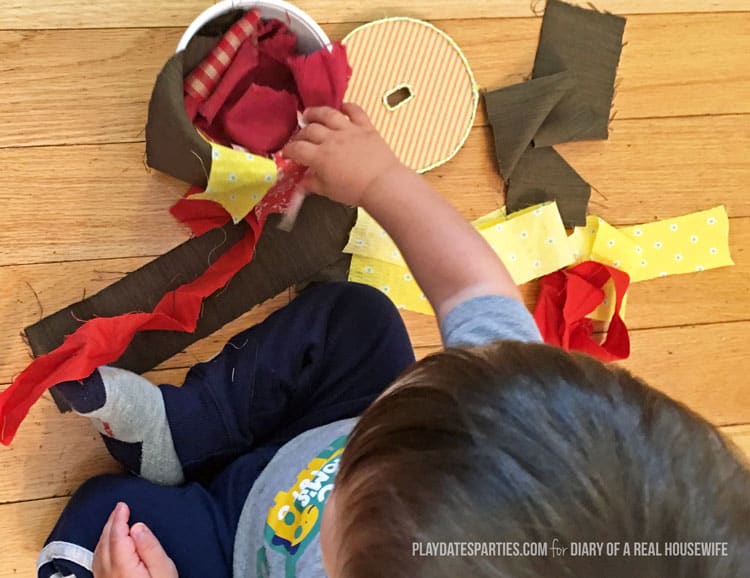 Even my 4 and 7-year-olds enjoy playing with the tub. The seven-year-old loves to roll up the fabric for me, and the four-year-old wants to pull out the fabric just as much as my littlest one. It was almost as much fun for them as the felt Easter egg craft we made last spring.
It's the perfect size for travel, too. We brought the tub with us as entertainment during a doctor's visit, and it was the perfect distraction while we were waiting. I can't wait to test it out on long distance travel over the holidays, too!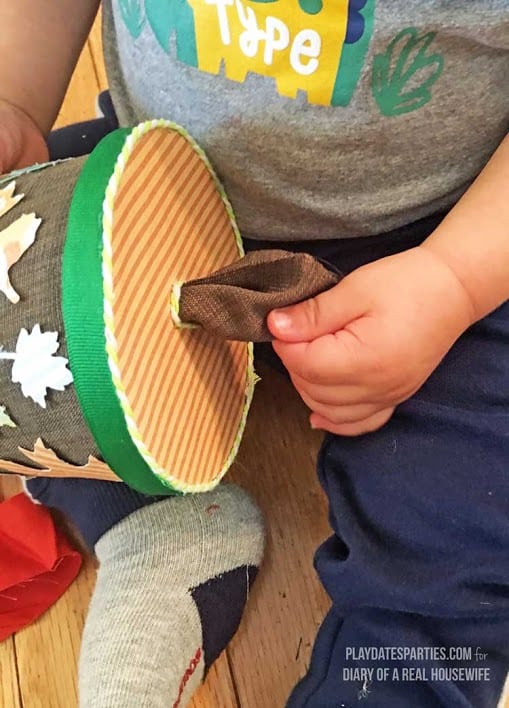 So what are you waiting for? Stop letting those craft scraps sit around unused. Find out how to make your own fabric scrap sensory tub by watching the video below. You'll even find out how to roll your fabric scraps so they keep popping up just like a tissue box.
Thanks again to Jennie for letting me take over her space today. I hope to be back again soon with more family-friendly craft activities!
What's your favorite way to use up craft scraps?