Ready to put together those Easter baskets? I really don't mind my kids to have some candy and I will be putting it in their basket this year but with a limit. We don't need enough candy to last us until Halloween.
My boys are still little and considered toddler and I found some awesome ideas for them. I want to share with you over 101 awesome non-candy Easter Basket ideas for your toddler or baby. Boy and girl ideas included!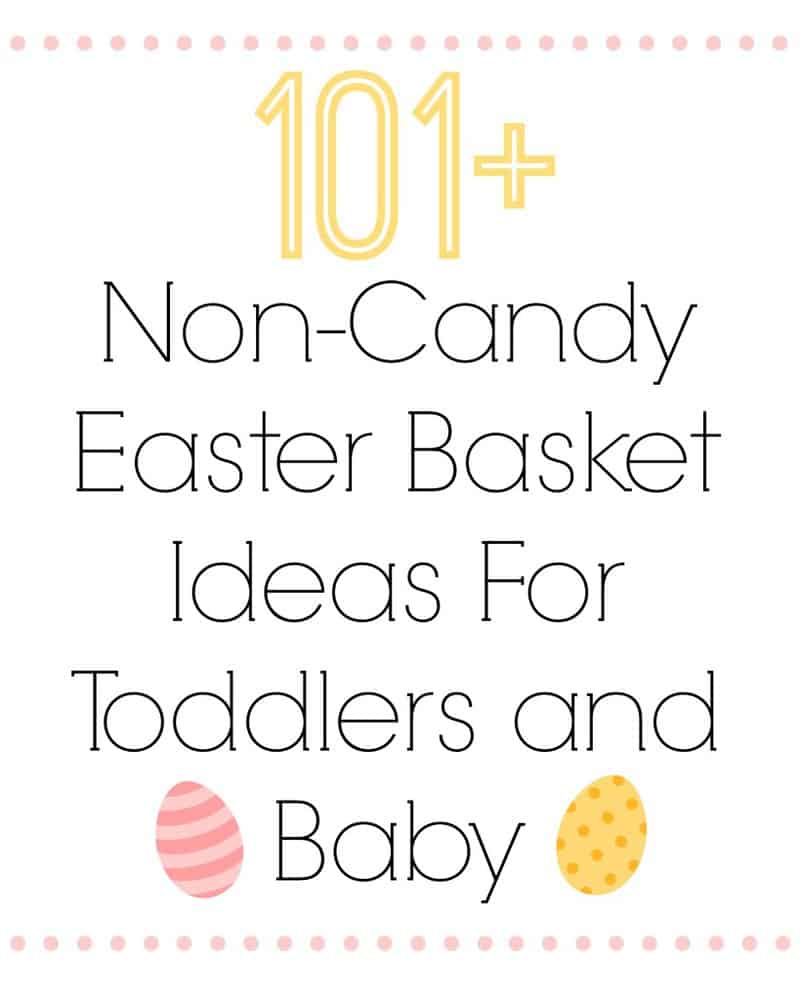 What do you put in your kids Easter basket? Do you have a tradition gift they receive every Easter? Do you skip the candy altogether or put in just a few pieces?
I hope this list inspires you this Easter!
Clothing/Accessories: 
– Easter outfit for the church (we do this every year!)
– Sunglasses
– Socks
– Hair Bow Clips
– Bow Tie
-Build your own birdhouse
– Summer hat
– Dress up clothes
– Bathing suit (<– can you tell I'm ready for summer!)
– Swimming shoes
– Pj's
– Onsies
– Raincoat
– Umbrella (get ready for spring rain!)
– Bunny ears headband
– Shoes (growing up I always got a new pair of shoes for Easter!)
– Tights
Crafts: 
– Coloring Books
-Stickers
– Design Your Own Bracelets
– Crayons
-Stamps and stamping pad
– Paint and brushes
– Wind Chime Kit
– Washable Markers
– Painting Smock
-Art Set
– Chalk (I found cute egg shaped side walk chalk for the boys this year)
– Glue sticks
– Paint by numbers paint kit
-Paper Airplanes Kit
– Glitter glue
– Enchanted Fairy Garden Kit
– Scrapbook Kit
– Doodle notebook
– Craft Rock Pets Turtle
Toys:
-Bubbles
– Bath Toys (I got the boys some bath paint!)
– Building blocks
– Finger Puppets
– Yo-yo
– Silly putty
– Play-doh
– Toy soldiers
– Stuffed animals
– Stackable cups
-Toy Cars
– Barbies
– Rubber ducky
– Play garden tools
– Toy keys
– Egg shaker
– Movies
– Mr. Potato head
– CD's (I got my boys  a Sunday School Song's CD)
– My little pony
– Rattles
– Teething ring
– Musical Zoo Train
– Little People Disney Cinderella's Coach
– Little People Figures
– Playskool Weebles
– Toy Trains
– Felt Food
– Board games ( great for family night!)
– Etch a sketch
– Sophie the Giraffe Teether
– Legos
– Beach toys
– Bowling set 
Other:
-Lip gloss
– Chapstick
– Nail polish
– Toothbrush
– Pacifiers
– Coins (they can pay for there own carousal ride at the mall)
– Planting seeds and a pot
– Busy Box
– Temporary jewelry tattoos
Educational: 
– Books
– Child's Bible
– Puzzles
– Alphabet memory game
– Science Kit
– Magnetic Numbers 
– Flashlight
– Activity book
– Latches Board
– Flash cards
– Cutting food toy
– Shape Sorter Toy
-Brain games kids for preschool
– Binoculars
– Letter games
Food and tools: 
– Gold fish
– Puffs
– Trail Mix
– Animal crackers
– Fruit snacks
– Teddy grahams
– Granola bars
– Yogurt melts
-Raisin box
– Cereal bars
– Apple sauce pouches
– Spill resistant bowl 
– Sippy cups
– Bibs
– Silly Straws
– Fun plate and bowl set
– Fun cups