Toys can easily and quickly take over any parents home. One by one and little by little they sneak up on you. Christmas, birthdays, those cheap toys they get at the dentist office they all add up. Then one day they have completely taken over and you feel overwhelmed, defeated, and like you really miss seeing your floors <– been there!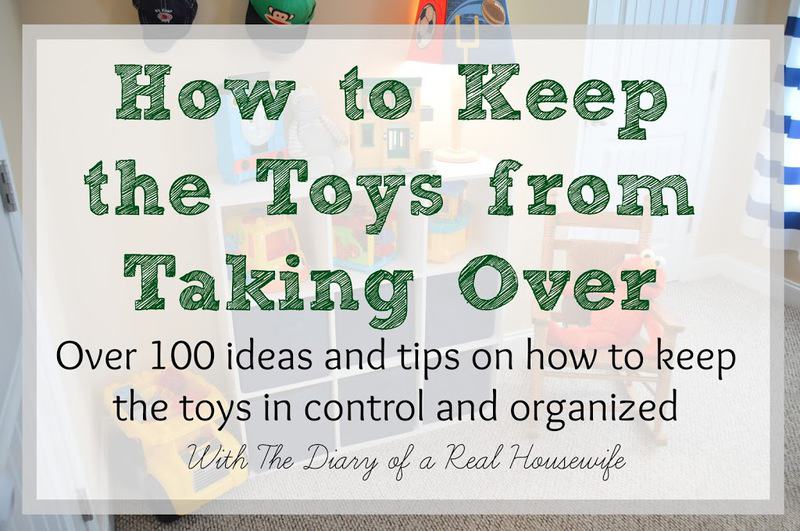 Taking control and organizing toys is not a one and done kind of deal. It's an everyday battle. But if you have a home for every toy and make is easy for kids to help clean up you can take that control back, and rule the toy kingdom once and for all. I want to share with you how I organize and control the toys and share with you 100 more wonderful ideas from some awesome mommies!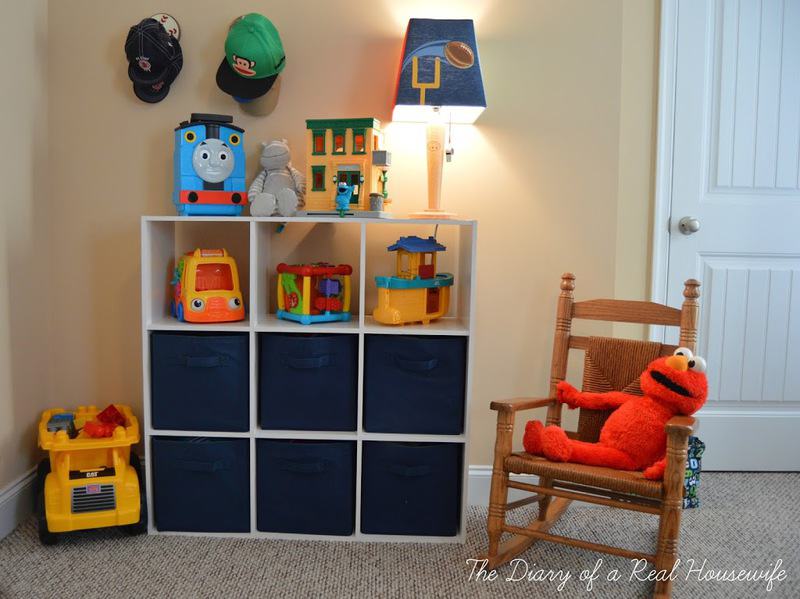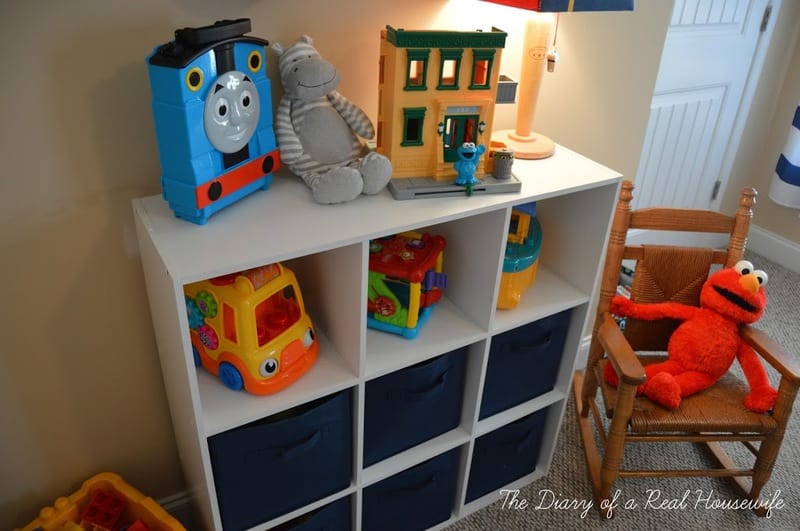 We will start in the boy's room. At this time we don't have space for a playroom. The boys do most of their playing in their shared room or in the living room.
How I organized their room:
Right now the boys share a room. We got a cube organizer
 (I love it) with a few navy blue fabric bins
 to match their room. In the bins we have medium and small toys, things like; cars, small stuffed animals, action figures. On top, I placed some of the bigger toys. To the left is our big dump truck that holds all the blocks
. To the right the adorable rocking chair
from Great Granny and tote with books.
I didn't put labels on my fabric bins because my boys are still little and they would never keep the correct toy in the correct bin. I want them to help clean up so we just take out a bin and fill it then move on to the next until our room is clean.
Max got the big dump truck as a gift and we love using it as our block storage.
When I say control the toys I mean keeping the amount under control. Don't let it get so out of hand that you don't have room for them. If it doesn't have a home I usually get rid of it or something else to make a home for it.
The first thing you need to do is observe. You may have bought the latest, greatest, most popular toy for your child this past Christmas and they don't play with it (bummer). If you don't mind to then get rid of it, donate it or give it to a friends child who would enjoy it. If you aren't ready to let go of it right away stick it in the basement or storage. In a few months bring it out and see if they are interested. I have done this several time. I may buy a toy that is a little to "old" for my boys and they aren't interested in playing with it. I put it up for a few months so it is out of the way and then bring it back when they are ready to play with it. Once you see what they enjoy playing with and what they may be tired of or outgrown get ready to declutter. Donate any still nice toys and toss the rest.
Another way I control our toys is by keeping the toys with pieces in a different place, for example; puzzles, games, our nice wooden blocks. I also keep paperback and nice books in a different place. My boys are young (3 and 1) and they like to rip up books and throw puzzle pieces around. All toys that are in their room are toys that they can play with on their own if needed.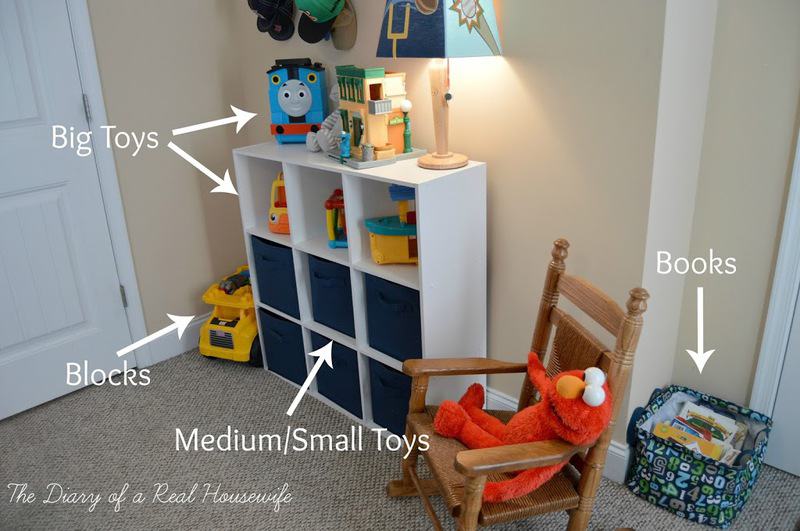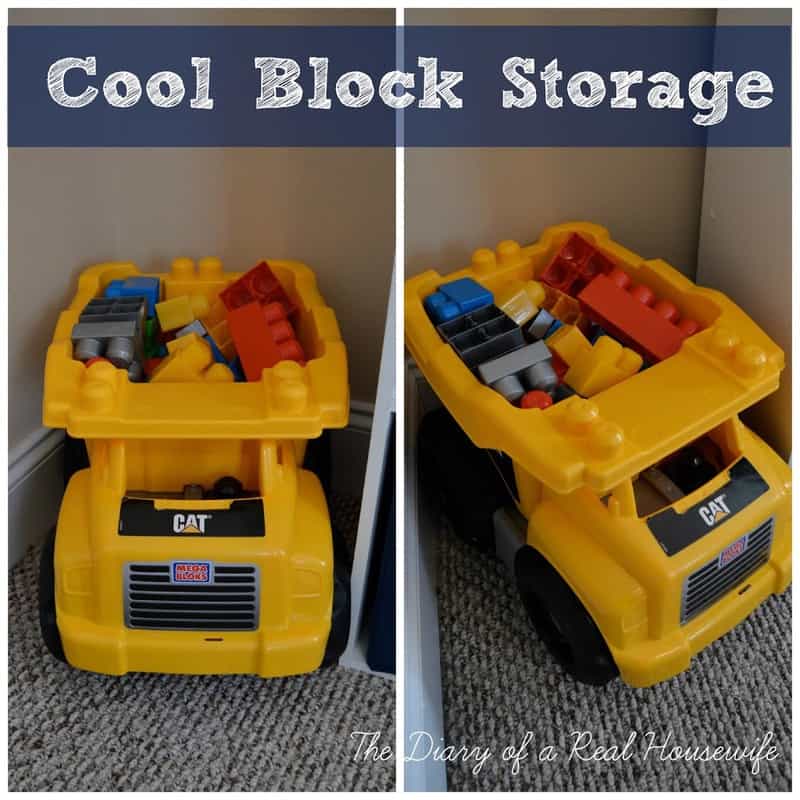 Next is our living room. Like I said we don't have a playroom and even if you do toys still end up in the living room. I wanted to organize this in a way that still looked grown up for when we had guests but was still easy for the kids to get out and put away on their own.
How I organized the living room:
I started by getting an oversized basket
that I found at T.J.Maxx. The only problem with just having that is when that little car they wanted fell to the bottom they would empty out every toy to get to it. I decided to add a second storage area and just put large toys in the big basket. In the corner we got a small white bookcase from Target I believe it was less than $20. I also got a few cute baskets that matched my color theme at Walmart for about $8 each. I keep books, some blocks, small cars, and small stuffed toys in this area.
The key here is to make it easy for the kids to get out and play with and easy for them to clean it all up. While I am making dinner they aren't running to me asking to get out this or that toy. They can play and before we eat they just have to throw it all back into the basket. Of course, if your children are older you can easily make each basket for a different type of toy.
Since I don't want to be running up and down the stairs every time someone needs a diaper change I put some diaper things in the TV stand.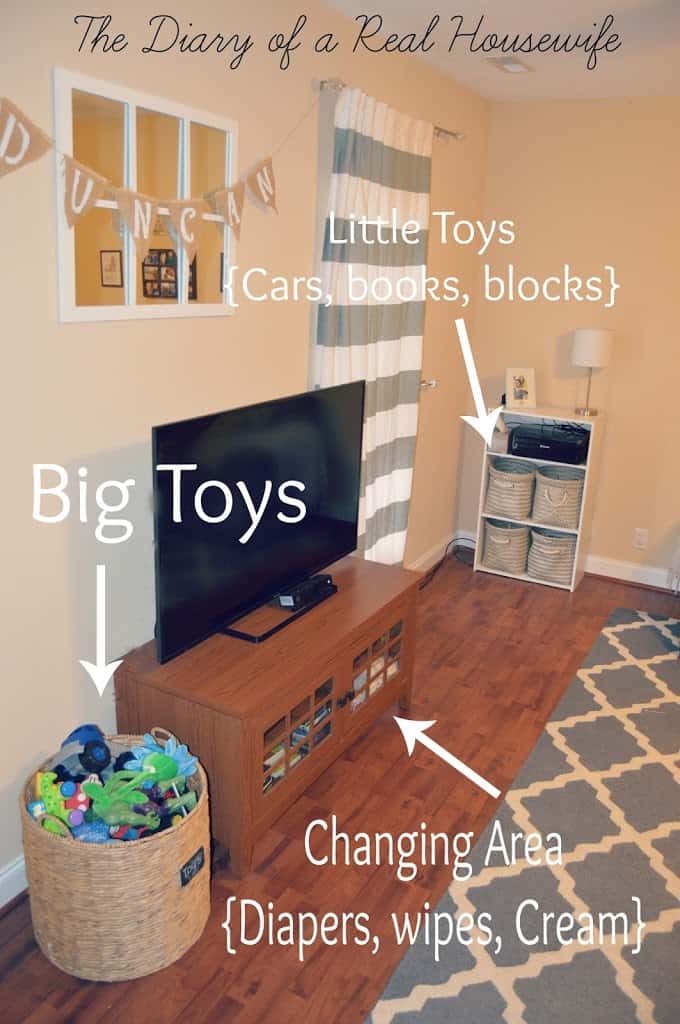 The next spot is my not so fancy area. I had an old bookcase from college that is a little out of date, but it does the job for now. This is my "nice toy" area. On our top floor, we have our two bedrooms and a small hallway where I keep these. They are easy to get to, but also placed where an everyday guest wouldn't see it. Of course, if you have older children these types of toys could easily go in their room. Since I still have little ones I wanted to move toys with small pieces or books that are easily ripped into a place they did not have easy access to. When we want to do a puzzle we get it out do it and then put it away. This helps me keep track of all the pieces and keeps them away from my one year old her would find the puzzle throw the pieces around the room to never be found again. I also keep a few art supplies and sensory bin in this area. You could also call this you need supervision to play with these things area.