I love the smell of homemade bread through the kitchen. I rounded up some of The Best Bread Recipes for you to try.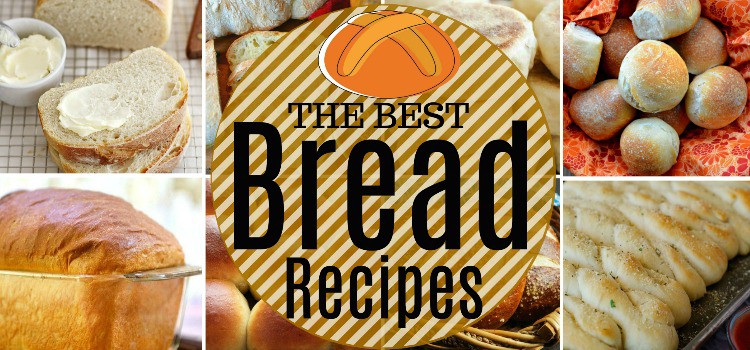 I can't think of anything better then the smell and taste of warm homemade bread. From banana bread to homemade rolls these bread recipes are easy to make and taste great.
Bread Recipes:

Banana Nut Bread - The Diary of a Real Housewife
Rustic Italian Crusty Bread - Ciao Florentina
Cinnamon Roll Monkey Bread - The Diary of a Real Housewife
Copycat Texas Roadhouse Rolls - The Cozy Cook
Garlic Herb and Cheese Pull-Apart Bread - Chew Town

Chocolate Chip Pumpkin Bread - The Diary of a Real Housewife
Judy's Homemade Brioche - The Woks of Life
Homemade Pita Bread - Me's Kitchen Cafe
Roasted Garlic Rosemary Focaccia Bread - Little Spice Jar
Gingerbread Loaf - The Diary of a Real Housewife

Homemade English Muffins - Baked by an Introvert
Hummingbird Bread with Cream Cheese Frosting - A Latta Food
French Bread Dinner Rolls - Serena Bakes Simply from Scratch
Pretzel Bread - Tara's Multicultural Table
Homemade Buttermilk Bread - Restless Chipotle

Garlic Parmesan Breadsticks - Life in the Lofthouse
Homemade Hawaiian Bread Rolls - Handle the Heat
Homemade Ciabatta Bread - The Cozy Cook
Homemade Sourdough Bread - Girl Versus Dough
Blueberry Lemon Bread - The Diary of a Real Housewife
Round-Up Recipes:
Here are a few more of my favorite round-up post that I think you would love.
If you tried any of my recipes I would love to hear from you, leave me a comment below.
You can also connect with me on FACEBOOK, INSTAGRAM, and PINTEREST. I would love for you to follow along and discover more amazing recipes.
Show me what you are making, use hashtag #TDOARH