Soup is one of my favorite things. I wanted to share with you some of my favorite simple and easy Slow Cooker Soup Recipes. All these recipes taste amazing and are so easy to make.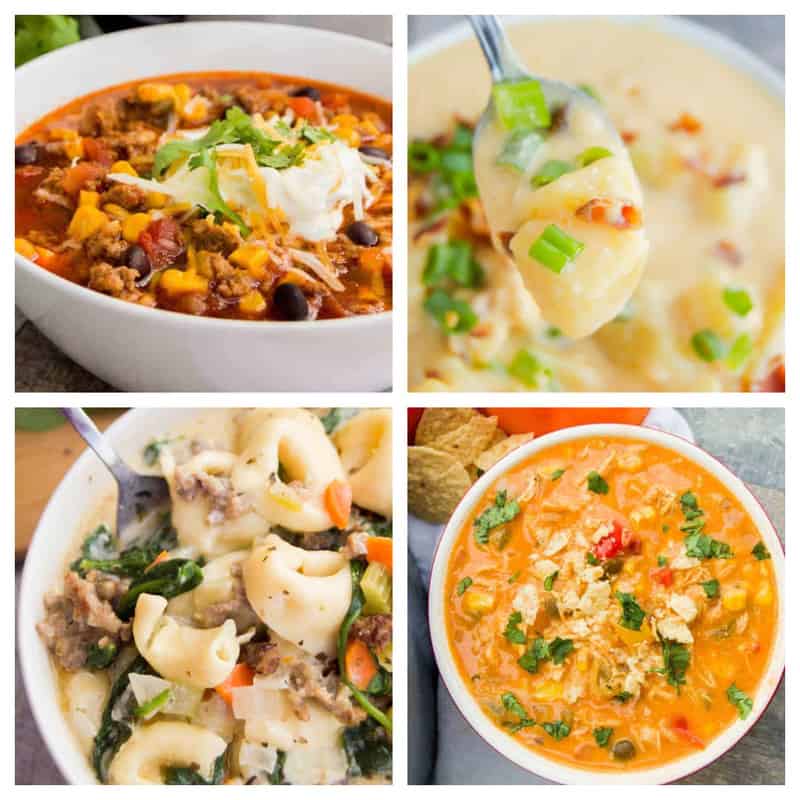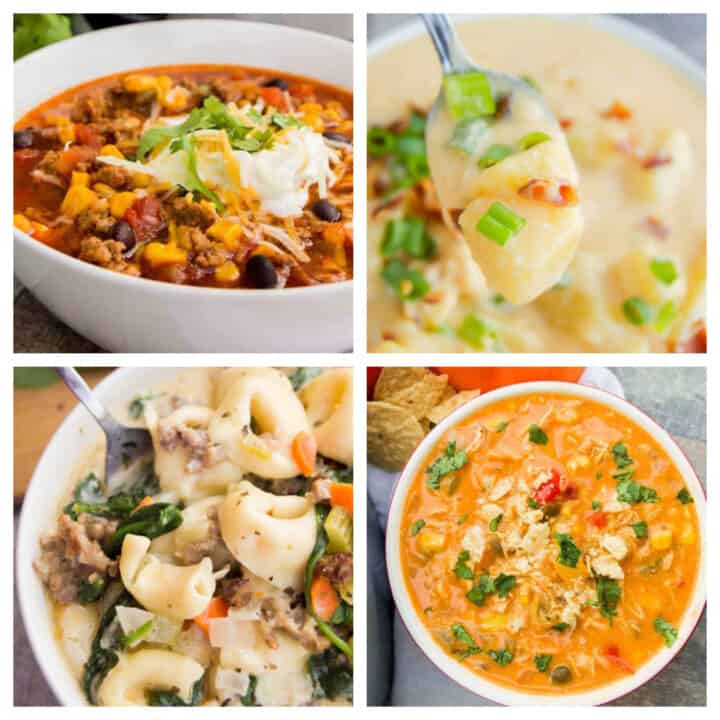 Simple Soup:
Nothing beats a warm soup and a big bowl. I love a simple recipe and these soups are my all time favorite slow cooker soup recipes.
I serve them all year long and the entire family loves them.

Slow Cooker Soup Cooking Time:
TIme will vary on each recipe nit you can cook most of these soups 3-5 hours on high or 6-8 hours on low.
Tip: Soups with meat usually take long to cook. If you are looking for a quick recipe try the tomato or potato soup. 

Healthy Soup Recipes:
If you are looking for a lighter soup recipe with less calorie take a look at the recipes that are not creamy.
While creamy soups have lots of flavors they do add few more calories to the serving.
How to Freeze Soup:
Cool: Follow the directions to prepare the soup. Once your soup is ready allow it to cool completely.
Freeze: Place your cooked and cooled soup into a large freezer bag and place the date on the bag. Place in the freezer.
I like to lay them flat to freeze and then move them as needed once frozen. This will help take up less space in the freezer.
Reheat: When you are ready to reheat you can place it in the fridge overnight to thaw. Heat on the stove top or in the slow cooker until warm throughout.

Serving Options:
I love serving soup for lunch or dinner. Here are a few things you can serve with yout soup.

Split Pea Soup - Coco and Ash
Creamy White Chicken Chili - The Chuncky Chef
Ham and Potato Soup - Dinner, then Dessert
Soup Recipes:
I love soup! I could eat it all year long. Now that you have some of my favorite slow cookr recipes you can check out a these simple stove top recipes.
If you tried any of my recipes I would love to hear from you, leave me a comment below. You can also connect with me on FACEBOOK, INSTAGRAM, and PINTEREST. I would love for you to follow along and discover more amazing recipes.
Show me what you are making, use hashtag #TDOARH

SaveSaveSaveSave
SaveSave
SaveSave
SaveSave
SaveSave
SaveSave
SaveSave
SaveSave
SaveSave