The Holiday season is upon us. What better way to celebrate all your Friendsgiving and Thanksgiving parties than by bringing these awesome Thanksgiving Cookies to the party! Everyone will love them, and they will be the talk of the party!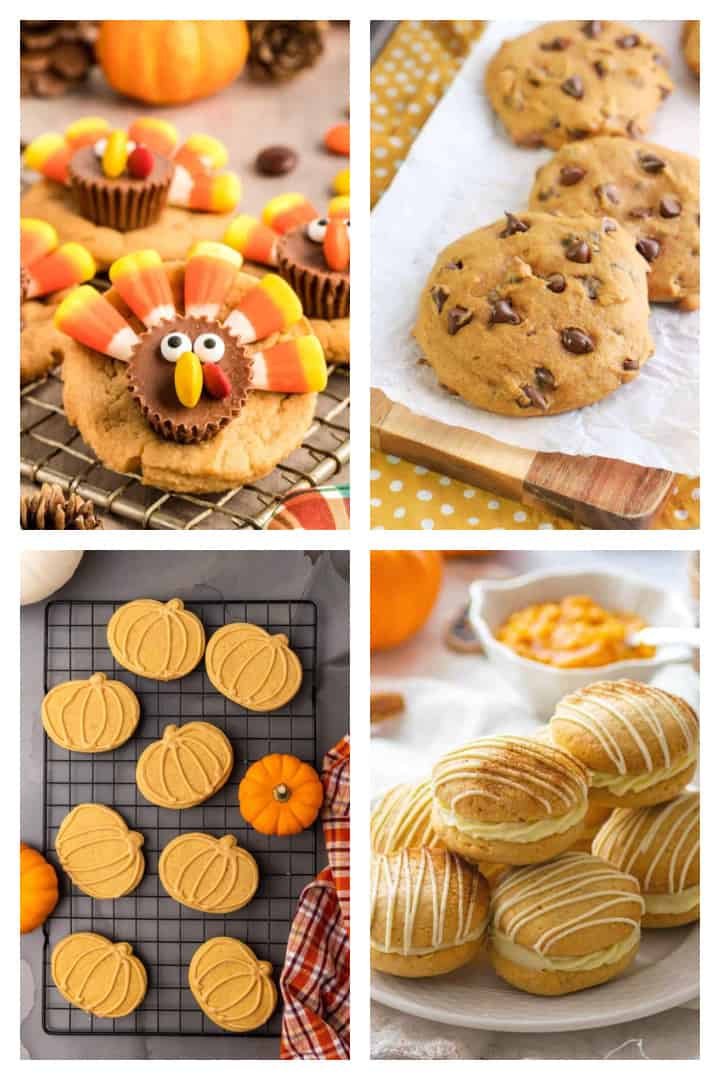 The Best Cookies to serve at Thanksgiving:
When Thanksgiving comes at my house, I am cooking non-stop. Between Friendsgiving, church parties, and other get-togethers I love to keep people well fed.
These are some of my favorite cookie recipes to bring to share.
This round-up has some of my favorite cookies you can find. Let me know which ones you make!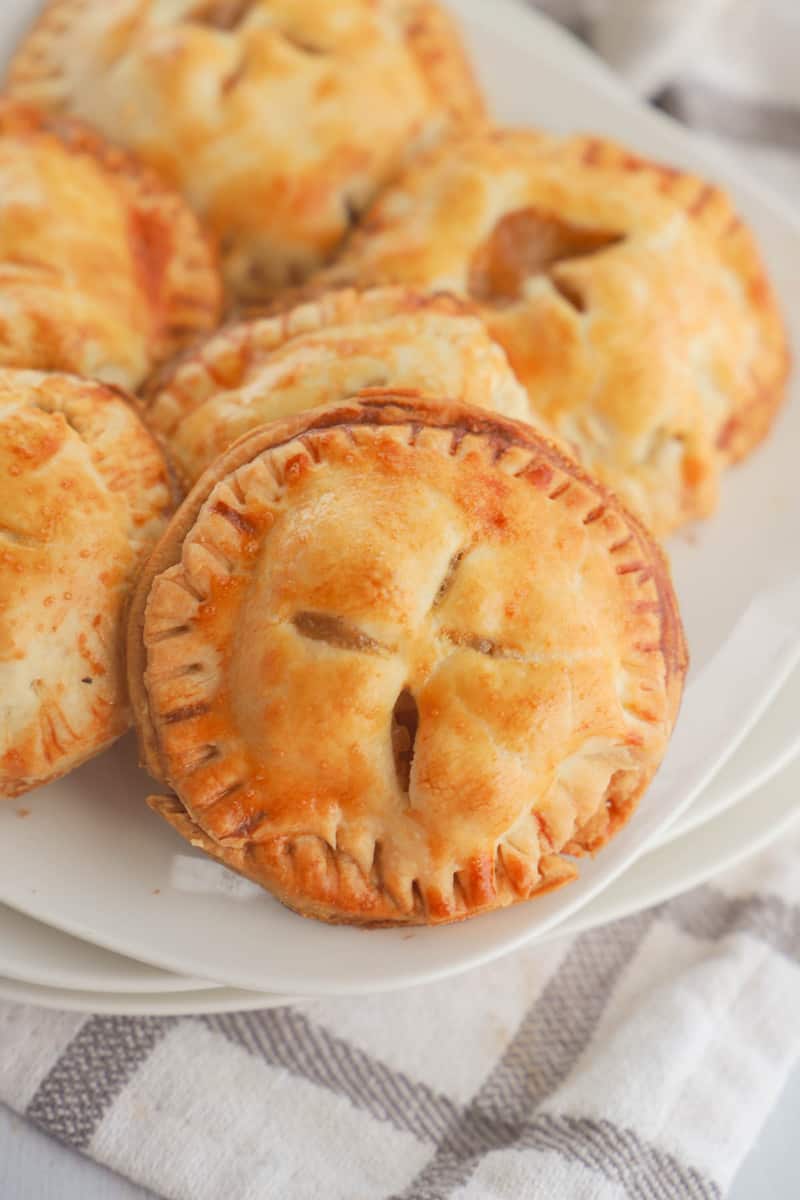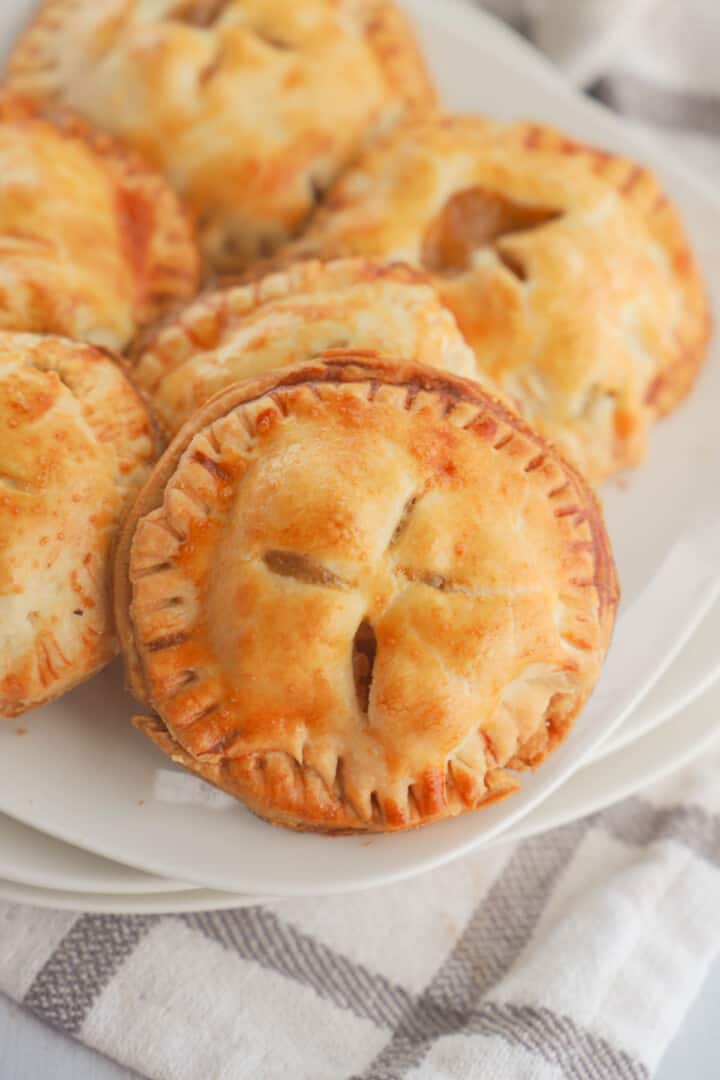 1 Apple Pie Cookies - These Apple Pie Cookies have that classic apple pie taste in a bite-size cookie shape.
You could call this mini hand pies, but I keep them super light and fluffy.
Top with a little whipped cream if you want to be adventurous, this is a must try recipe!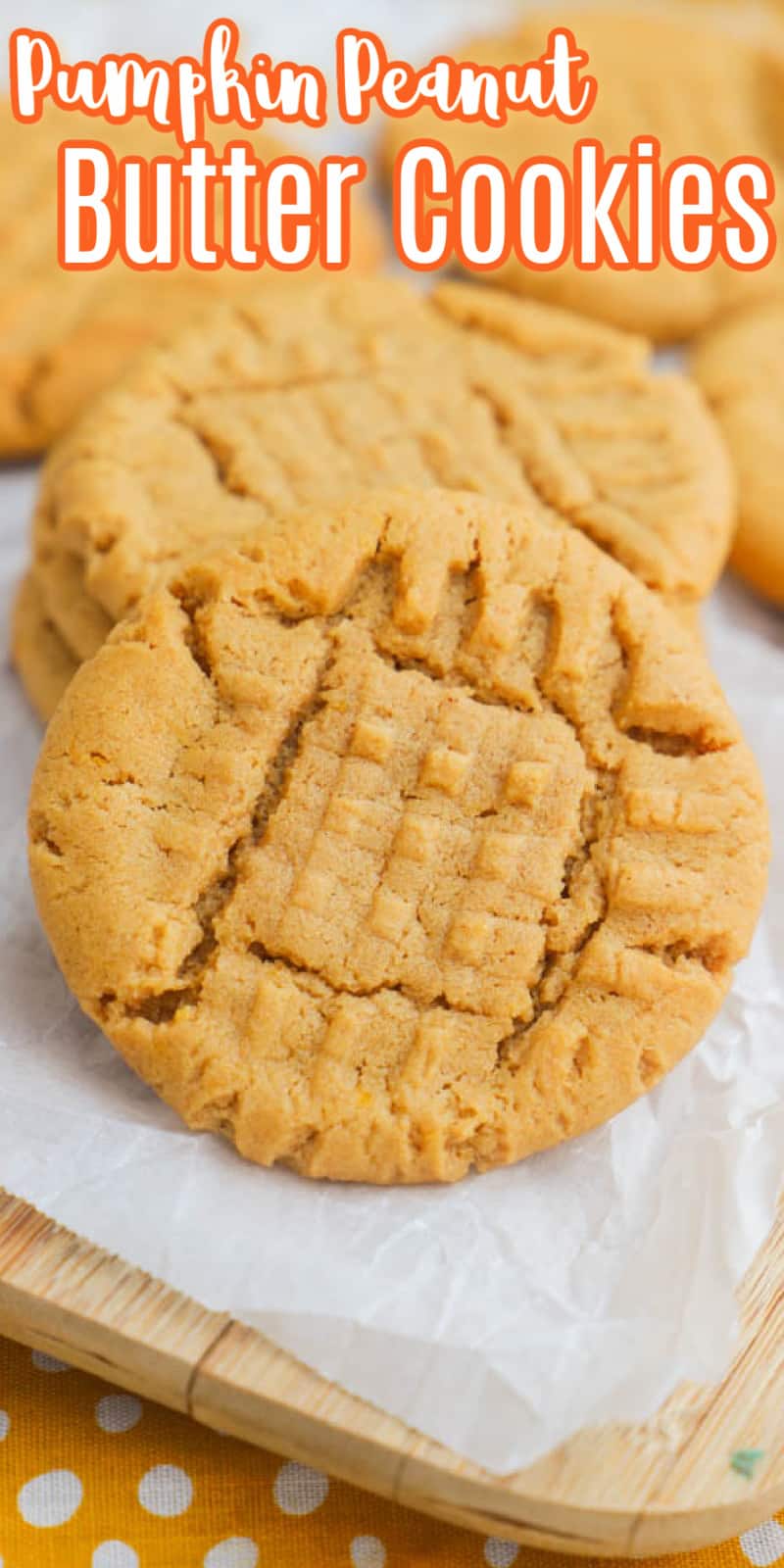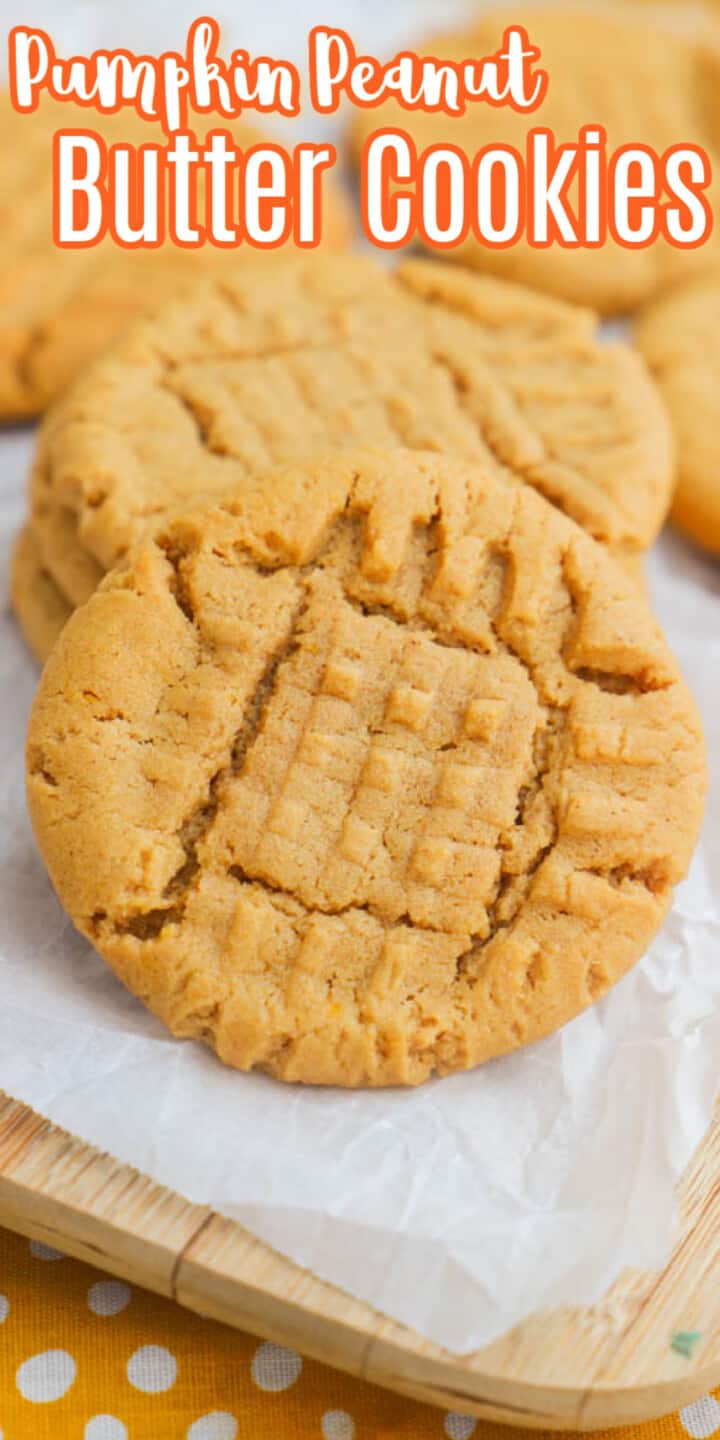 2. Pumpkin Peanut Butter Cookies - Everything tastes better with pumpkin and these Pumpkin Peanut Butter Cookies are no exception.
Simple to make and tastes great, you can't want much more than that.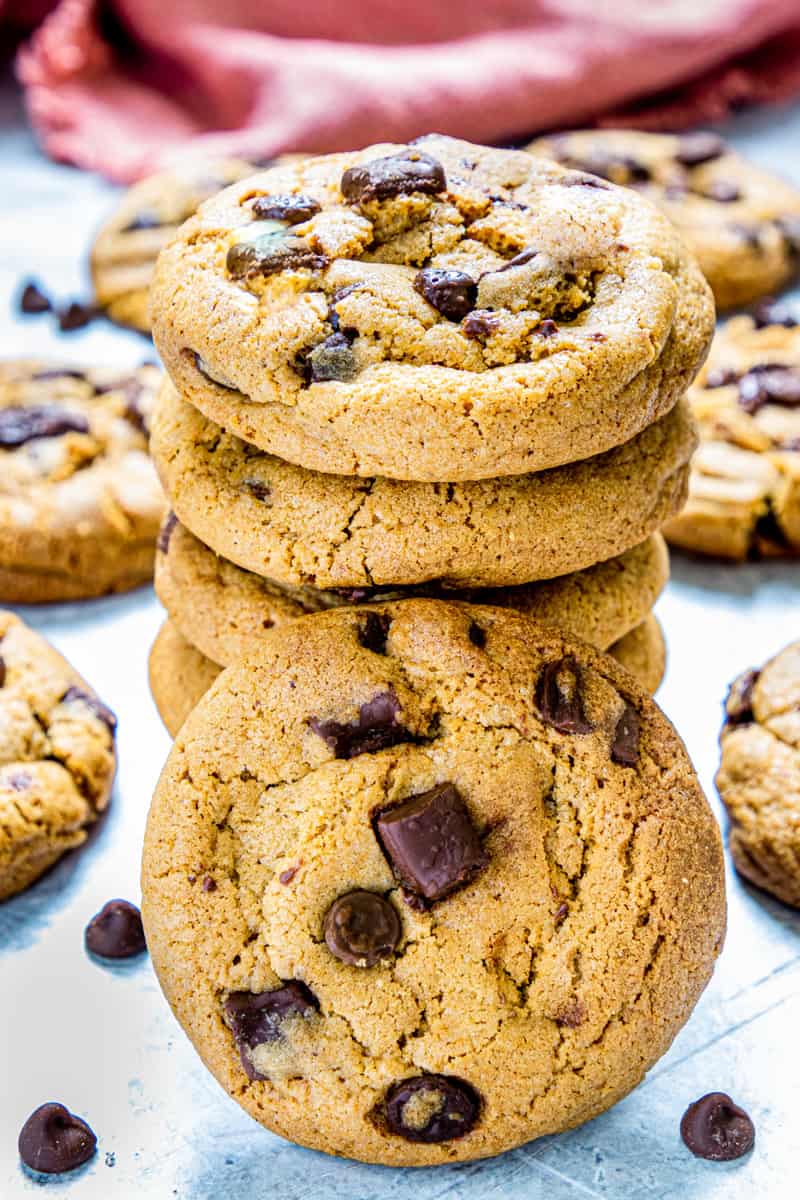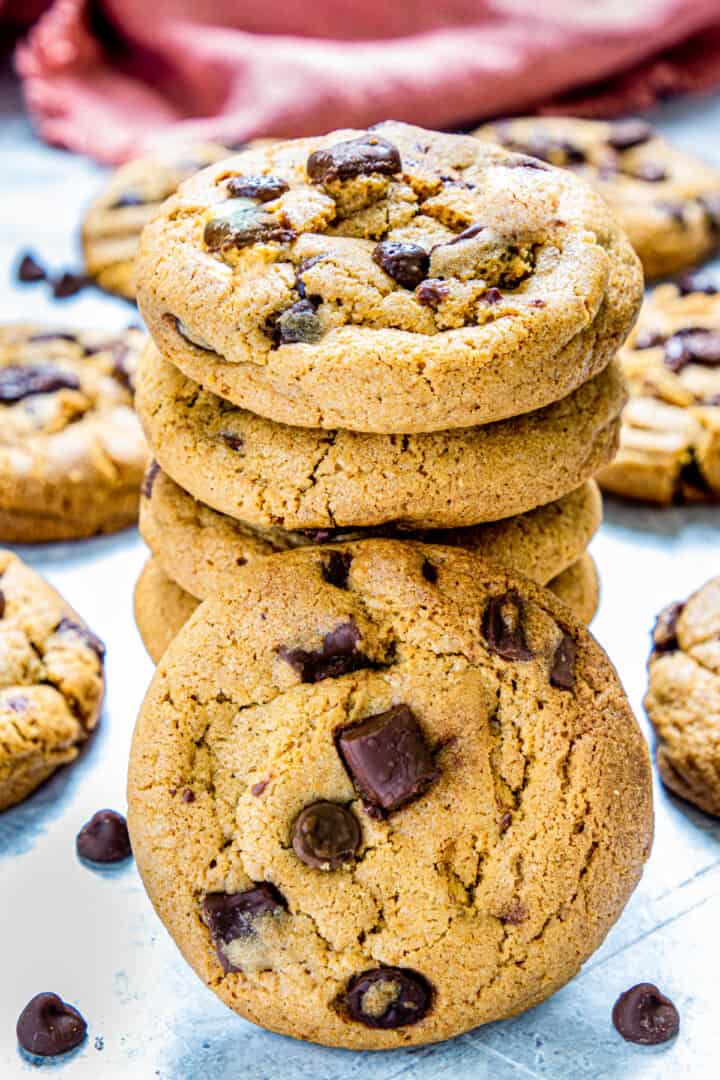 3. Brown Butter Chocolate Chip Cookies - These Brown Butter Chocolate Chip Cookies are to die for!
Dark brown sugar and dark chocolate chunks are the key to these being the best cookies ever!
Cookie Tip: It is essential to chill the dough for a minimum of 12 hours to prevent spreading when the cookies bake in the oven.
So make sure if you plan on making these for Thanksgiving you give yourself a lot of chilling time. They are perfect for making a day or two ahead of time.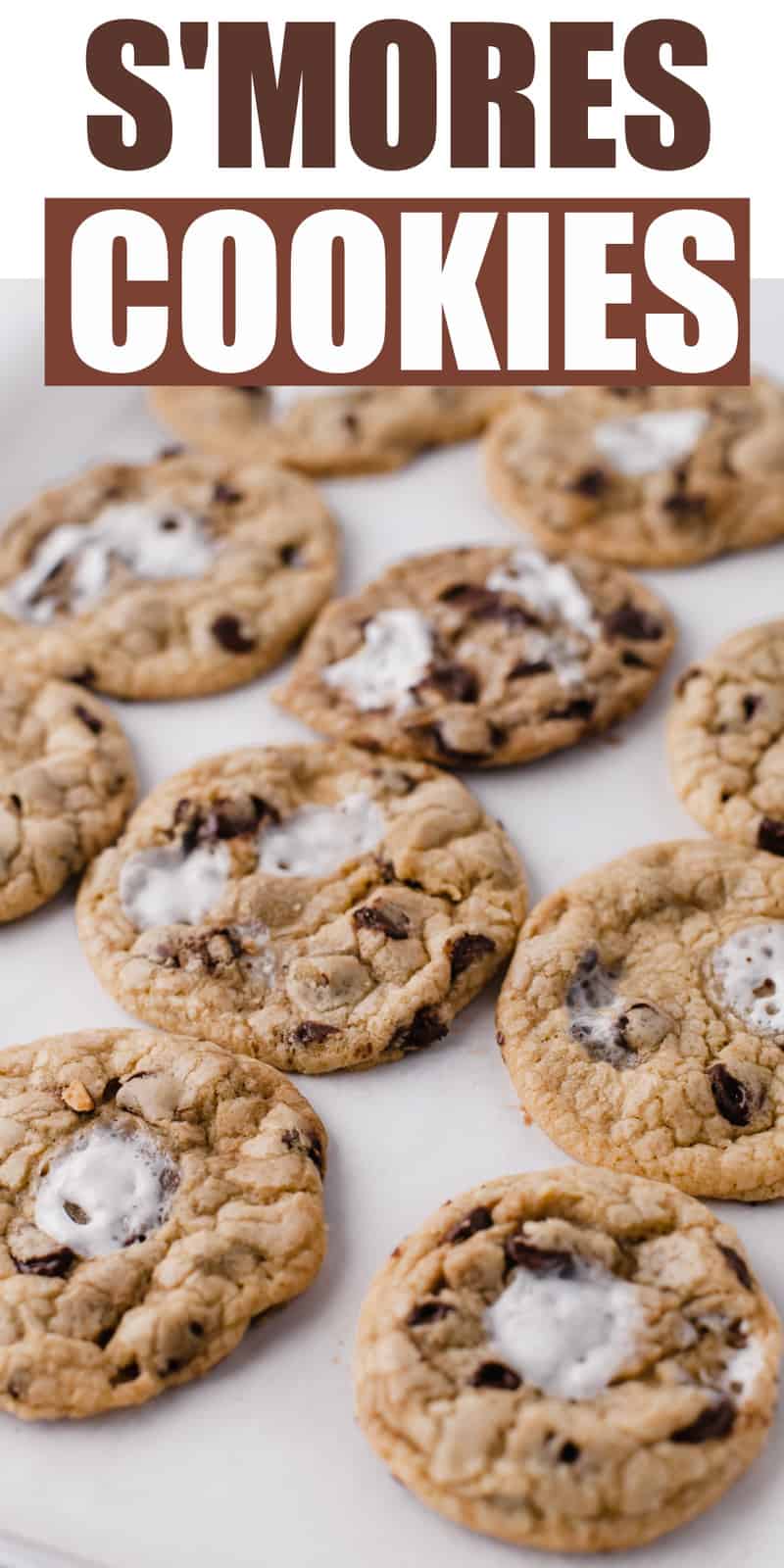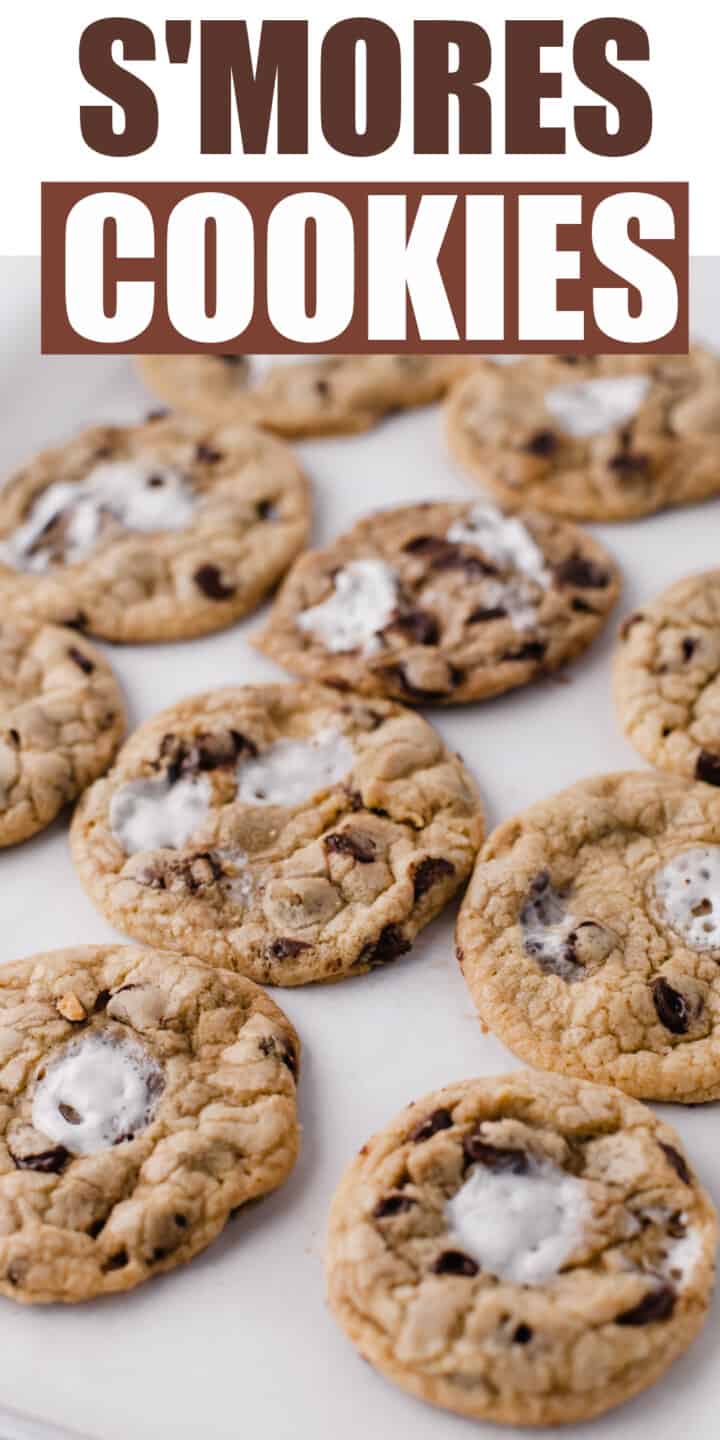 4. S'mores Cookies - These delicious S'mores Cookies are made with chocolate chips, mini marshmallow, and a toasted brown butter.
One of my favorite cookie recipes for the fall. It reminds me of cool fall night around a bonfire.
If you want these cookies light make sure to not over mix them!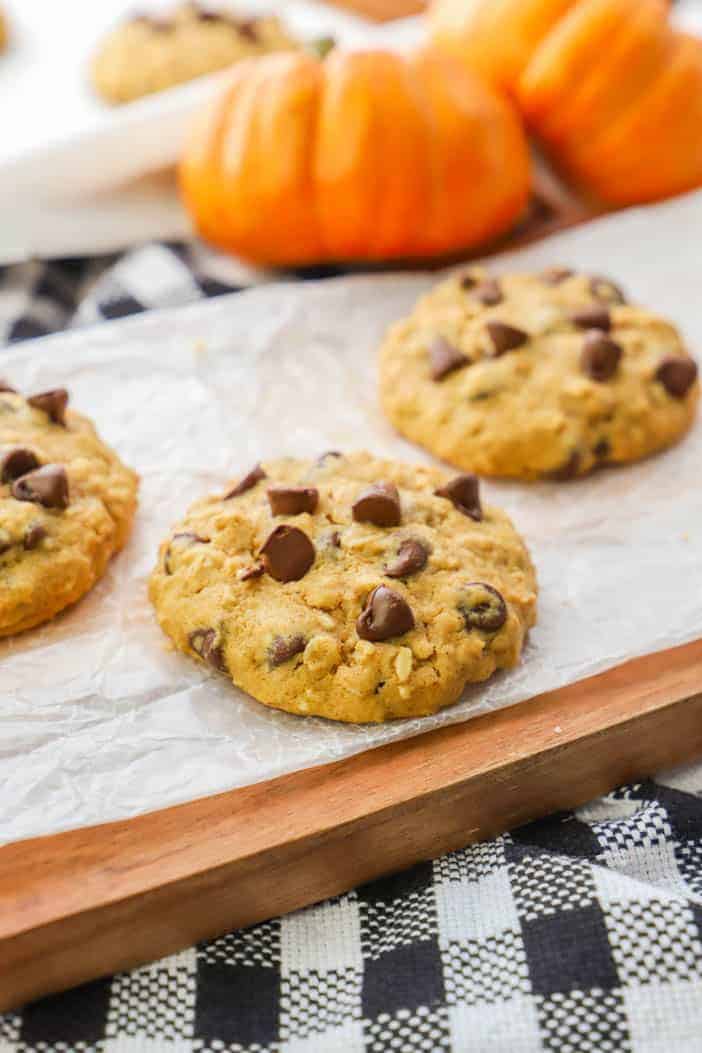 5. Pumpkin Oatmeal Chocolate Chip Cookies - These Pumpkin Oatmeal Chocolate Chip Cookie are the PERFECT fall cookie and a must for your fall baking list.
Full of fall flavor and chocolate chips, these cookies will quickly be a favorite!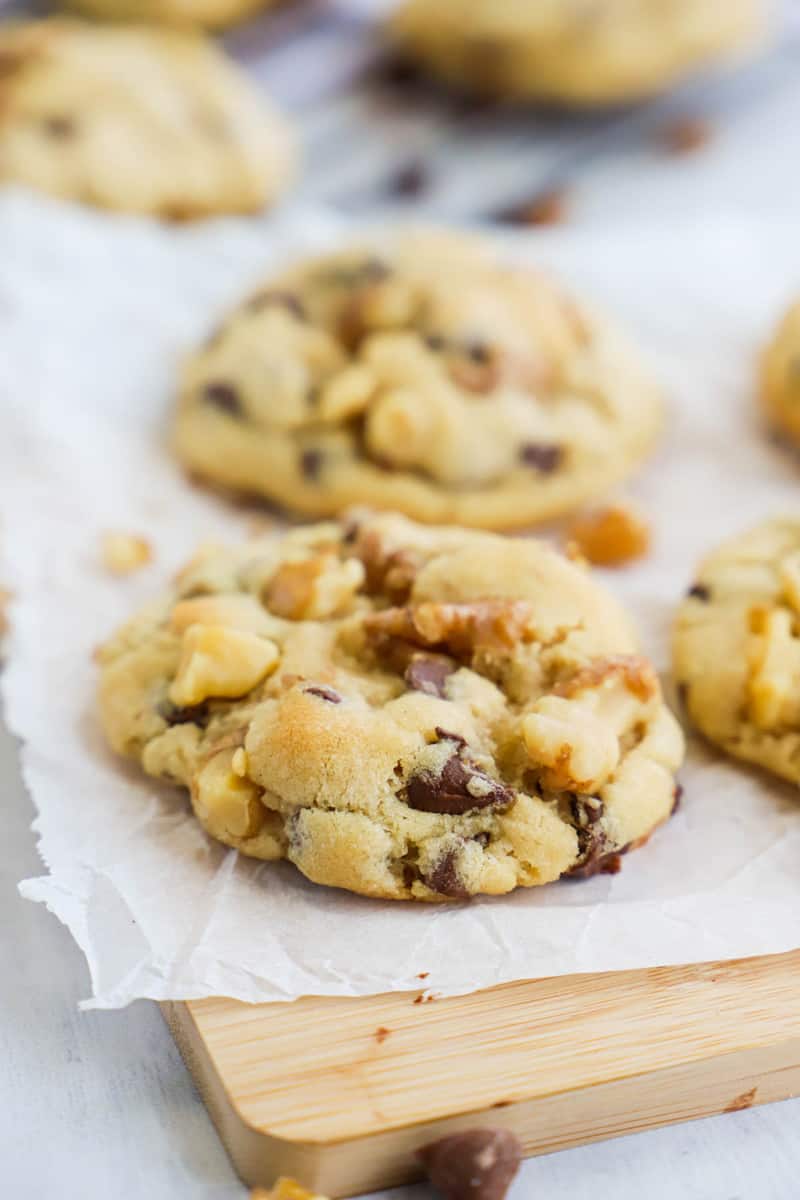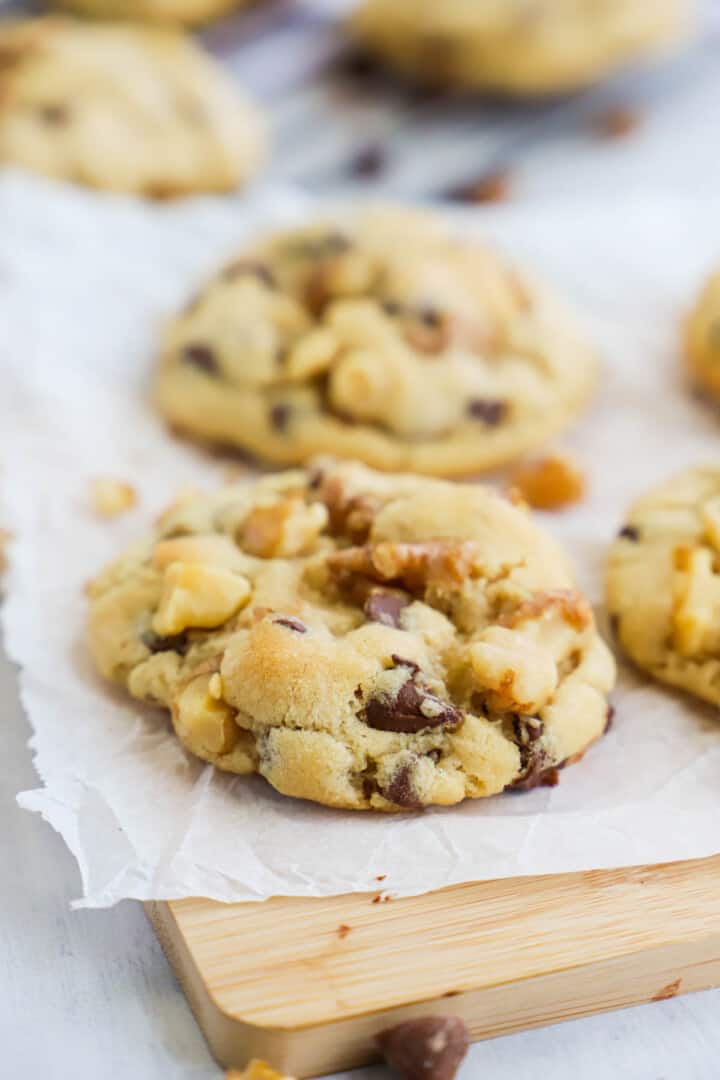 6. Walnut Chocolate Chip Cookies - These soft and chewy Walnut Chocolate Chip Cookies are the perfect combination of sweet and salty.
The soft crunch of the walnuts is the perfect pair with the best chocolate chip cookie.
These are a classic cookie everyone will love.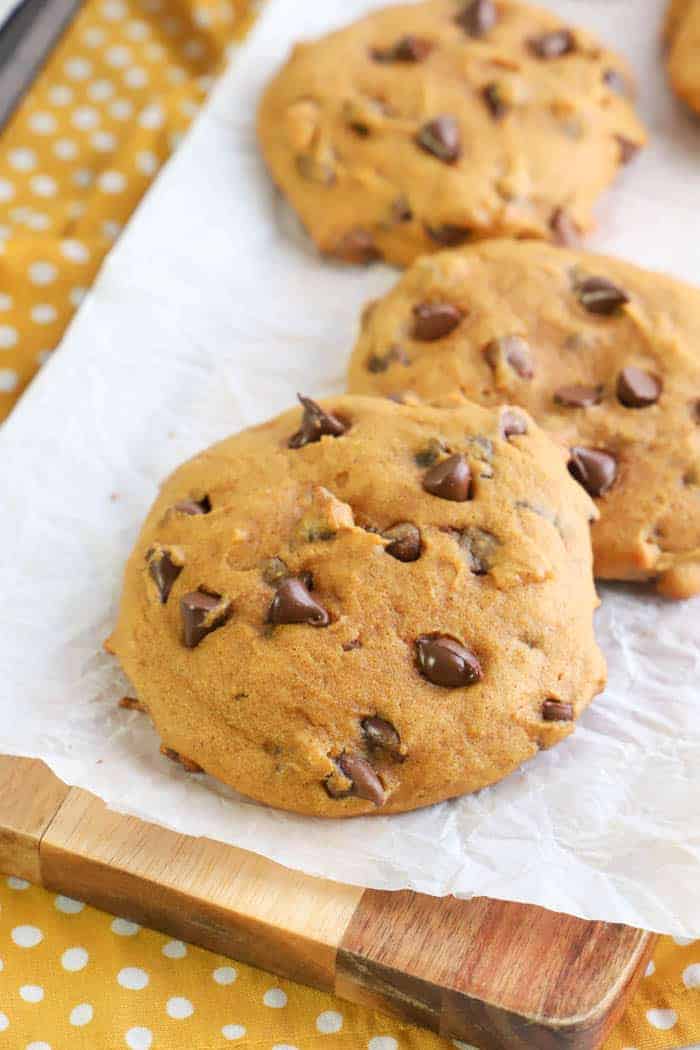 7. Pumpkin Chocolate Chip Cookies - You are going to love these perfect Pumpkin Chocolate Chip Cookies.
With a pumpkin puree, pumpkin spice, and chocolate these cooked are PERFECT for fall.
These cookies are made without butter and I use oil instead. This gives them a super fluffy cake like texture that I absolutely love.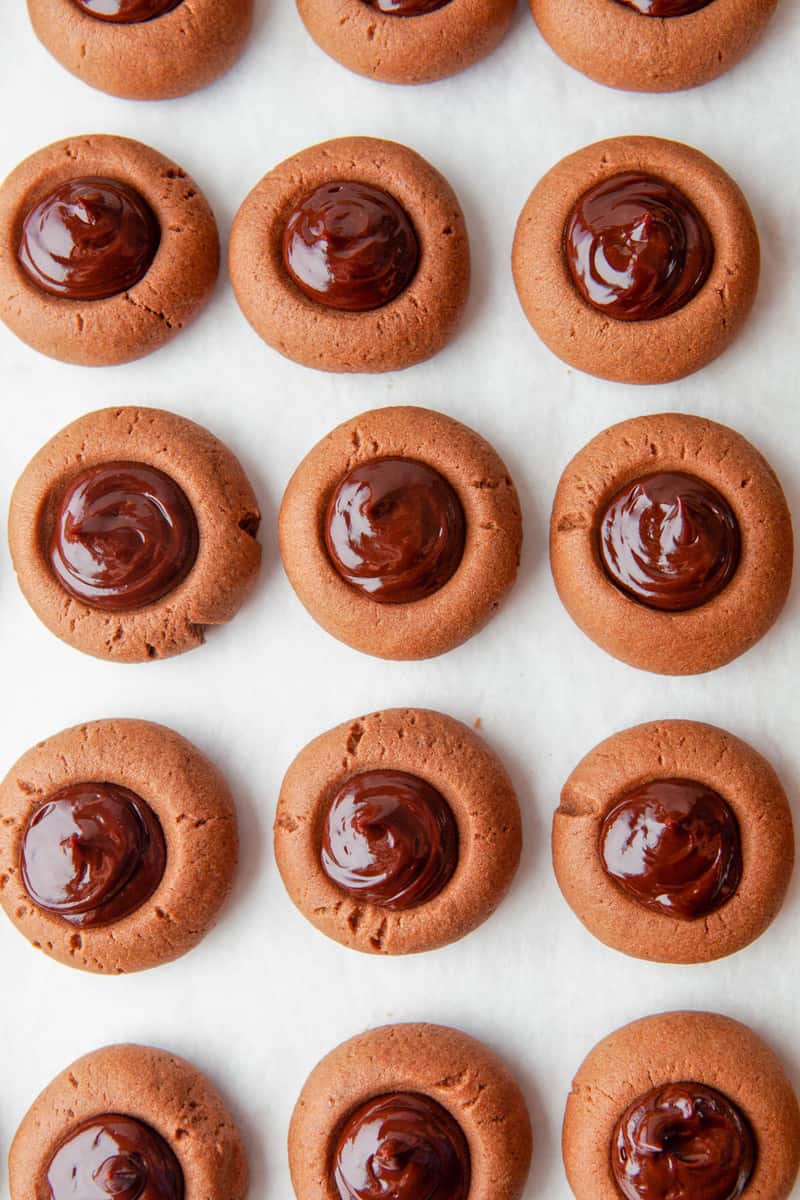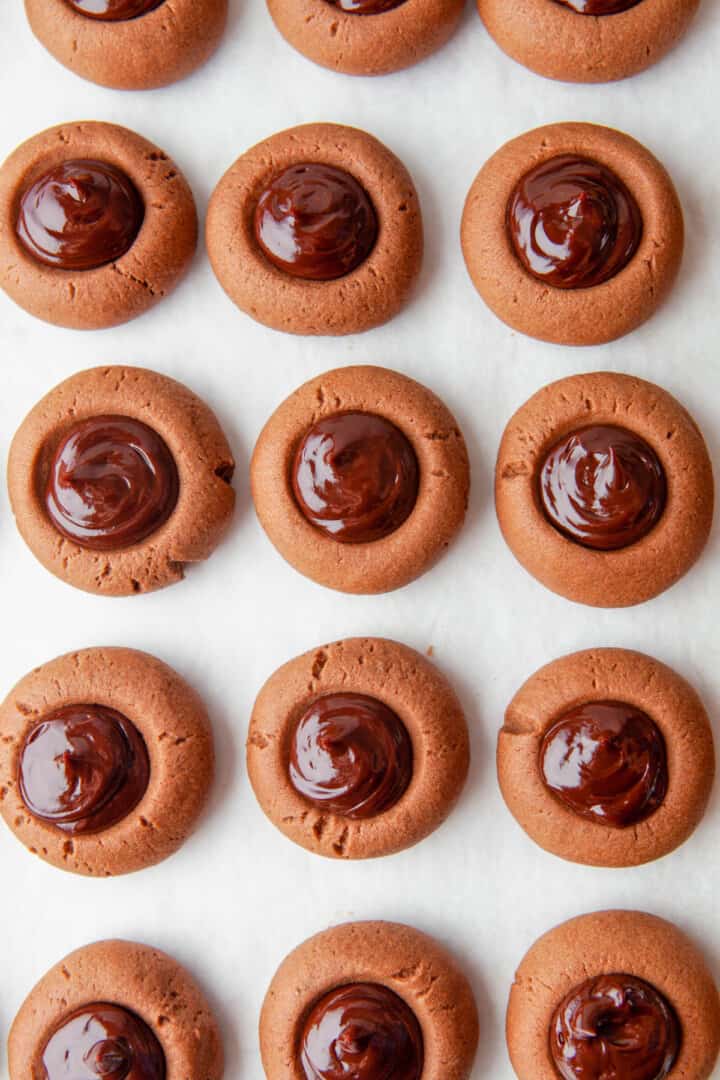 8. Chocolate Thumbprint Cookies - These Chocolate Thumbprint Cookies are rich and decadent with a perfect chocolate ganache filling in the "thumbprint."
Typically made at Christmas time, but I love making them for Thanksgiving as well.
To get that perfect "thumbprint" on our cookie I suggest you spray the button of your utensil with some no-stick cooking spray so it doesn't stick to the dough.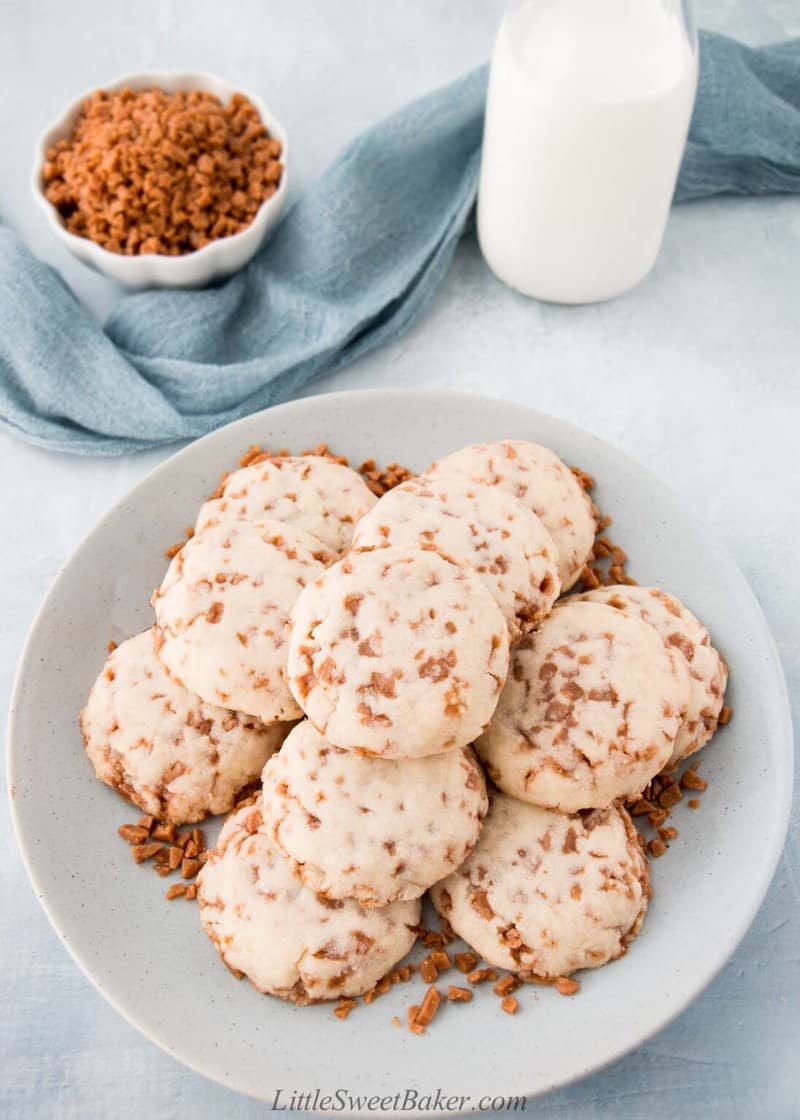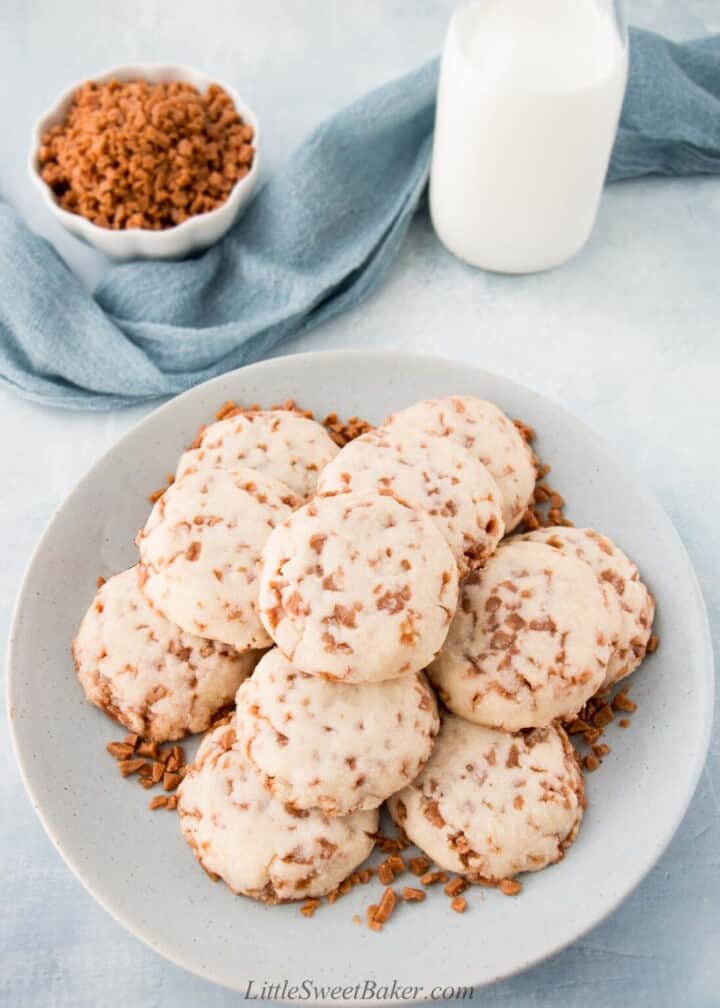 9. Toffee Shortbread Cookies - These toffee shortbread cookies are rich and buttery and packed with Skor candy bits in every bite.
These tender melt-in-your-mouth cookies are easy to make and a must for the holiday season!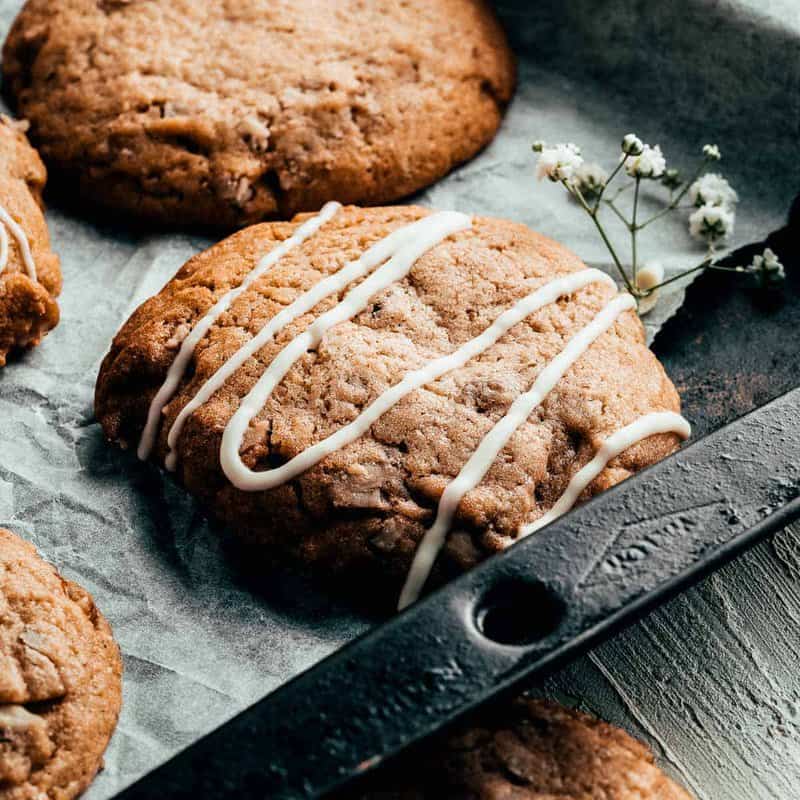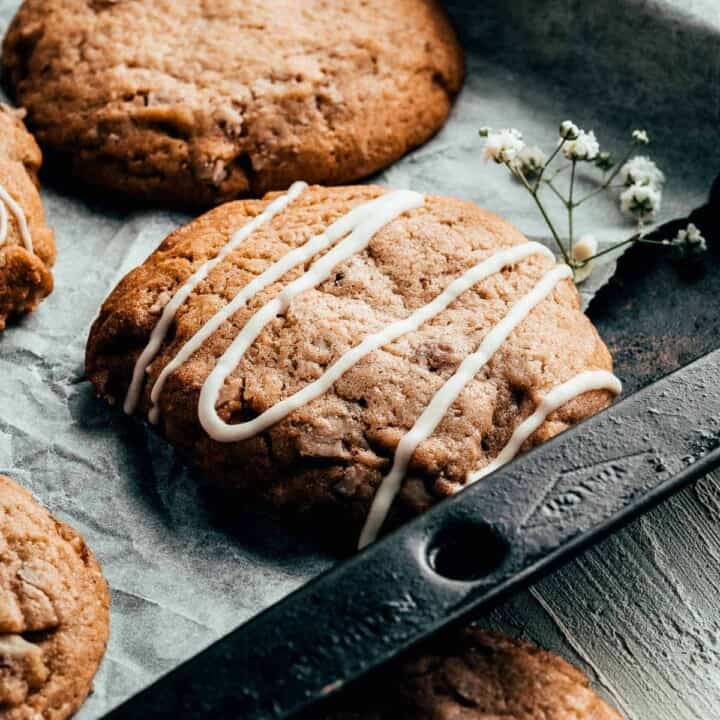 10. Butter Pecan Cookies - Soft and chewy, these Butter Pecan Cookies are infused with a hint of ginger and the crunch of toasted pecans in every bite.
Add a drizzle of white chocolate for an extra decadent treat and enjoy with a glass of milk.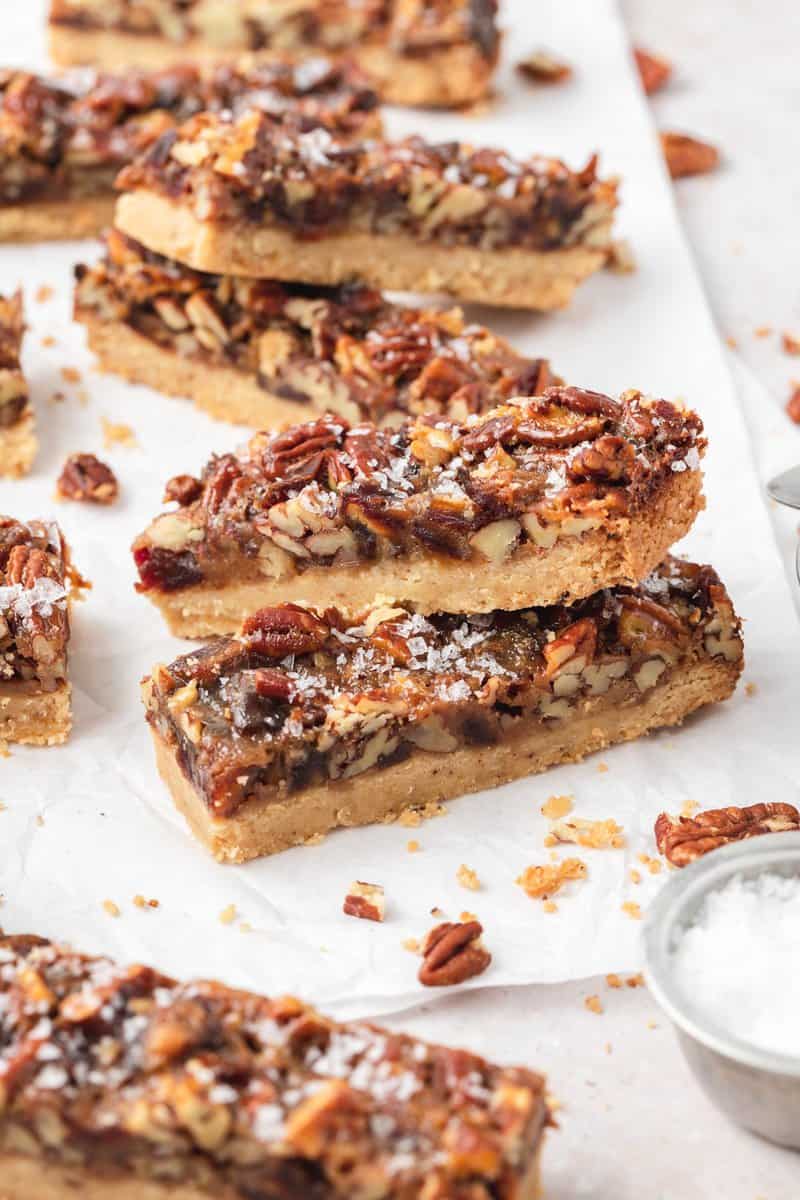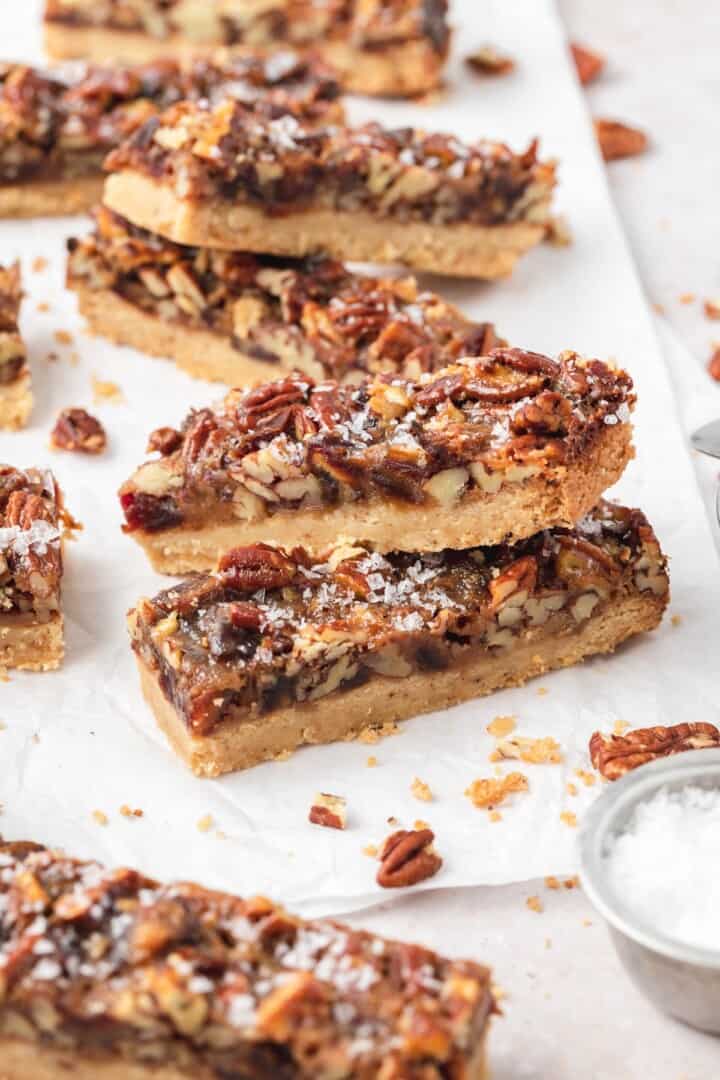 11. Pecan Pie cookie Bars - Pecan pie is a Thanksgiving stable and these cookie bars are the perfect fall treat.
Some may say these bars are even better the the traditional pecan pie.
These are made with a buttery shortbread crust and topped with bourbon for extra flavor.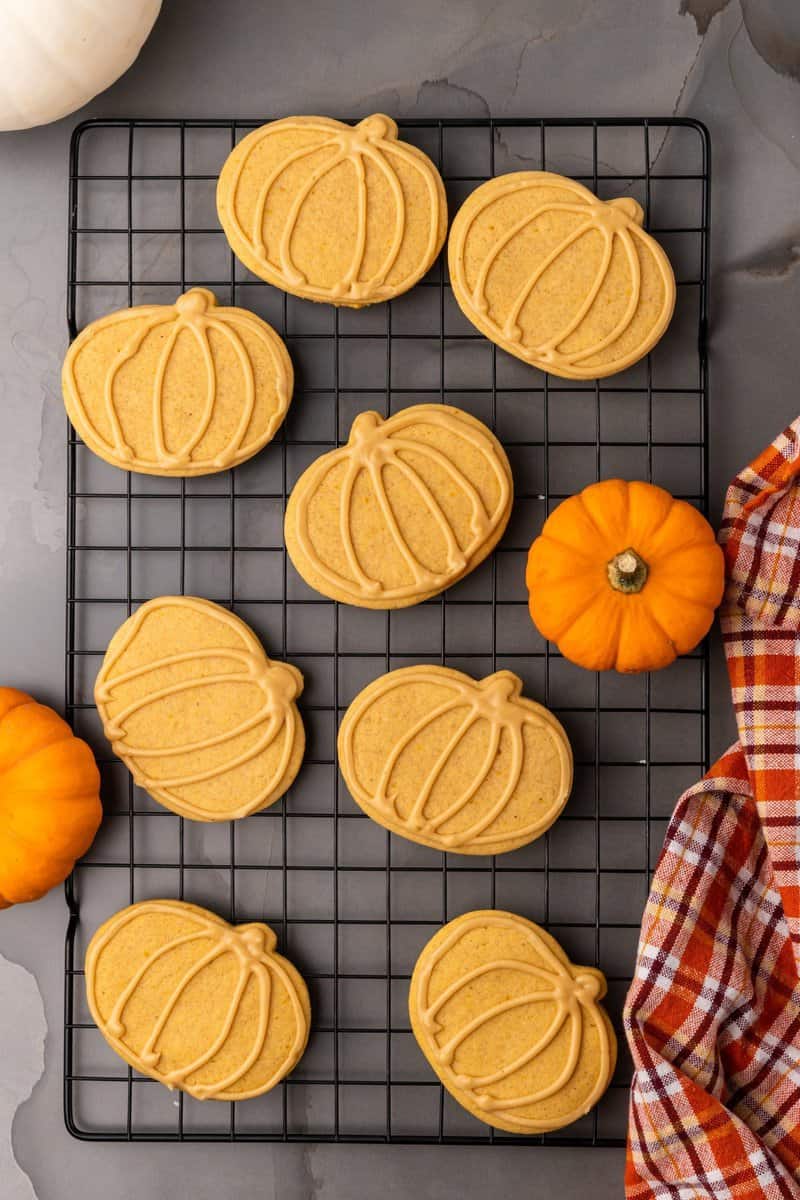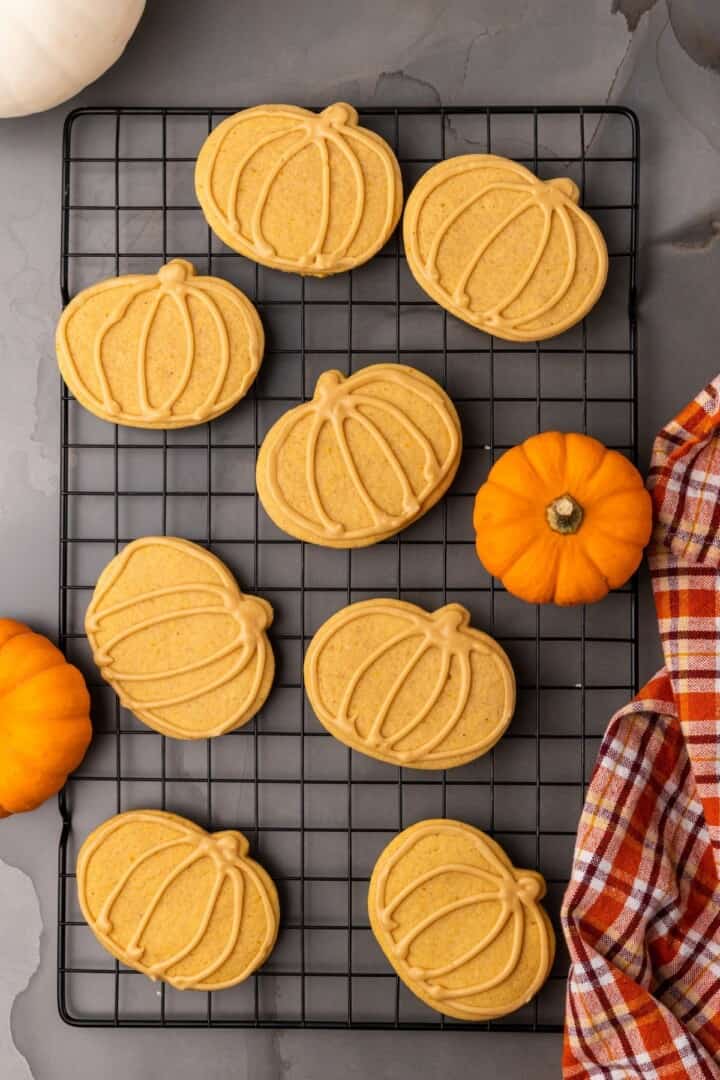 12. Maple Glazed Pumpkin Sugar Cookies -These adorable cut-out sugar cookies are flavored with cinnamon, ginger, nutmeg, and vanilla extract and topped with a sweet maple glaze.
The cookie cutter is optional though. Don't skip these just because you don't have a pumpkin shape cut-out. You can use any shape you have!
The pumpkin flavor, spices, and glaze makes this a wonderful fall cookie with out without the shape.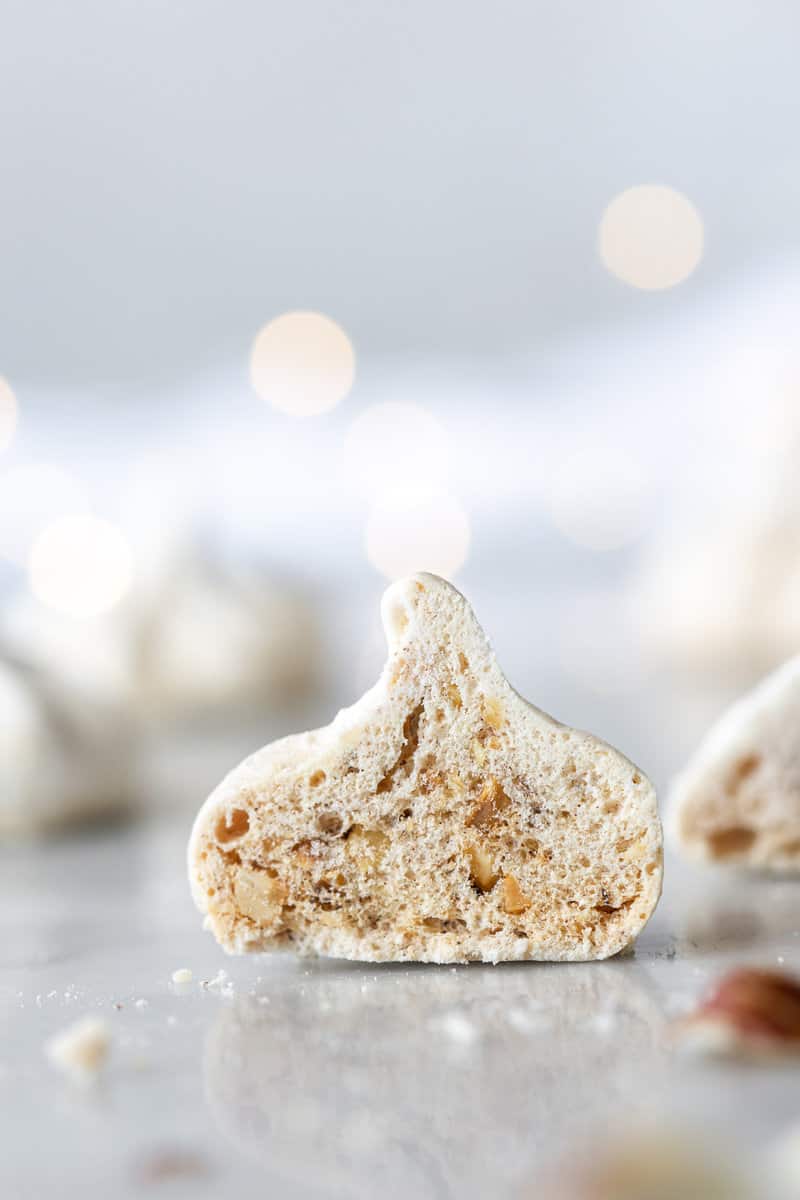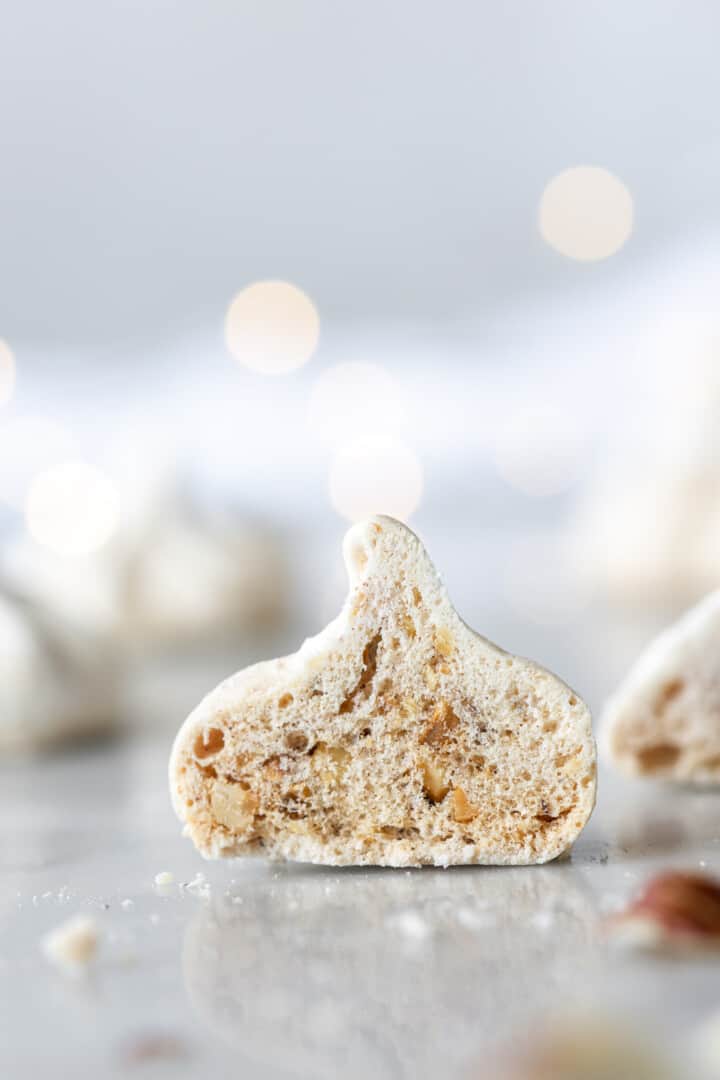 13. Hazelnut Meringue Cookies - Crispy, crunchy cinnamon hazelnut meringue cookies will delight your friends and family this holiday season.
Dip in chocolate for a gorgeous touch.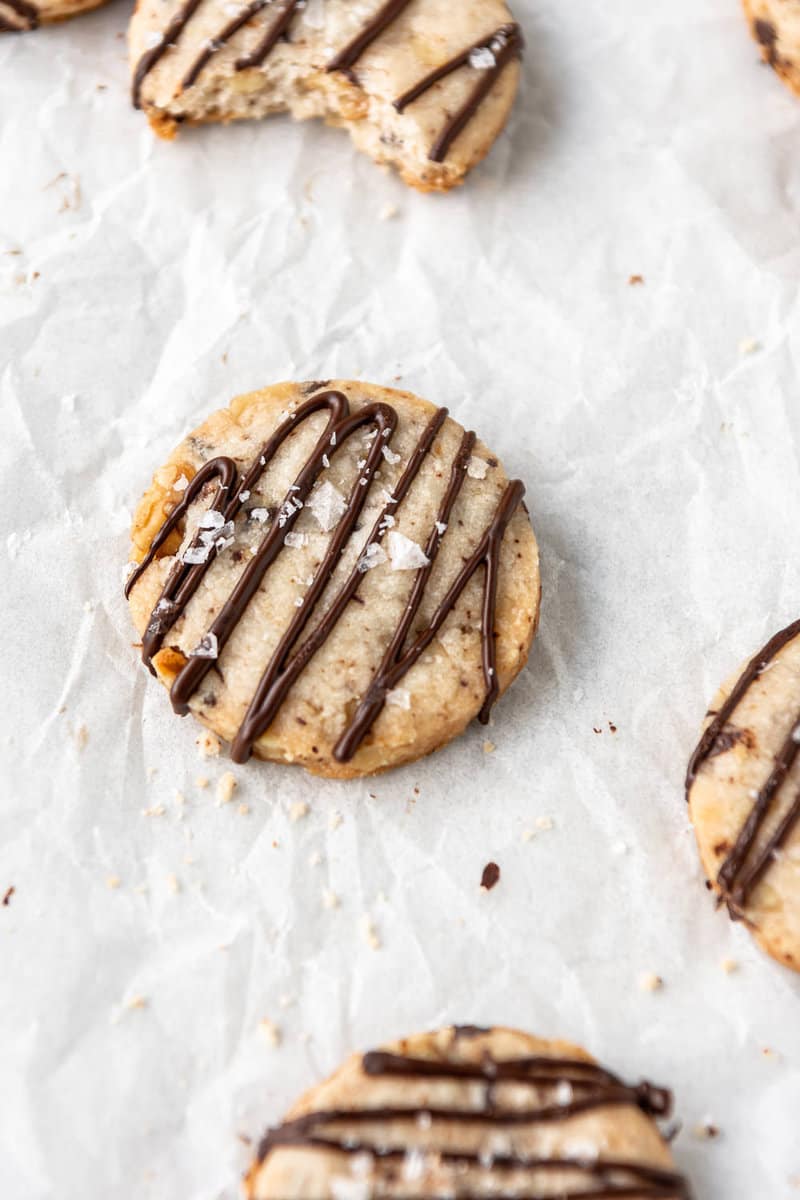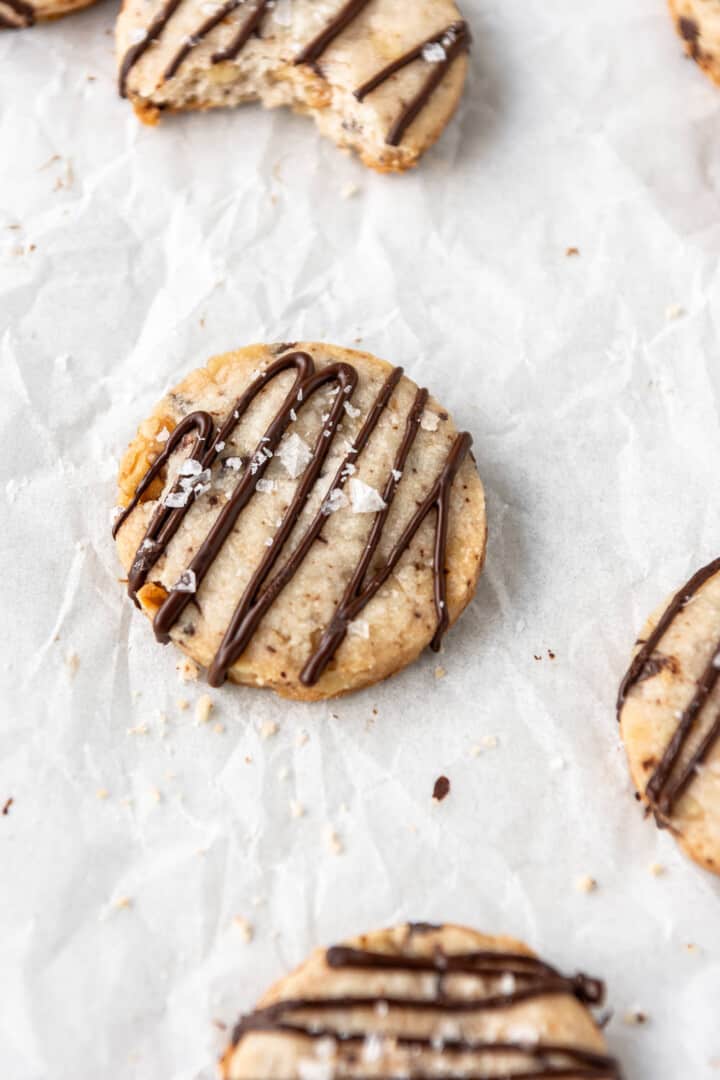 14. Walnut Shortbread Cookies - These walnut shortbread cookies are toasty, nutty, buttery and crumbly.
They're filled with bittersweet chocolate, toasted walnuts and drizzled with melted mocha chocolate.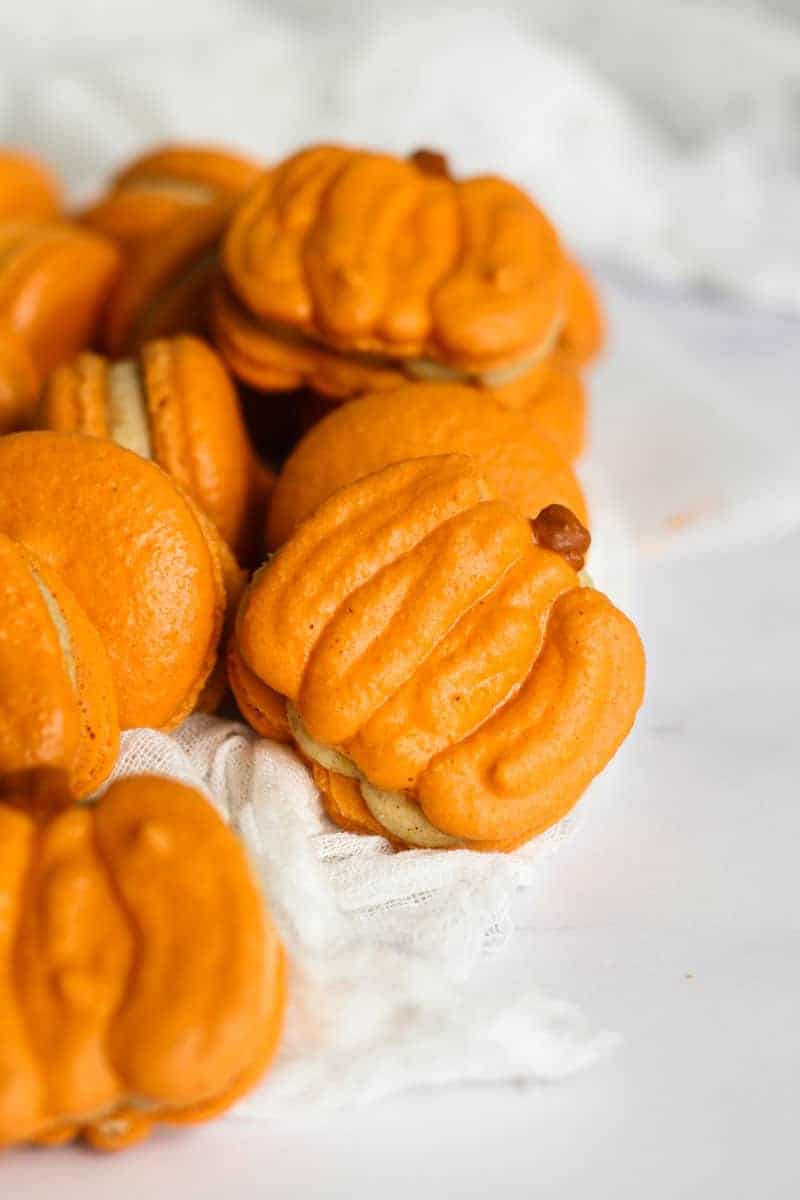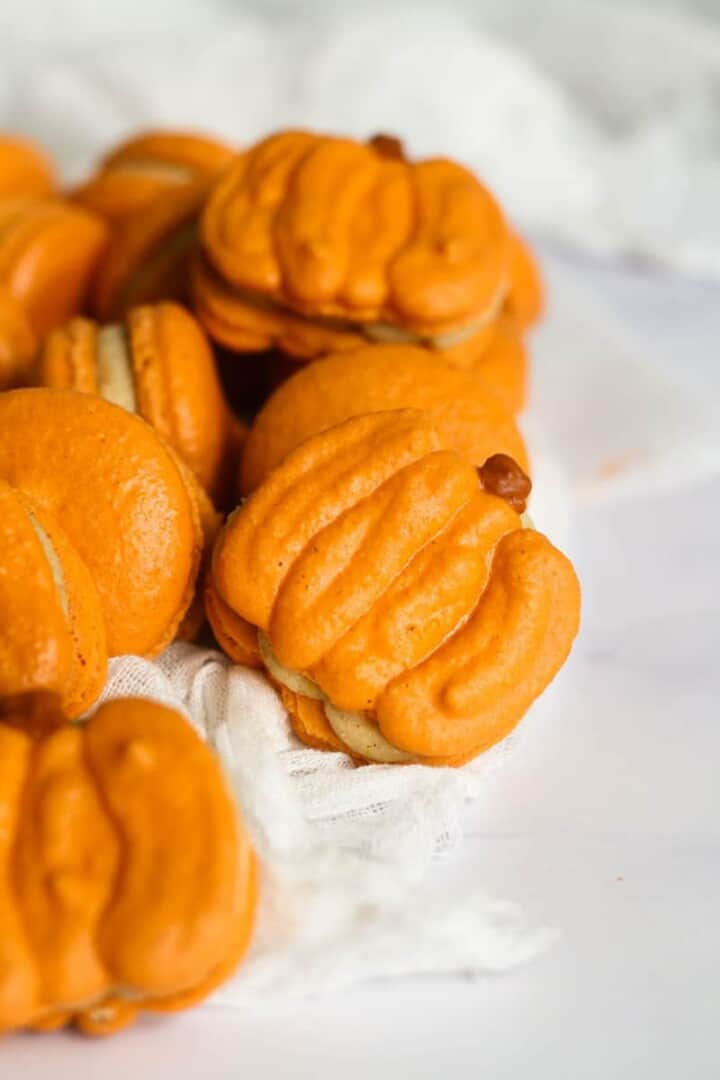 15. Pumpkin Spice Macarons - The perfect fall macaron. Colorful and delicious!
A delicious pumpkin spice orange shell with a delicious pumpkin spice cream cheese filling.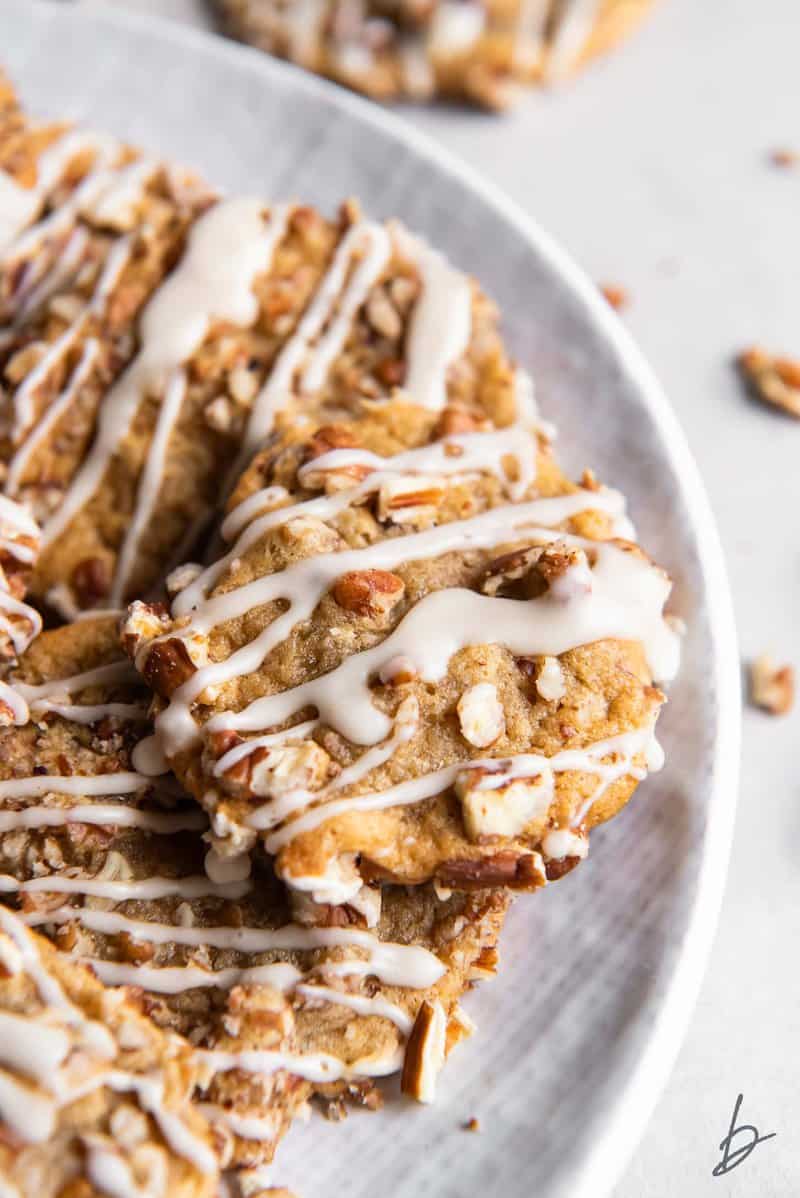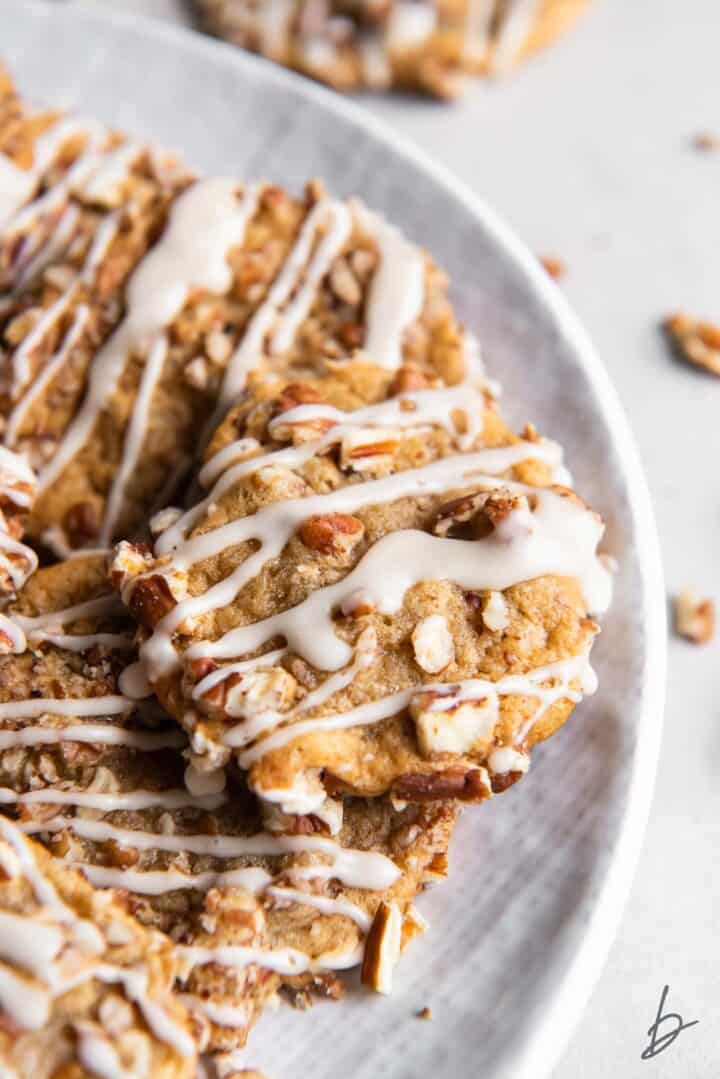 16. Maple Brown Sugar Cookies with Pecans - Maple brown sugar cookies are the perfect seasonal cookie!
Made with pure maple syrup and chopped pecans they are sweet and crunchy.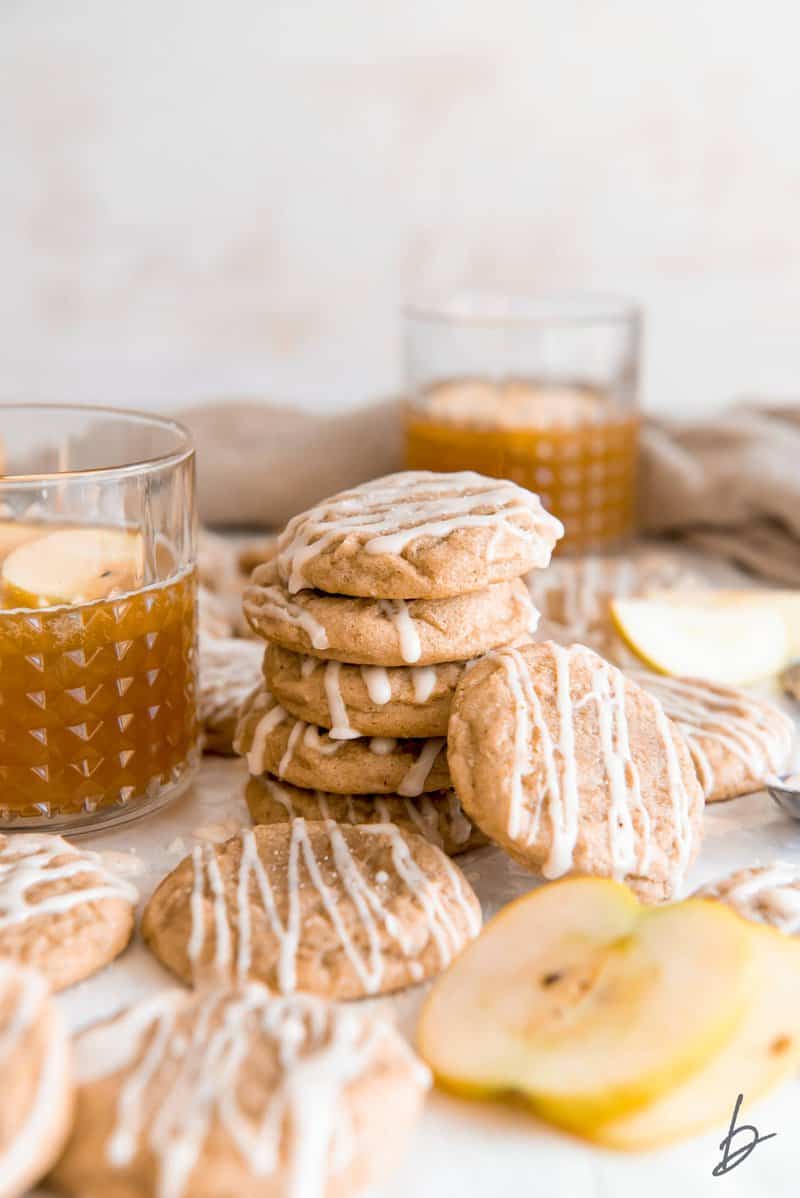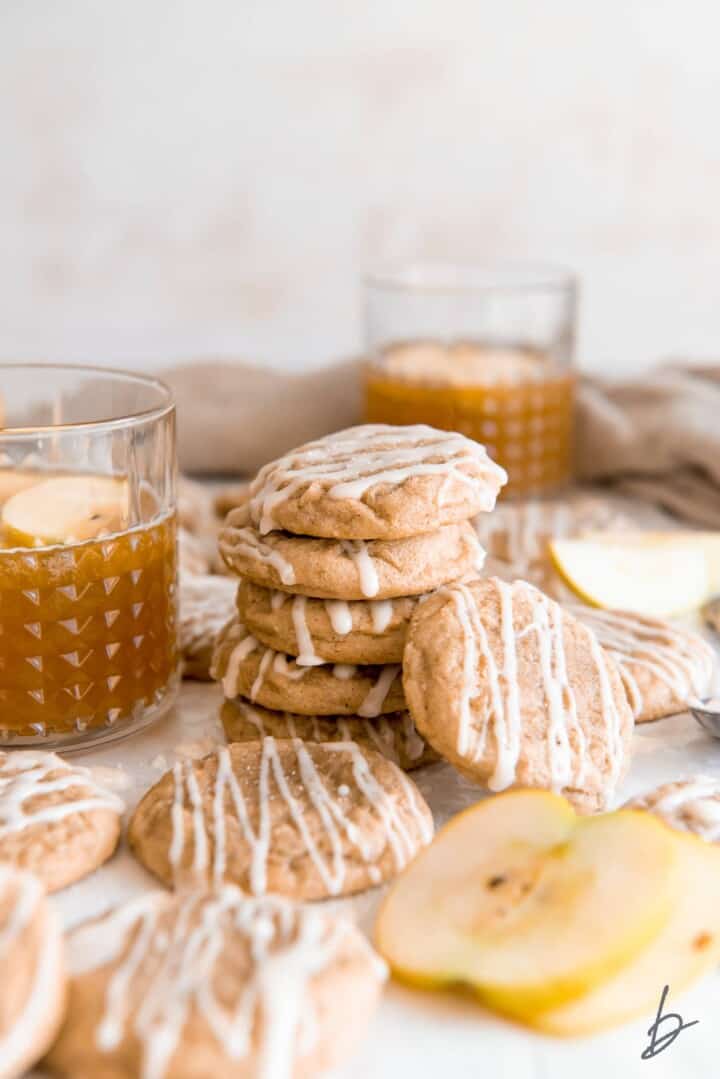 17. Soft and Chewy Apple Cider Cookies - Apple cider cookies are perfectly spiced and sweet.
They are soft, chewy and coated in cinnamon sugar too!
Apple cider is one of my favorite drinks during the fall so this cookies went right to the top of my list for must bake this season.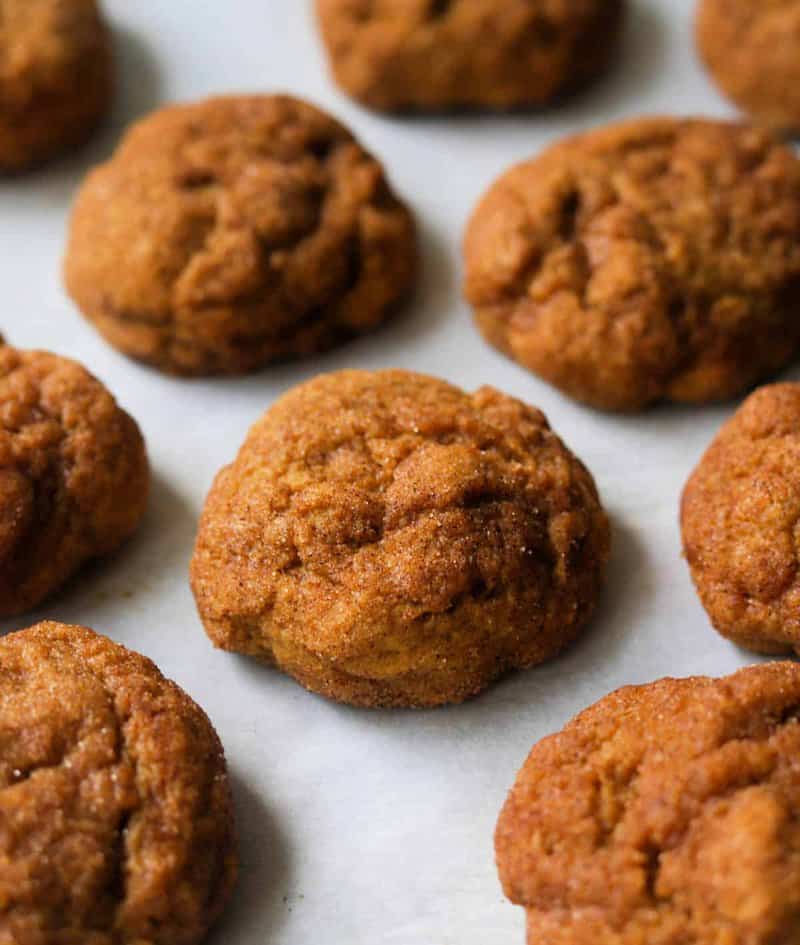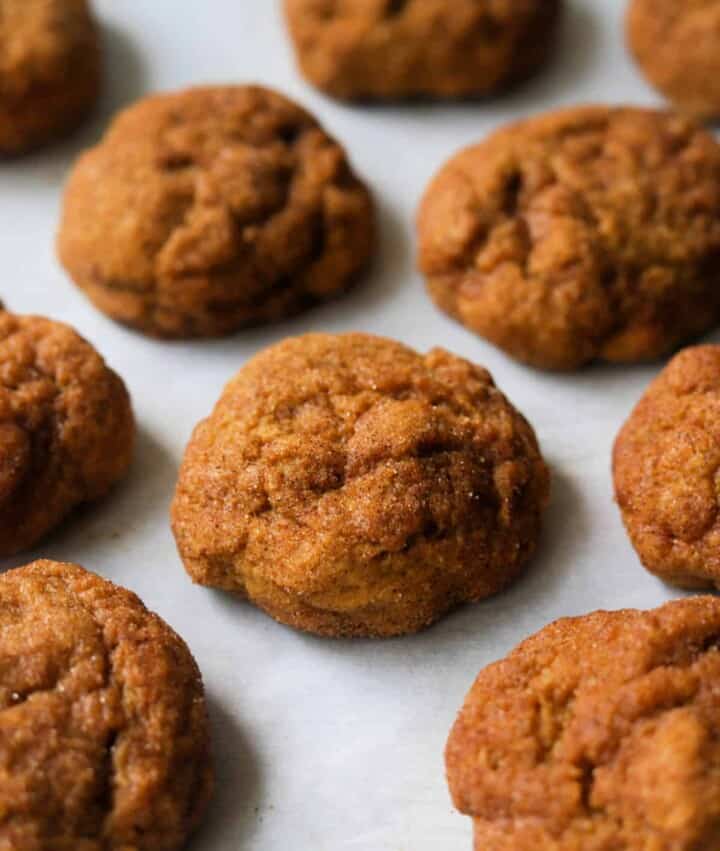 18. Pumpkin Snickerdoodle Cookies - These pumpkin snickerdoodle cookies are soft, light, fluffy and packed with pumpkin flavor.
They boast all of your favorite pumpkin pie spices, including cinnamon, ginger, nutmeg and allspice and are perfectly sweetened with brown sugar.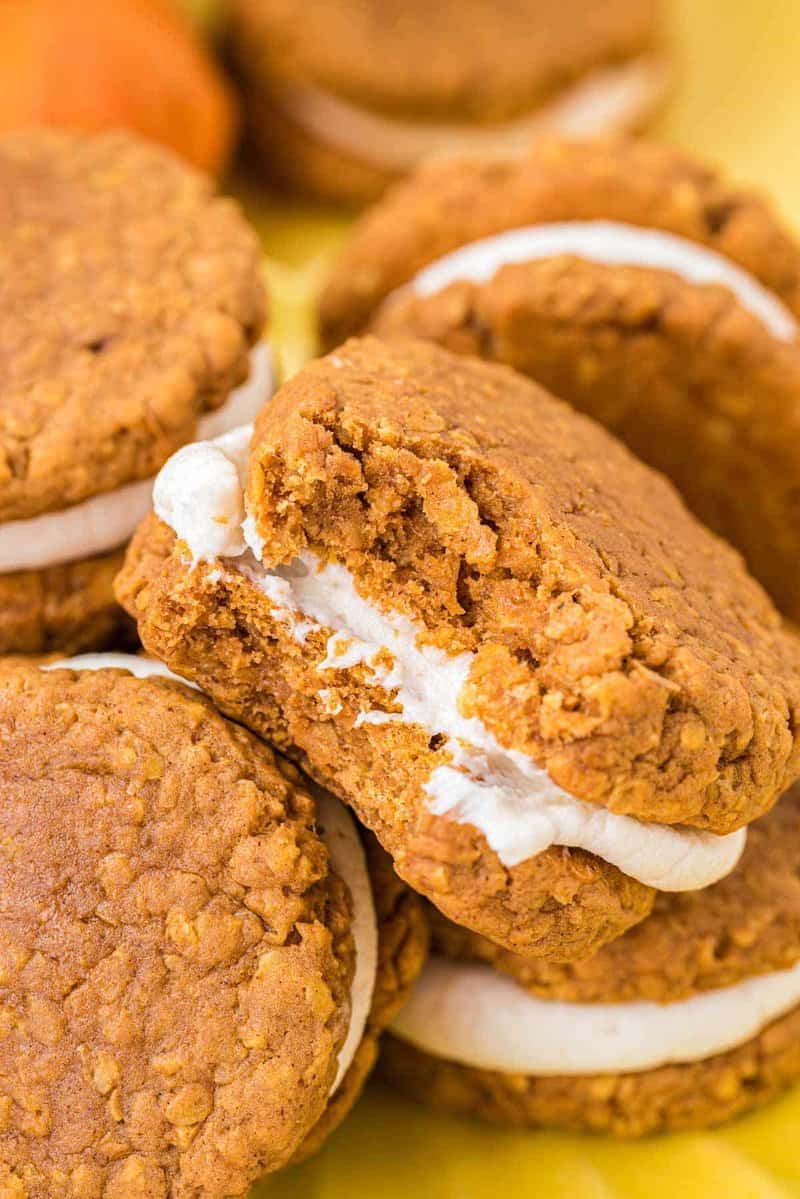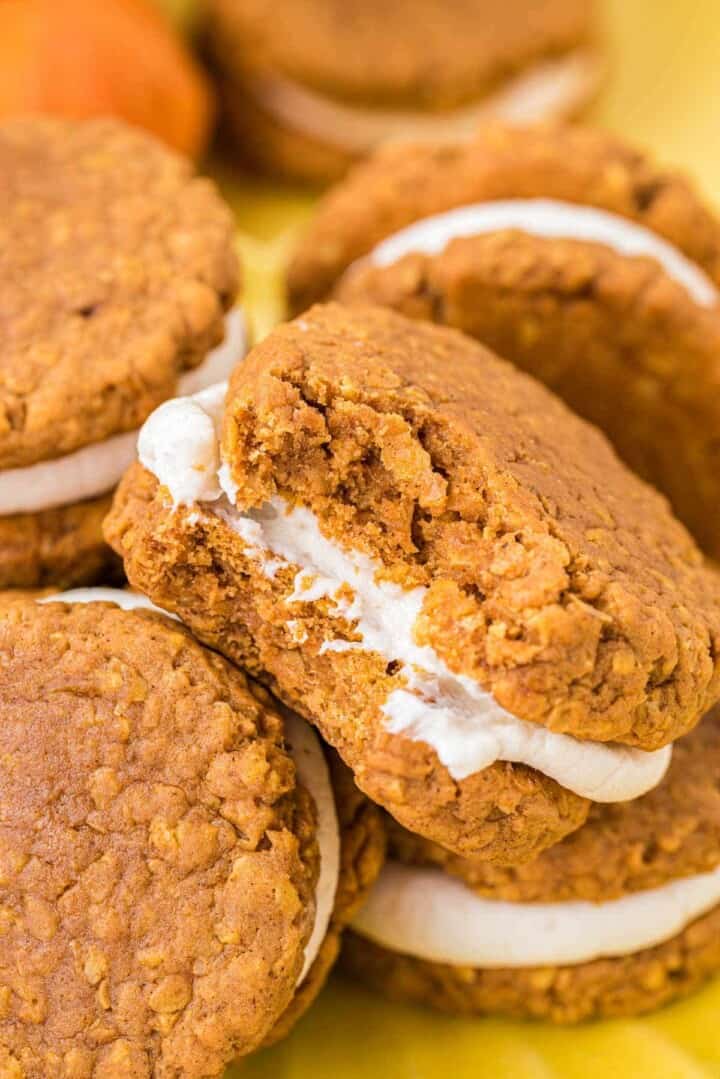 19. Pumpkin Oatmeal Cream Pies - Pumpkin Oatmeal Cream Pies are sweet, spiced, and perfectly chewy!
Made with homemade pumpkin oatmeal cookies and cream cheese frosting!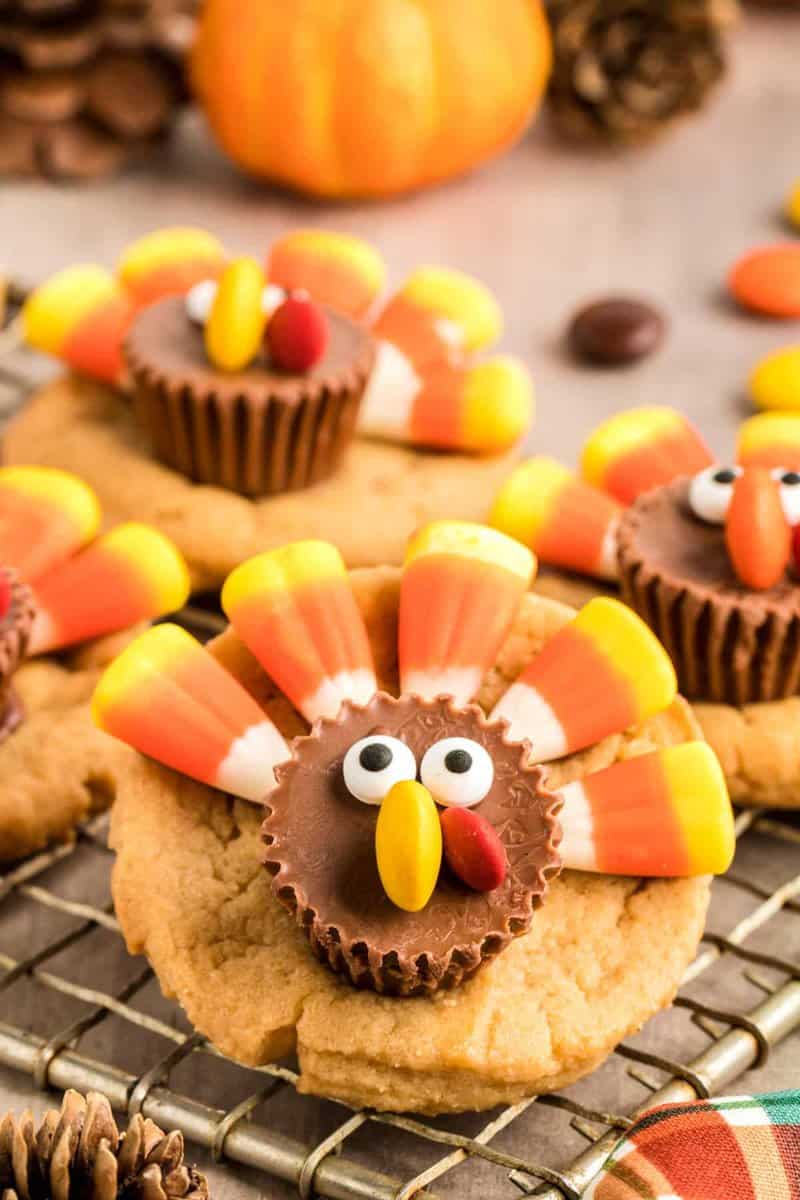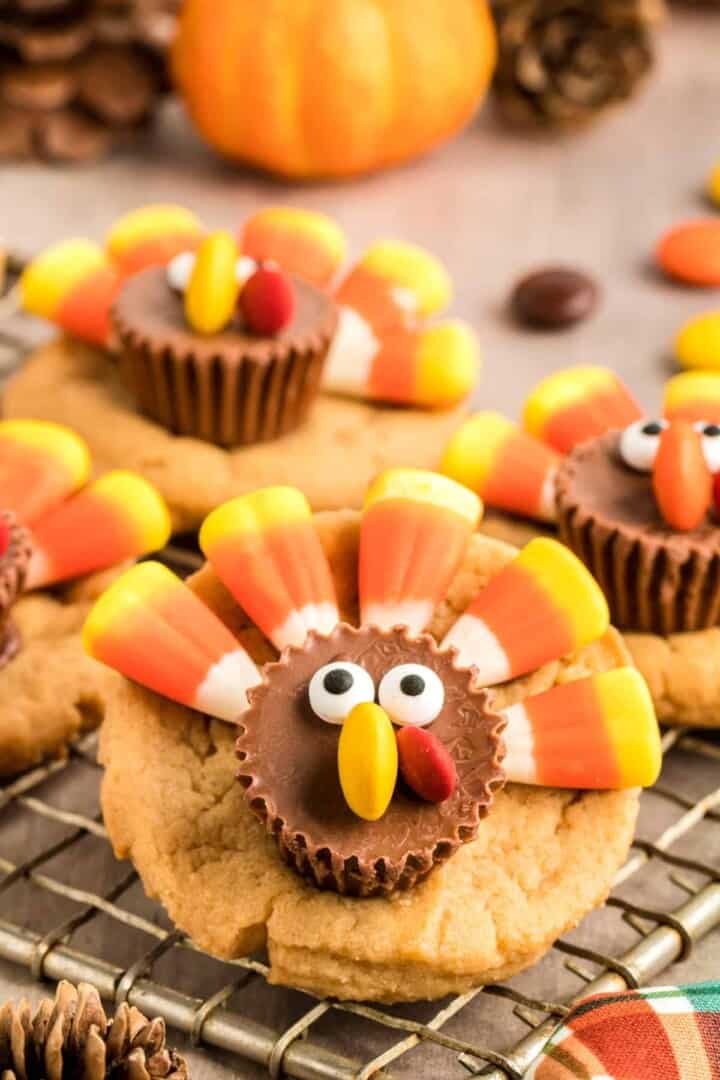 20. Thanksgiving Turkey Cookies - These Thanksgiving Turkey Cookies are a fun holiday treat that kids will love!
They're made with refrigerated cookie dough, melted chocolate, and candy!
Plus they are so adorable!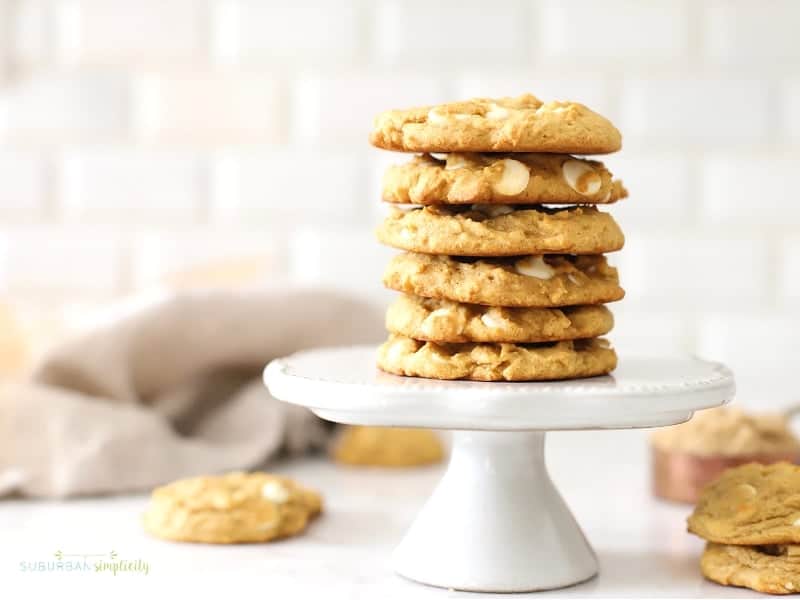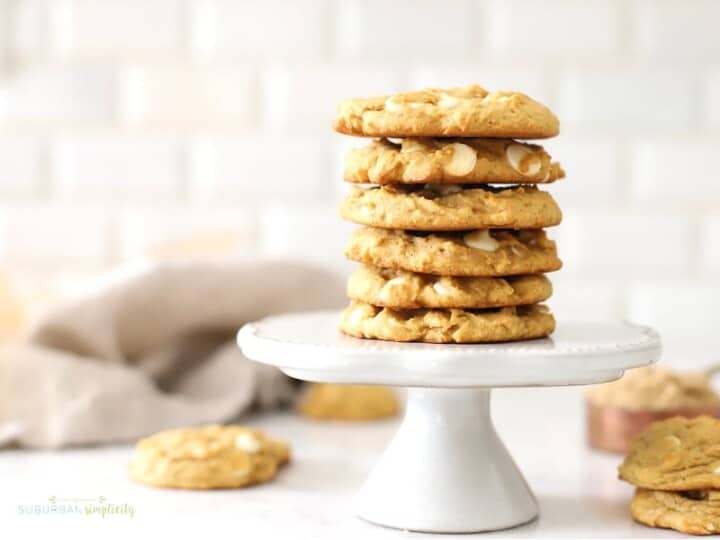 21. Pumpkin Spice Cookies with White Chocolate Chips - I love pumpkin season and these cookies are so delicious and comforting.
Soft and chewy pumpkin cookie with white chocolate chips that's almost impossible not to eat warm from the oven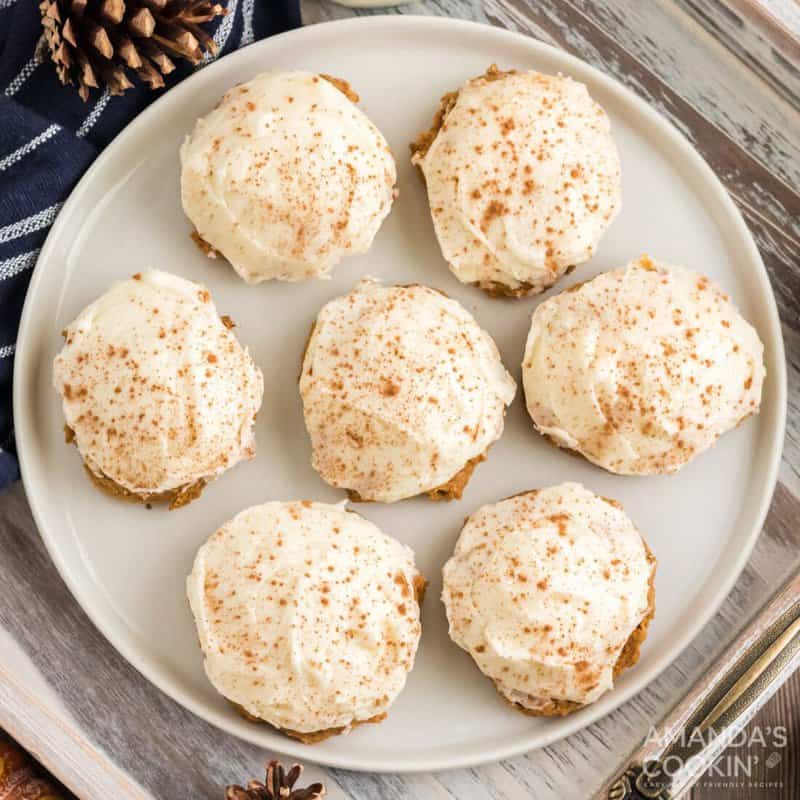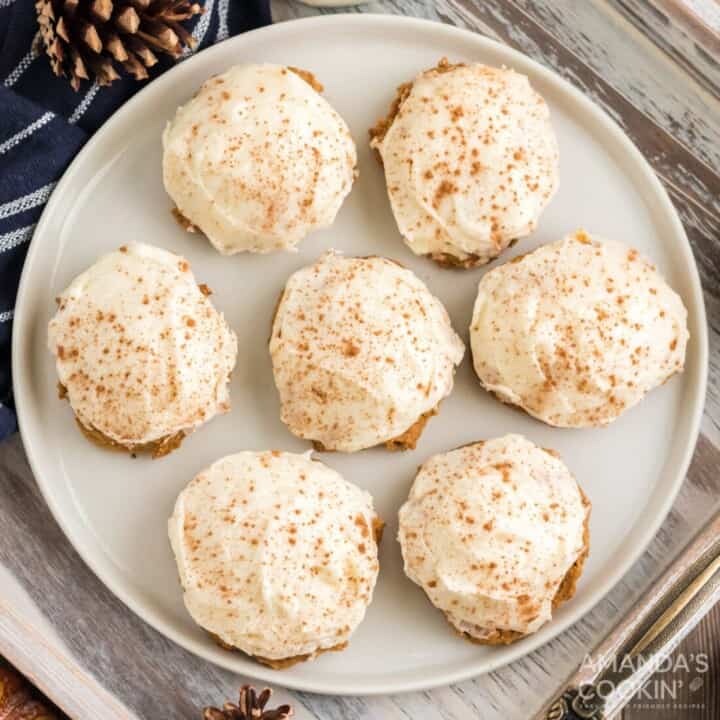 22. Pumpkin Cake Mix Cookies - These pumpkin cake mix cookies only need 6 ingredients, plus a sweet homemade cream cheese frosting to top them off.
They're truly irresistible and quite the staple for fall baking.
I love simple recipes like this so my kids can help me in the kitchen.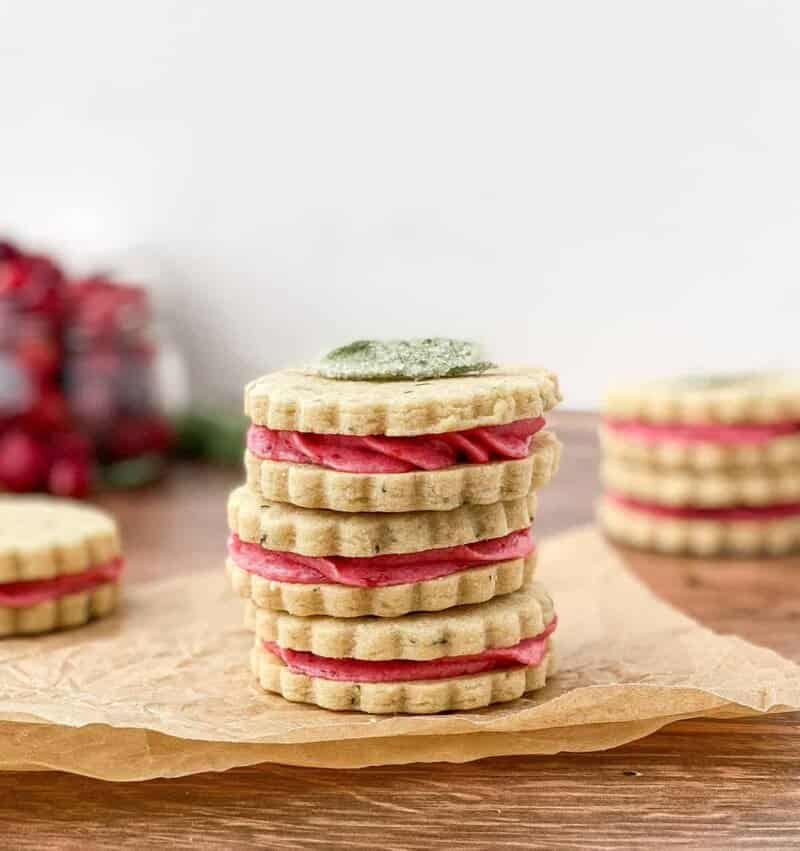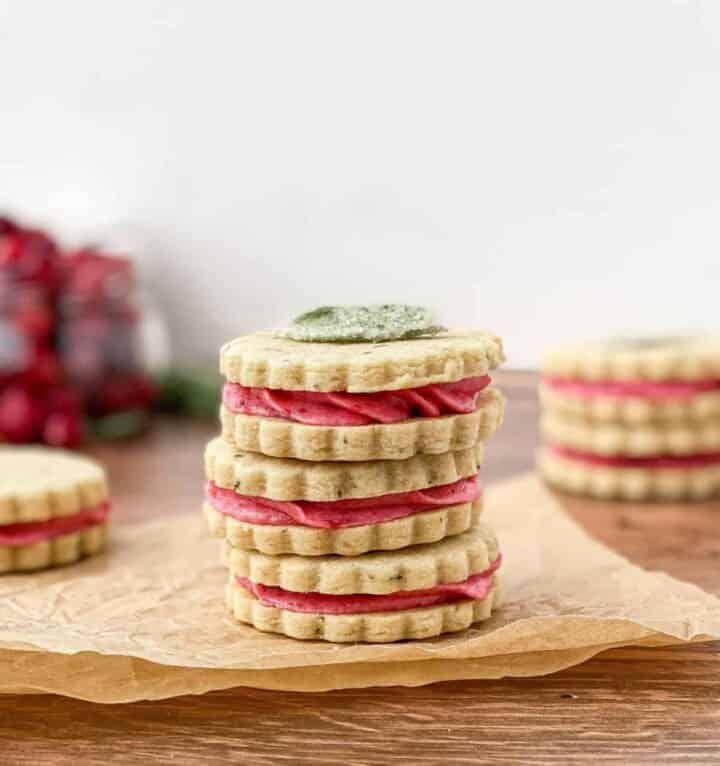 23. Sage Cookies with Cranberry Buttercream - These Cranberry Sage Cookies are buttery sage cookies sandwiched with cranberry buttercream!
The combination of flavors and textures in these beauties what my fall dreams are made of.
For this recipe you will want parchment or with silpats and a fluted round cutter for my cookies.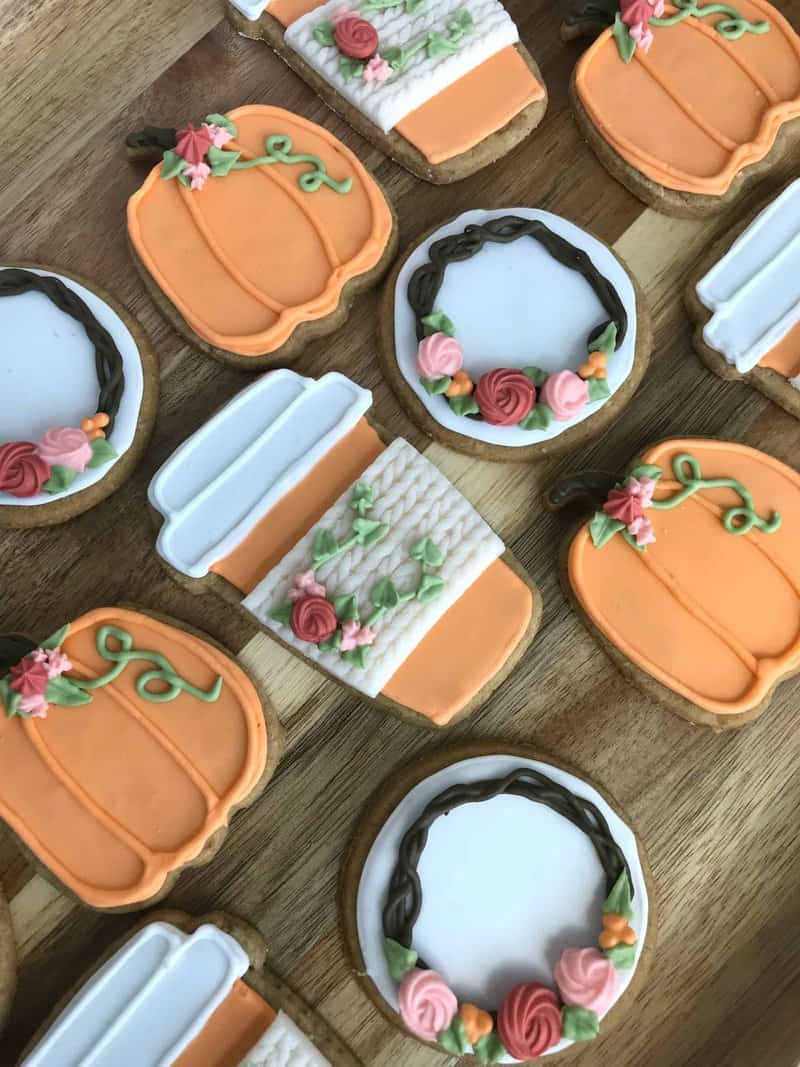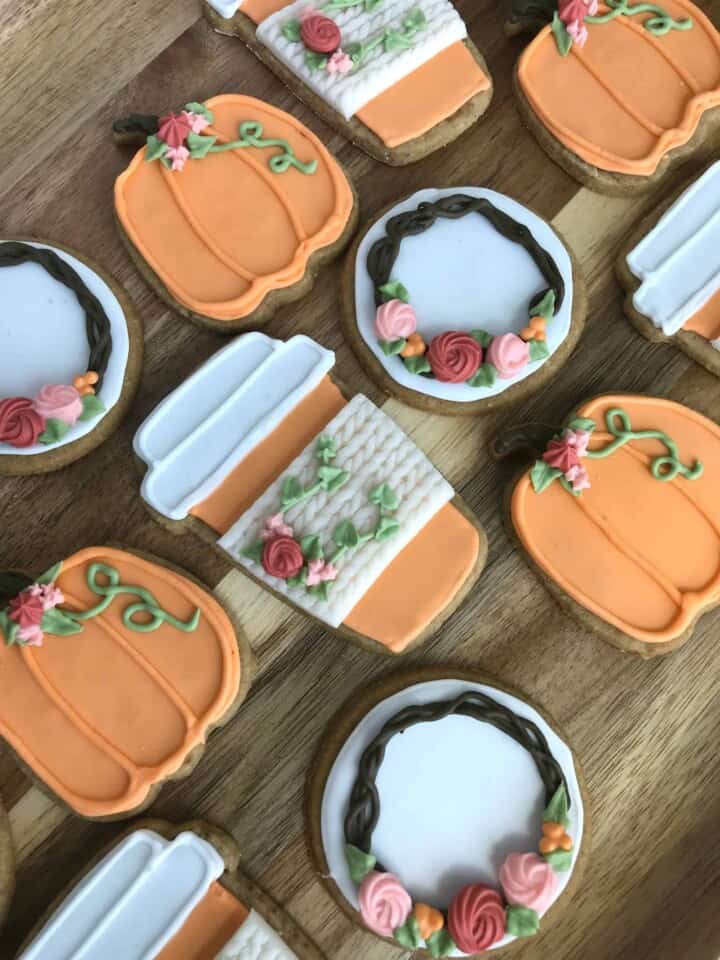 24. Pumpkin Spice Latte Cookies - These Pumpkin Spice Latte Cookies are soft and spiced with a hint of espresso!
Not too sweet, so perfect to frost with royal icing or buttercream!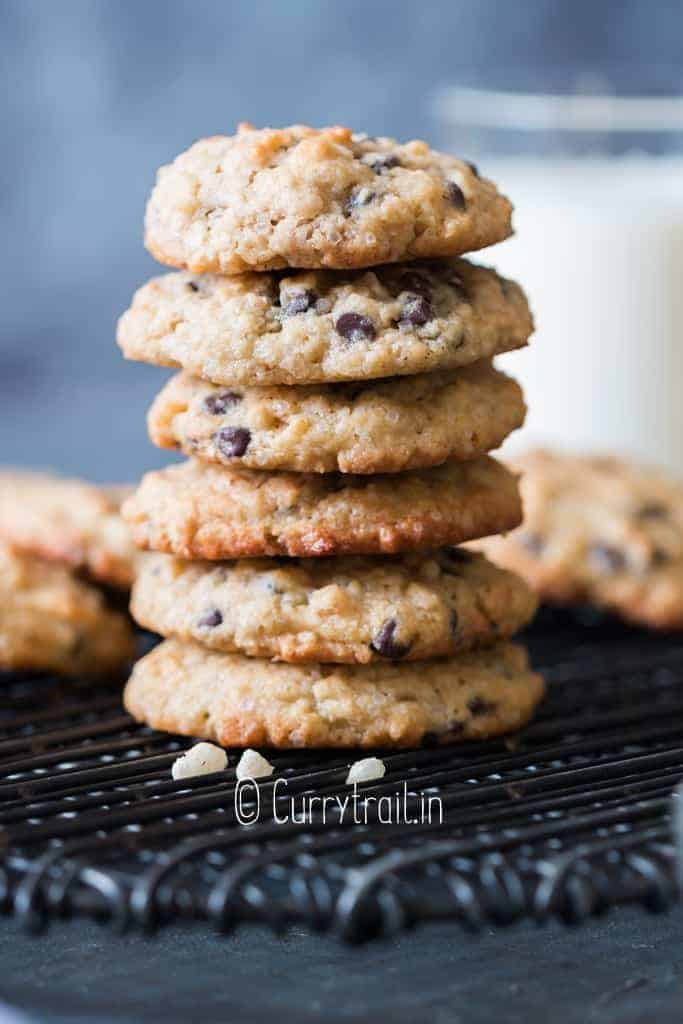 25. Ranger Cookies - Ranger cookies are similar to cowboy cookies are filled with oats, rice Krispies, coconut, brown sugar and loads of chocolate chips.
Known for it's amazing texture, these golden brown cookies are slightly crispy on the edges and chewy in texture.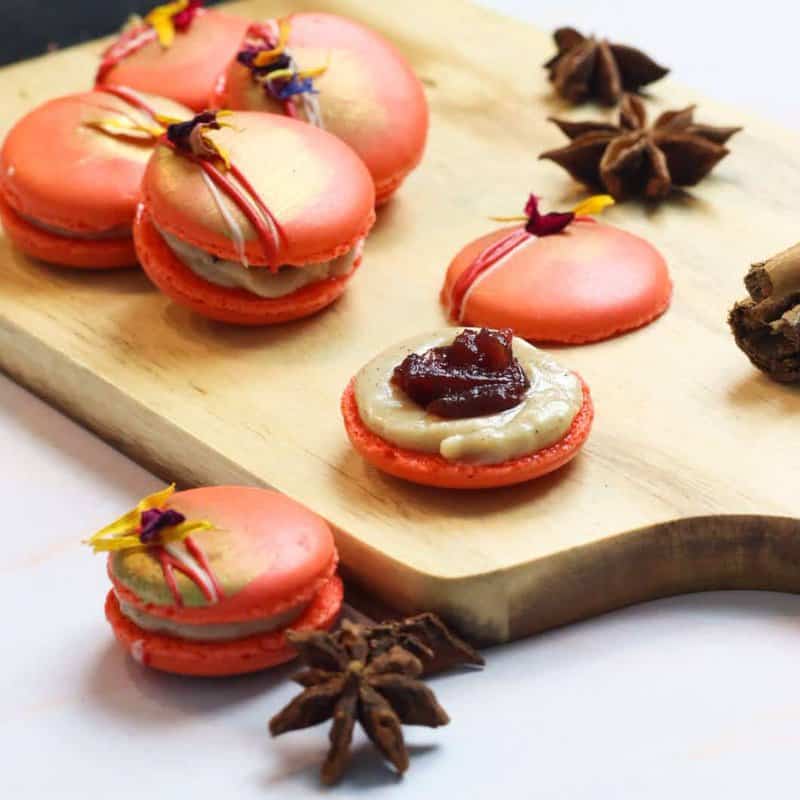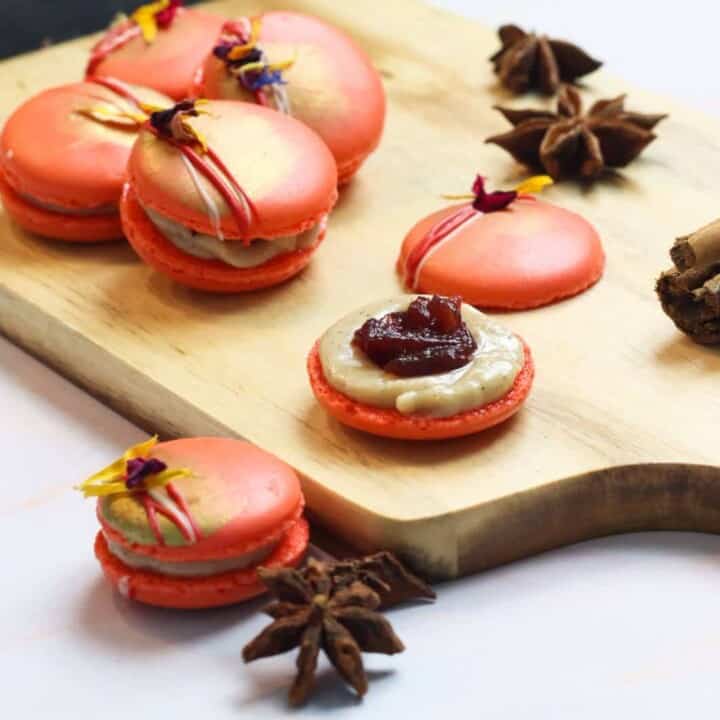 26. Fall Spice Cranberry French Macaron Recipe - You are going to absolutely adore this easy recipe for fall spiced cranberry French macarons.
This recipe is the perfect mix of sweet cranberry sauce and white chocolate warmed with cinnamon and nutmeg.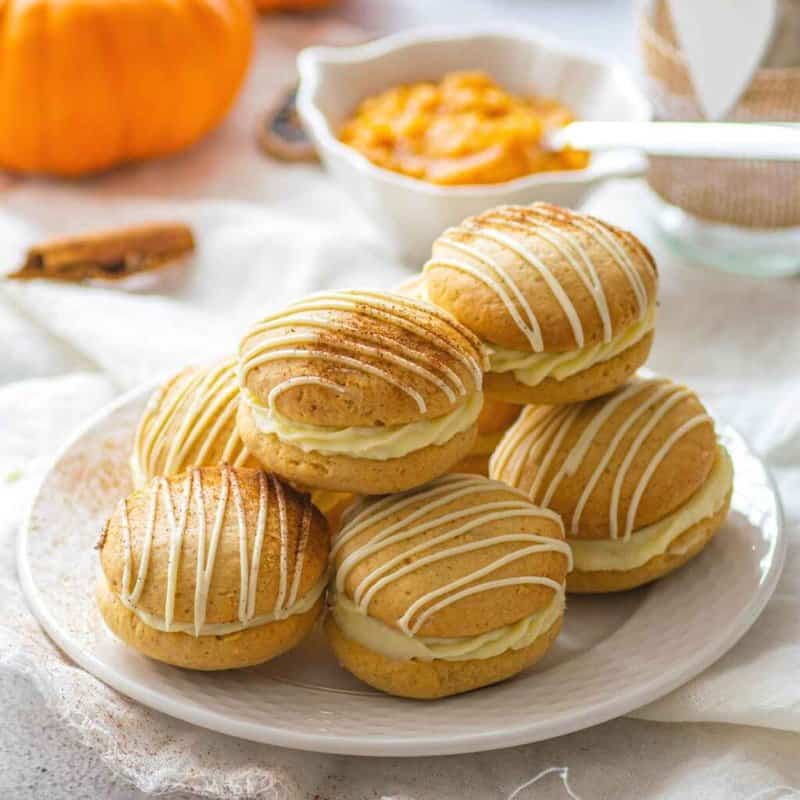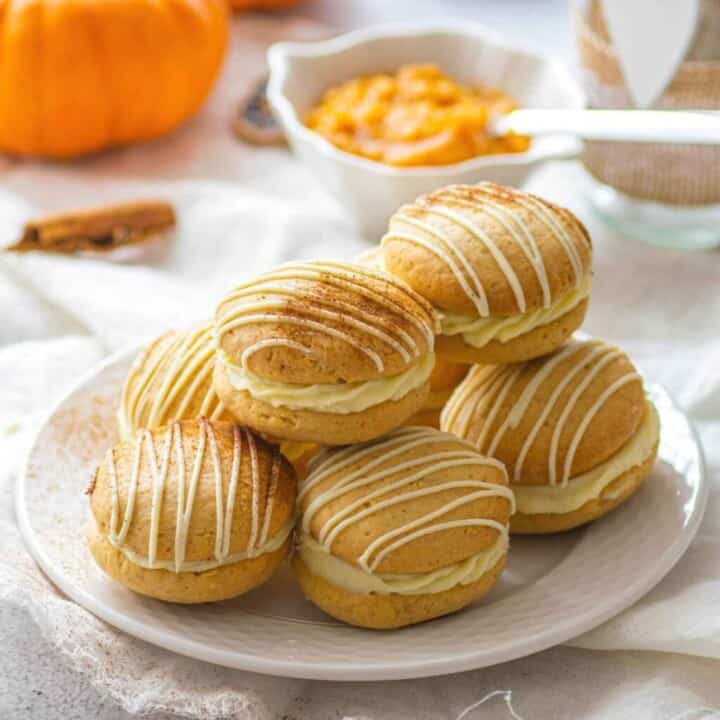 27. Pumpkin Cheesecake Cookies - Pillowy soft pumpkin cheesecake cookies stuffed with a smooth cream cheese filling.
These melt in the mouth pumpkin sandwich cookies taste like autumn in a bite!
For this recipe you want to make sure you are using room temperature ingredients and you aren't overtaxing the dough. And these cookies will come out perfectly.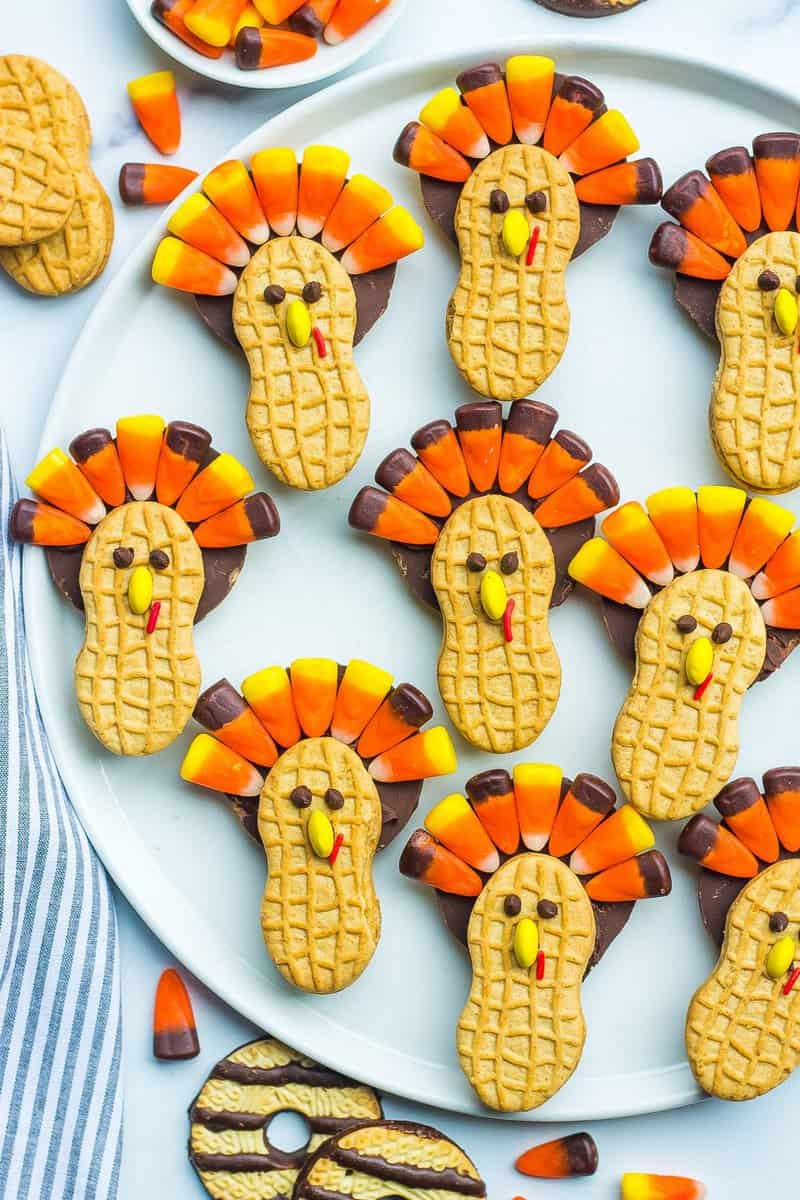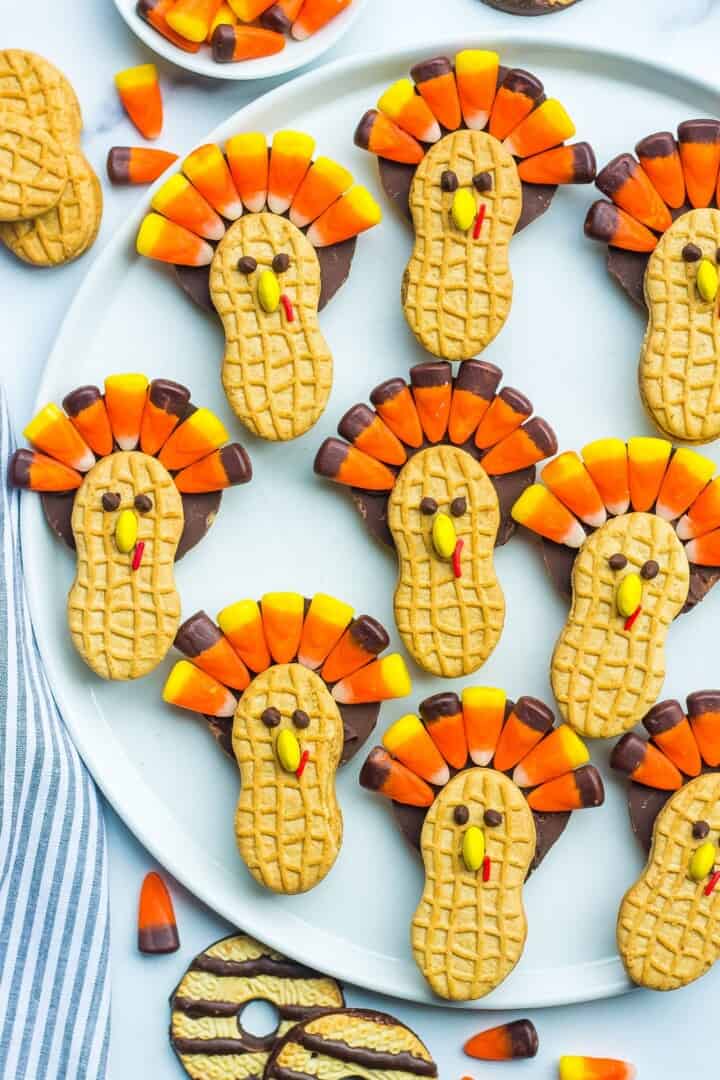 29. Turkey Cookies
- These Turkey Cookies are too cute and oh-so-easy to make for Thanksgiving! Made with just 7 ingredients and are so much fun to make, you will have adorable treats that kids of all ages will love!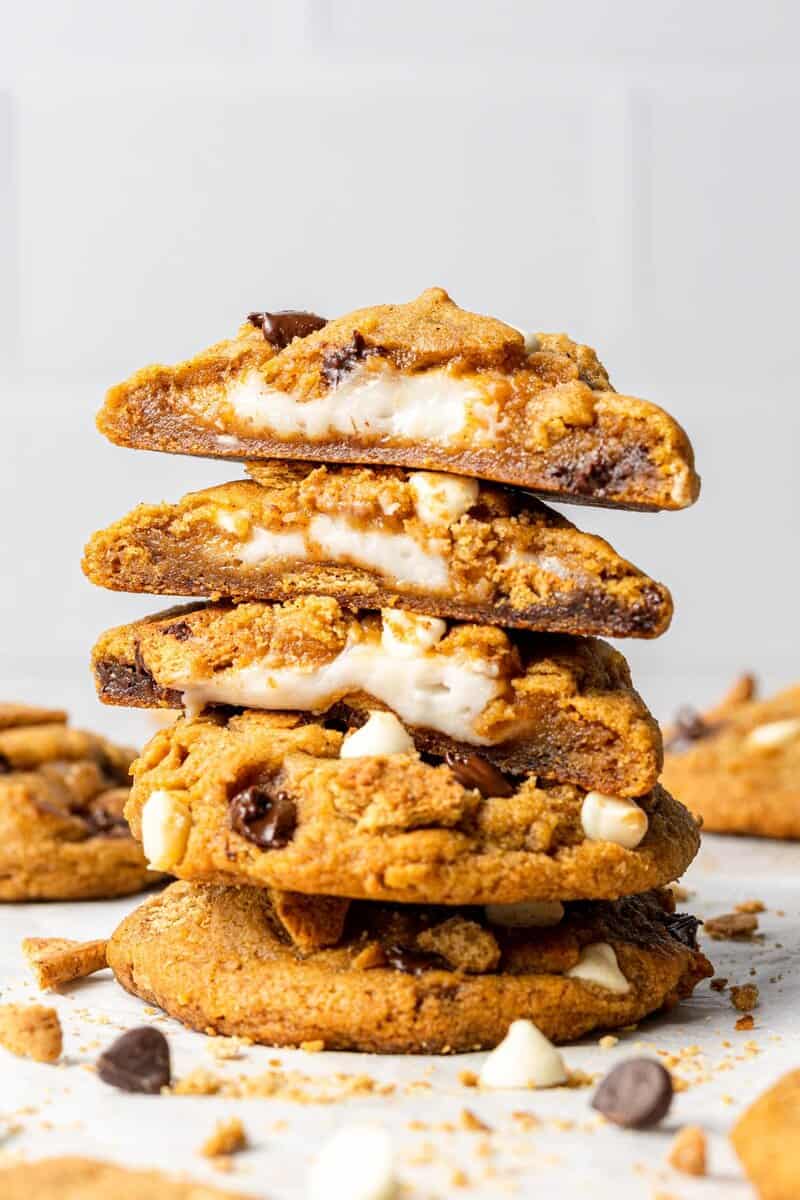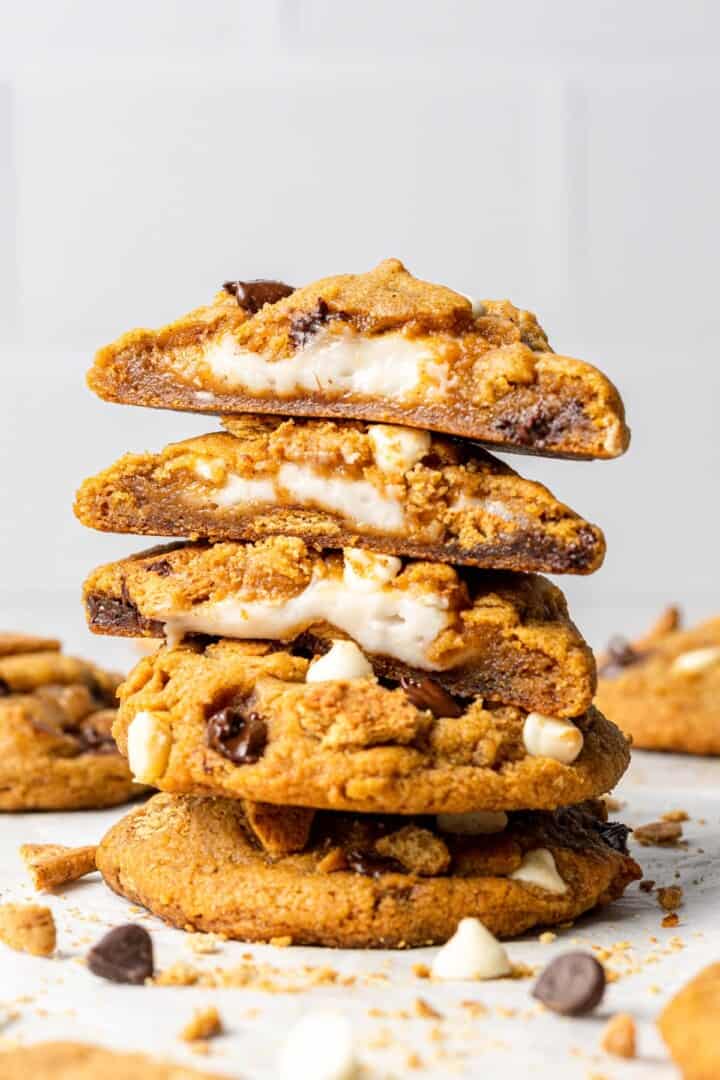 30. Pumpkin Cheesecake Cookies- These soft and chewy cookies are perfect for Thanksgiving. These cookies are stuffed with a creamy cream cheese filling and loaded with chocolate chips.
This cookie is egg free! And since the pumpkin is acting as the binder in these cookies and they come perfect soft and chewy every time.
The best part, they can be frozen! Which mean you can make them ahead of time or save some for later.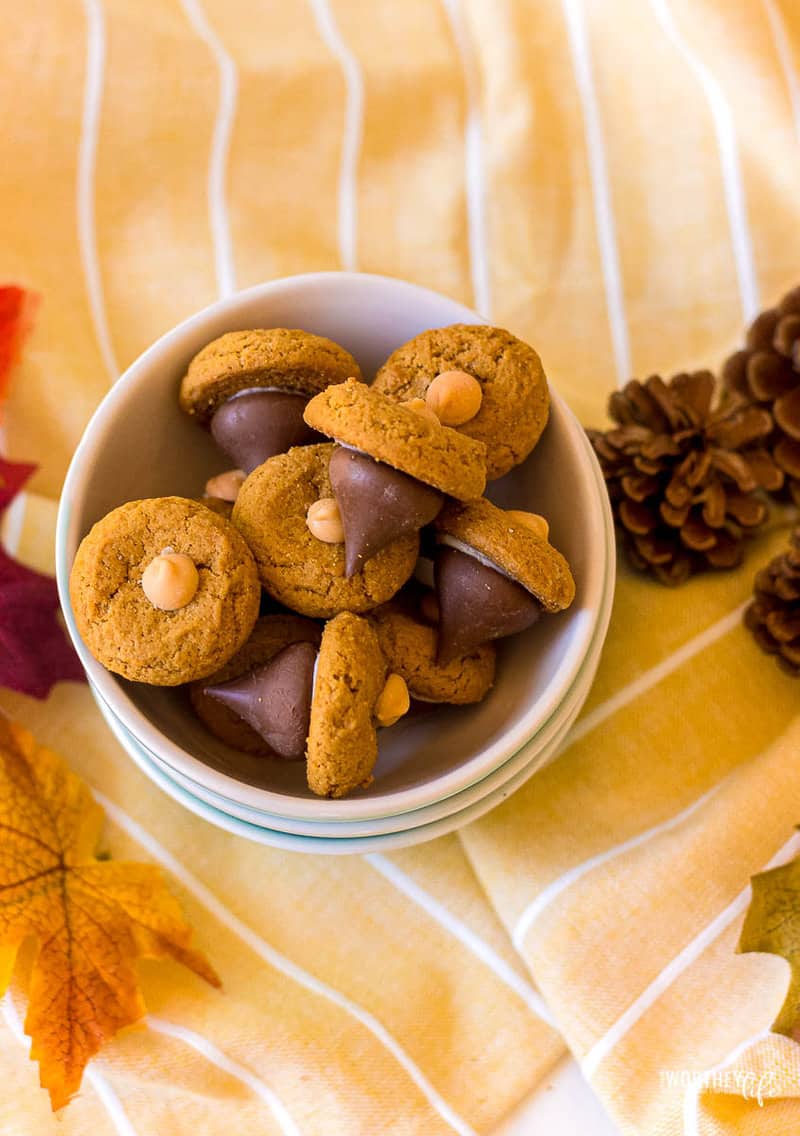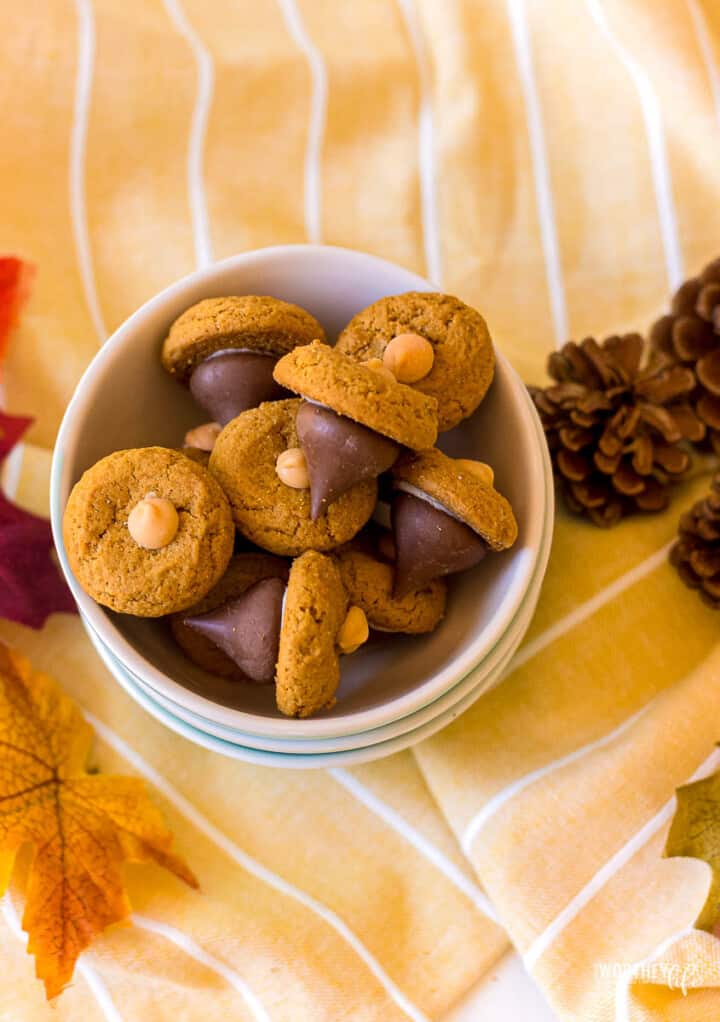 31. Thanksgiving Acorn Treats - These little acorn cookies are so adorable. They are perfect as a fall cookie and so much fun for the kids.
You only need four simple ingredients and they are easy to put together. They make the perfect treat for Thanksgiving.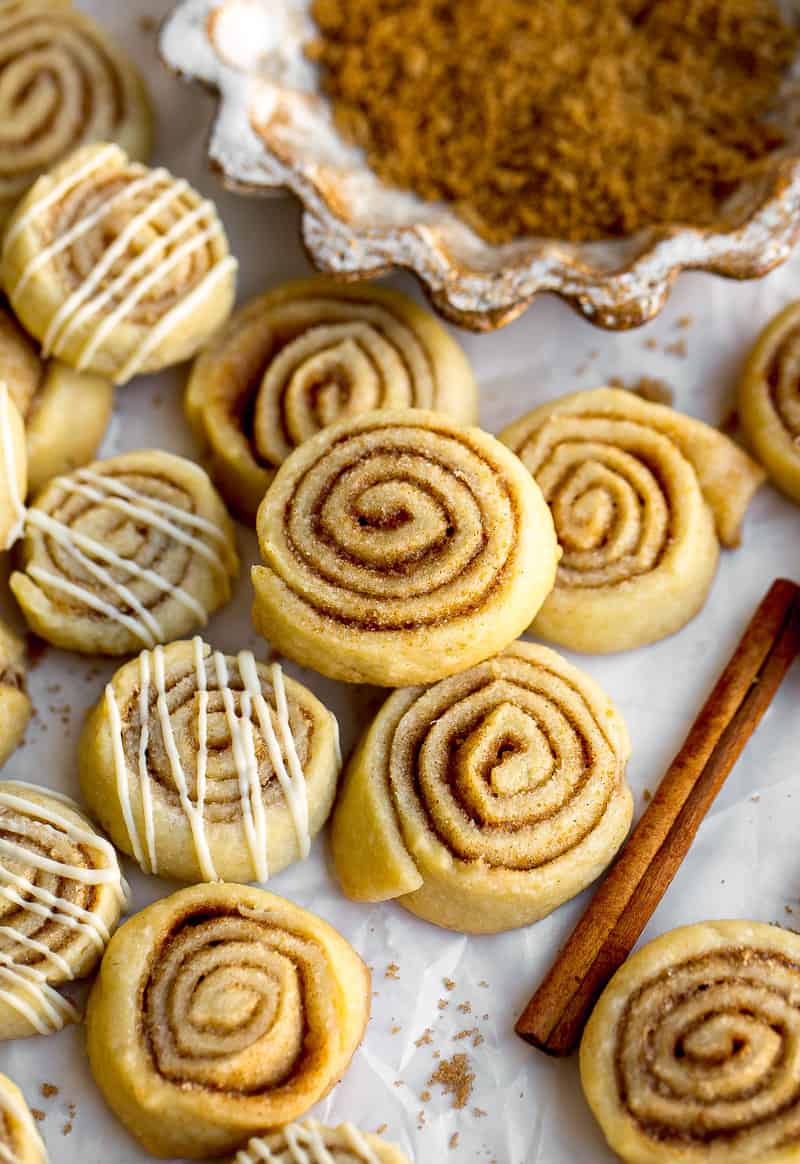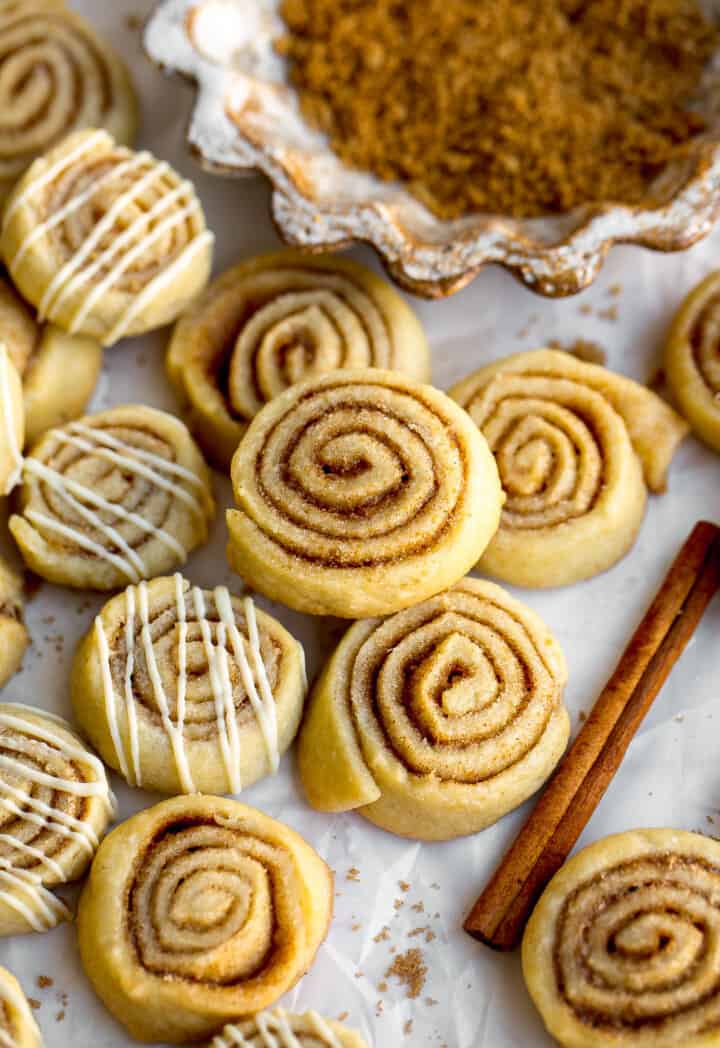 32. Pie Crust Cookies - This Pie Crust Cookies Recipe is easily made with flaky pie crust, cinnamon, and sugar.
They take little effort to whip up and resemble a cinnamon roll in a cookie form.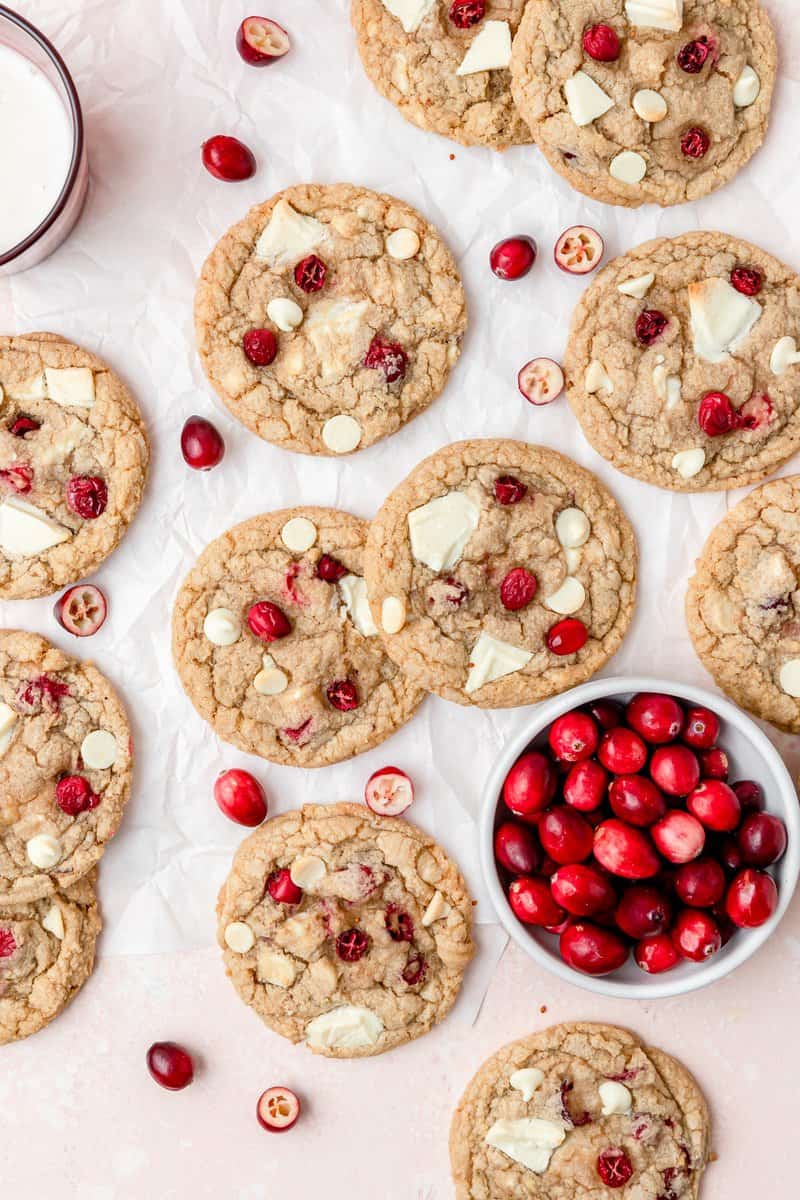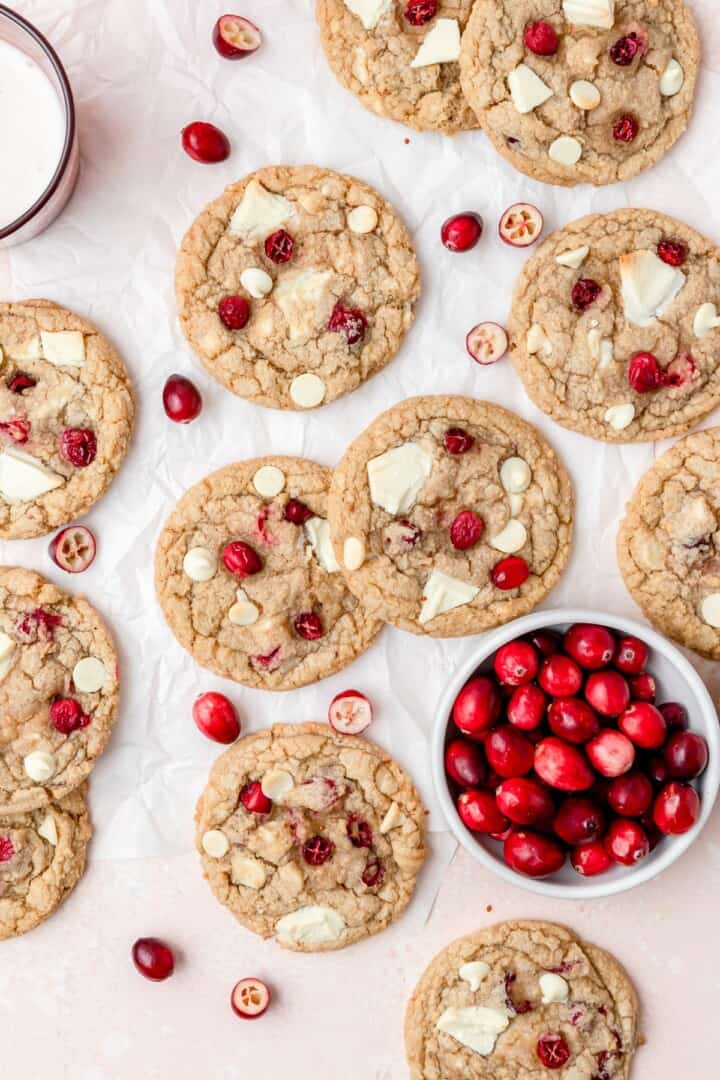 33. Fresh Cranberry White Chocolate Cookies - These flavorful cookies work wonderful for the entire holiday season both Thanksgiving and Christmas.
These cookies are baked soft and chewy. They are made with fresh cranberries which gives this cookie a bright pop of color and a tangy flavor.
Add white chocolate chips or chop of a white chocolate baking bar for big chunks of chocolate in your cookie.
If you tried any of my recipes I would love to hear from you, leave me a comment below. You can also connect with me on FACEBOOK, INSTAGRAM, and PINTEREST. I would love for you to follow along and discover more amazing recipes.
Show me what you are making, use hashtag #TDOARH