From pie-crust to no-bake pies. These Pie Recipes are some of the BEST from around the internet.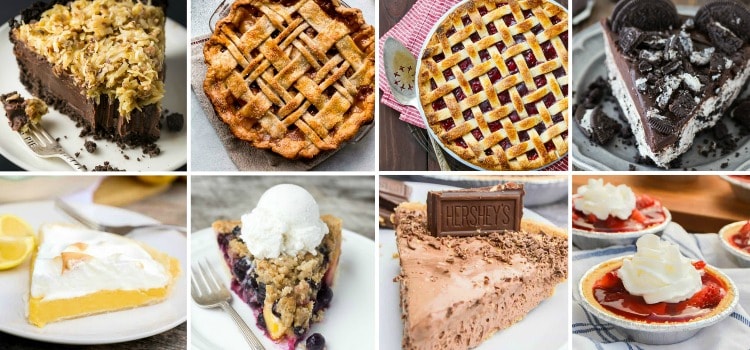 The great pie round-up is here! I'm a pie lover, I love all the classics, apple pie, pumpkin pie, pecan pie! I've been on the hunt for some fun new recipes along with the best classic ones. Today I am sharing with you my favorite pie recipes from the perfect crust, to the best apple pie.

Pie Crust Recipe:
Making homemade pie crust is easier than you might think. I used to be intimidated by making my own, but trust me when I say you can do it.
Pie Crust Tips:
Use cold ingredients. When making my classic pie crust you want to make sure to use very cold butter and ice-cold water. Don't skip those steps. Starting with cold ingredients is very important.
To avoid a gap between your crust and filling, make sure your filling is packed into your pie. For example, an apple pie will start too much taller than when it is baked. Slice your fruit and really pack it into the bottom. You also want to make sure your top crust has large enough cuts to let the air out.
For a beautiful pie crust, you can also use a light egg wash on your crust. This will help it turn golden brown. Make sure to only egg wash pie you will be baking.
Here are a few different pie crus recipes to make with different pies.

Homemade Pie Crust - The Diary of a Real Housewife
Graham Cracker Crust - Crazy for Crust
Almond Flour Crust - Wholesome Yum
Sugar Cookie Crust - Cooking with Kari
Chocolate Pie Crust - Wild Wild Whisk

Fruit Pie Recipes:
Fruit-based pies are my favorite. Warmed fruit served in a pie crust with ice cream, you don't get much better than that. Here are a few of my tips when making a fruit-based pie.
Soggy pie Crust:
When making a fruit pie, your crust can easily become soggy. To prevent this you want to remember these tips:
Fruit will release water when baking. When adding sugar to your fruit allow it to sit in the fruit to draw out the water. You can do this overnight or for 1-2 hours before baking. Make sure when adding the fruit to your pie that you leave all the juice in the bowl and not your pie crust.
You can also add a sprinkle of flour to the bottom of your crust before filling it with fruit.
Blind-bake your crust when you need to. Don't skip this step for custard or cream pies.

Blueberry Peach Crumble Pie - The View from Great Island
Strawberry Rhubarb Pie - You Can Live Rich on Less
Mango Pie - Much Butter

Caramel Pear Pie - Sallys Baking Addiction
Cherry Pie - Love and Olive Oil
Apple Pie - The Diary of a Real Housewife
Triple Berry Pie - Of you Give a Blonde a Kitchen

Blackberry Pie - The Loopy Whisk
Banana Cream Pie - Taste of Lizzy T
Blueberry Pie - Garnish and Glaze

Chocolate Pie Recipes:


Fall Pie Recipes:
These pies are my favorite to serve during the fall. They all would be perfect on your Thanksgiving table.

Cranberry Gingersnap Pie - The View from Great Island
Mini Pumpkin Pies  - The Diary of  a Real Housewife

No Bake Pie Recipes:
No time to bake? No worries! Here are a few of my favorite pies that requie no baking.

No-Bake Oreo Pie - The First Year
No-Bake Pecan Cream Pie - The Gold Lining Girl