Homemade Pie Crust doesn't have to be difficult. This easy pie crust recipe is foolproof and tastes great. Yes, going to the store and buying pre-made pie crust is easy, but there is a great satisfaction that comes with making your crust from scratch!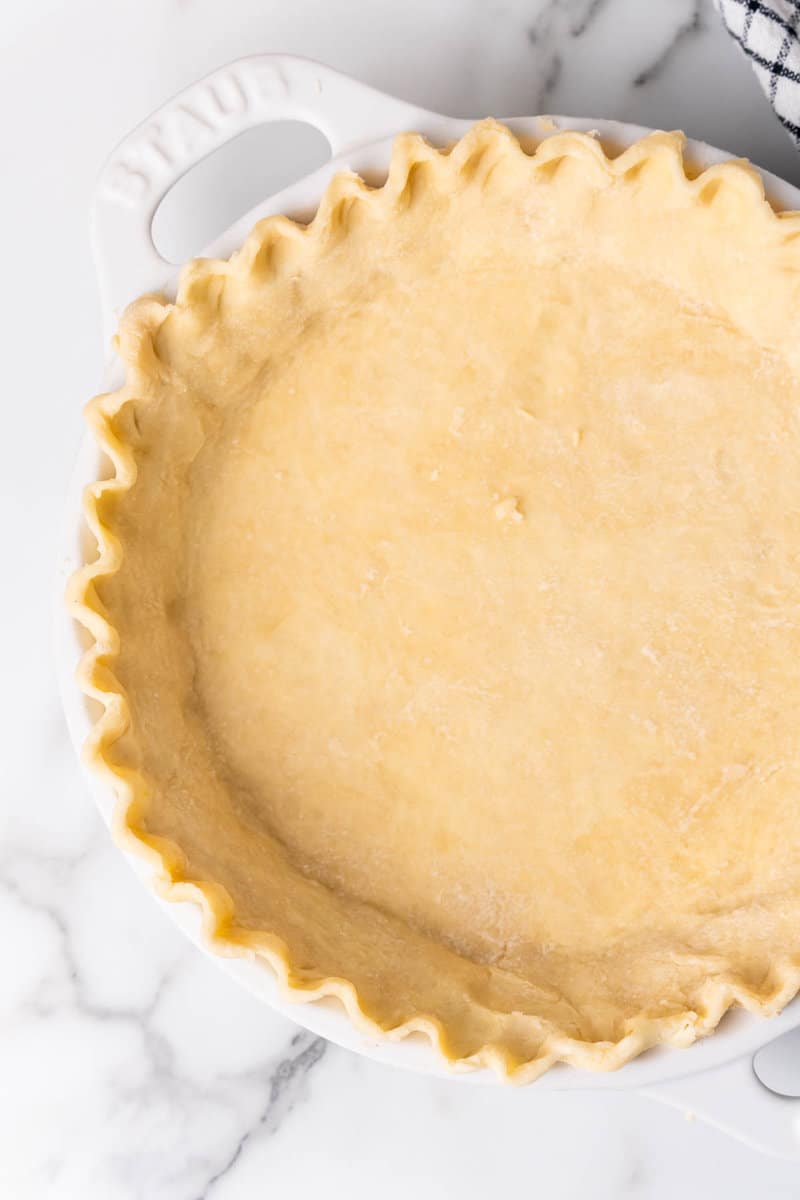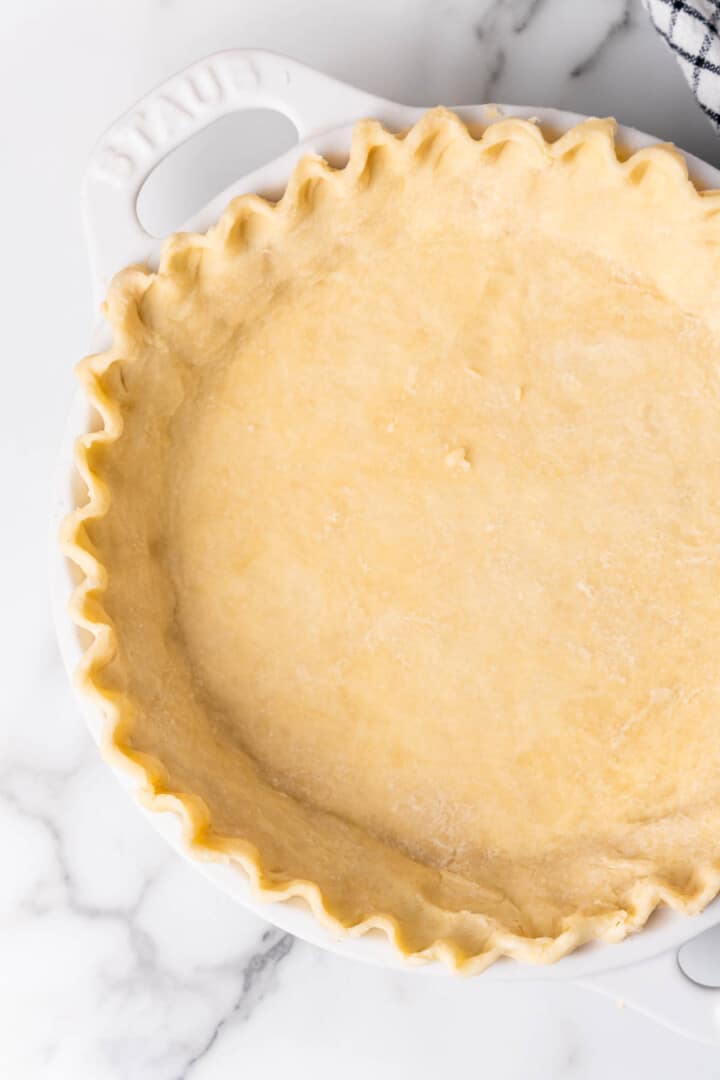 I love making homemade pies. I honestly feel pies are my all-time favorite dessert. Baking homemade pies bring such joy to my family and friends. There is something comforting and pleasing when bringing a homemade pie to the table at any meal or gathering.
If you need a pie recipe for this crust then make sure to check out my Dutch Apple Pie, It's my all-time favorite pie recipe!
How to make Homemade Pie Crust:
Homemade pie crust is very easy to make. You need to make sure your water and butter are very cold though. Ice water and butter from the fridge are best.
Whisk your dry ingredients and then smash in your sliced cold butter.
A very simple pie crust recipe to make that will make your pie making so much easier! Enjoy!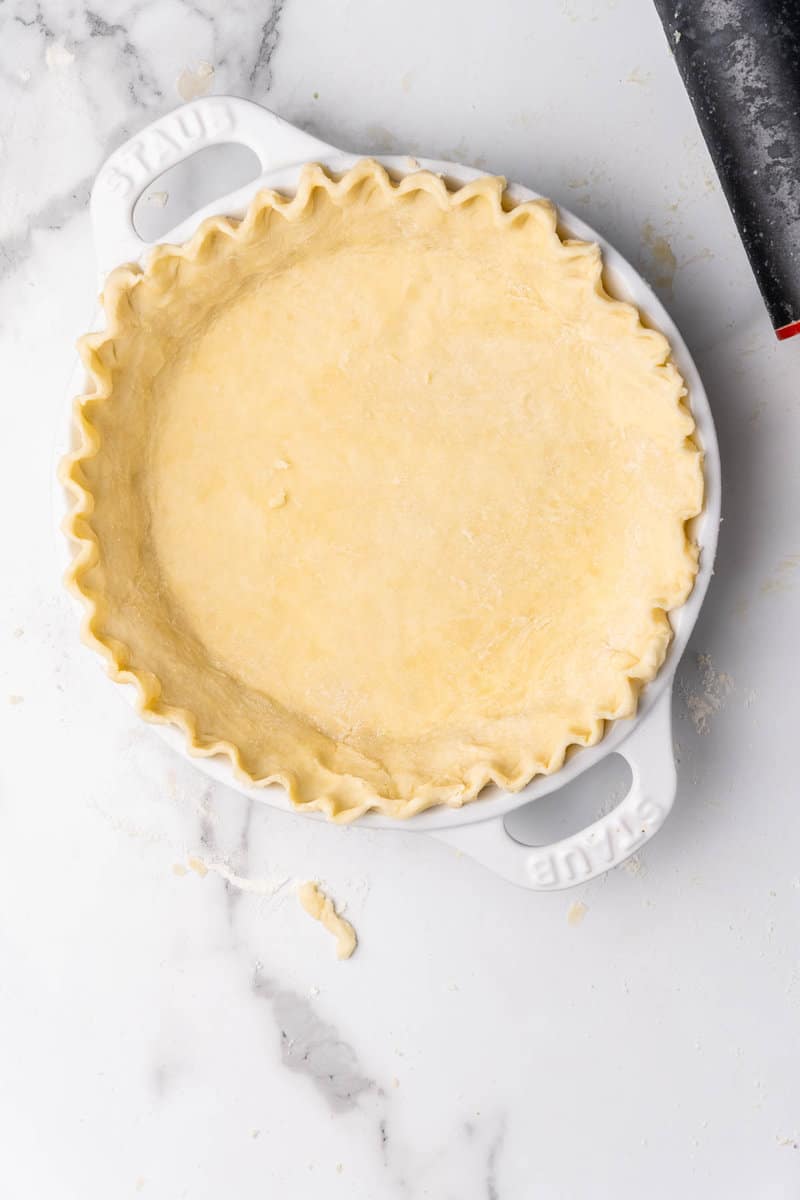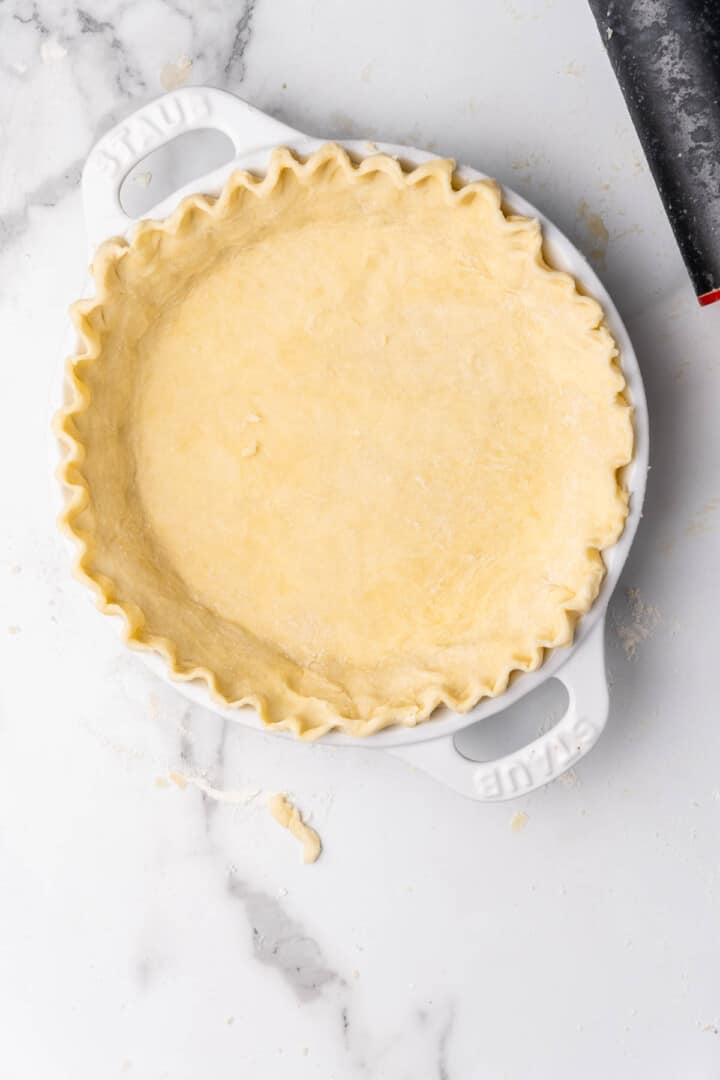 Ingredients:
All-Purpose Flour
Salt
Sugar
Butter (cold)
Ice Cold Water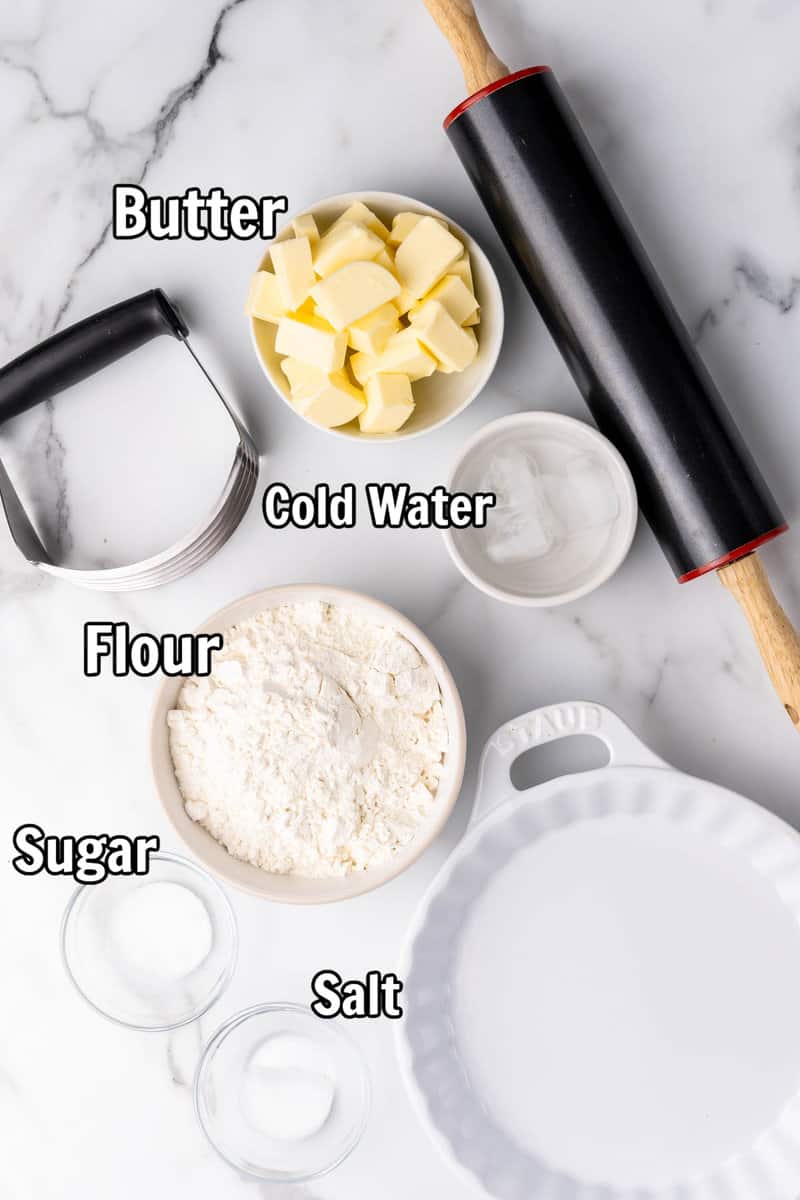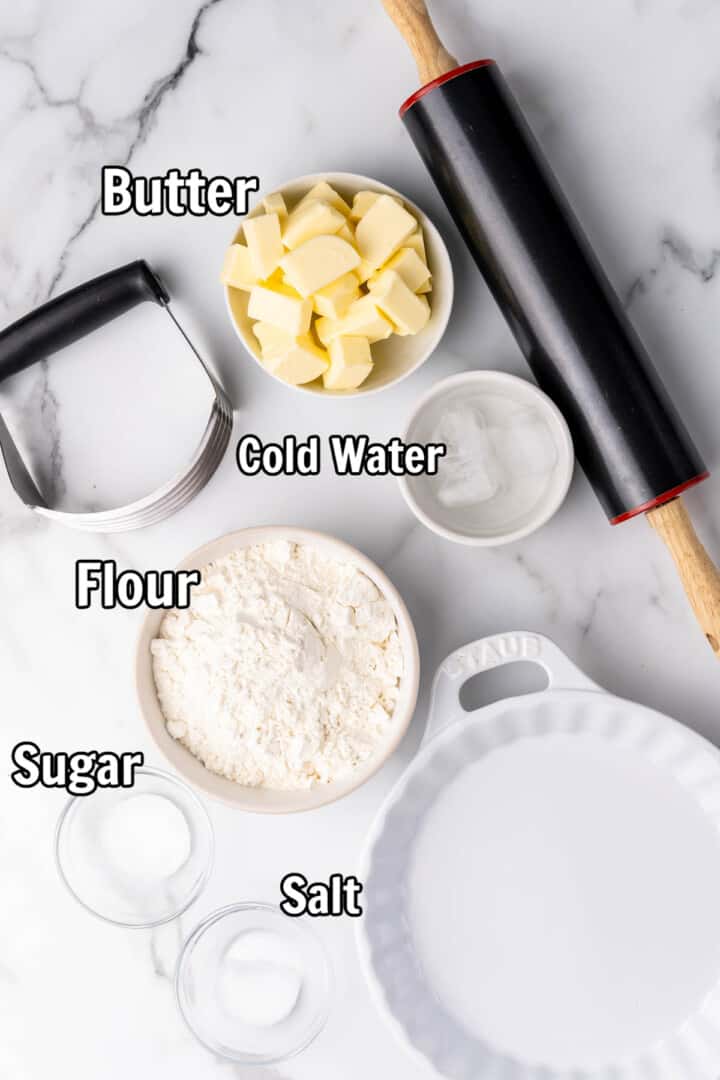 Directions:
Step One: Start by whisking together your dry ingredients then adding the sliced COLD butter. Make sure your butter is cold right out of the fridge.
Tip: Cold Butter is essential to having a flaky crust.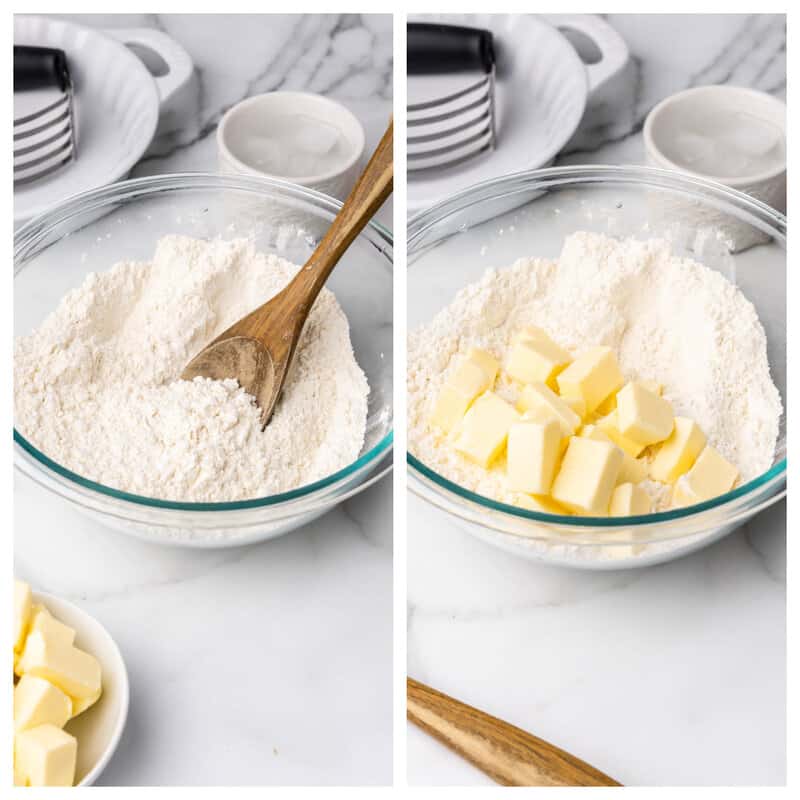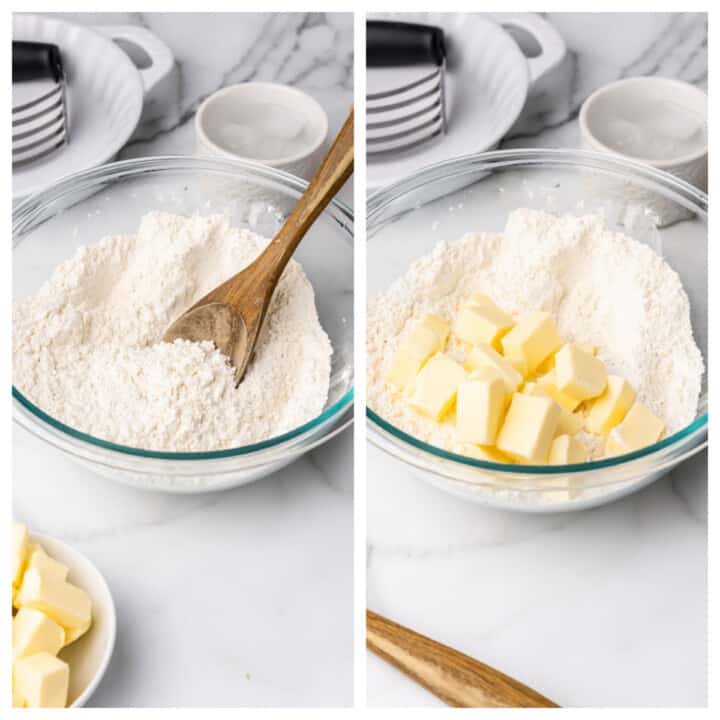 Step Two: With a pastry cutter or your hands mash and crumble until you get a good crumbly with your dough.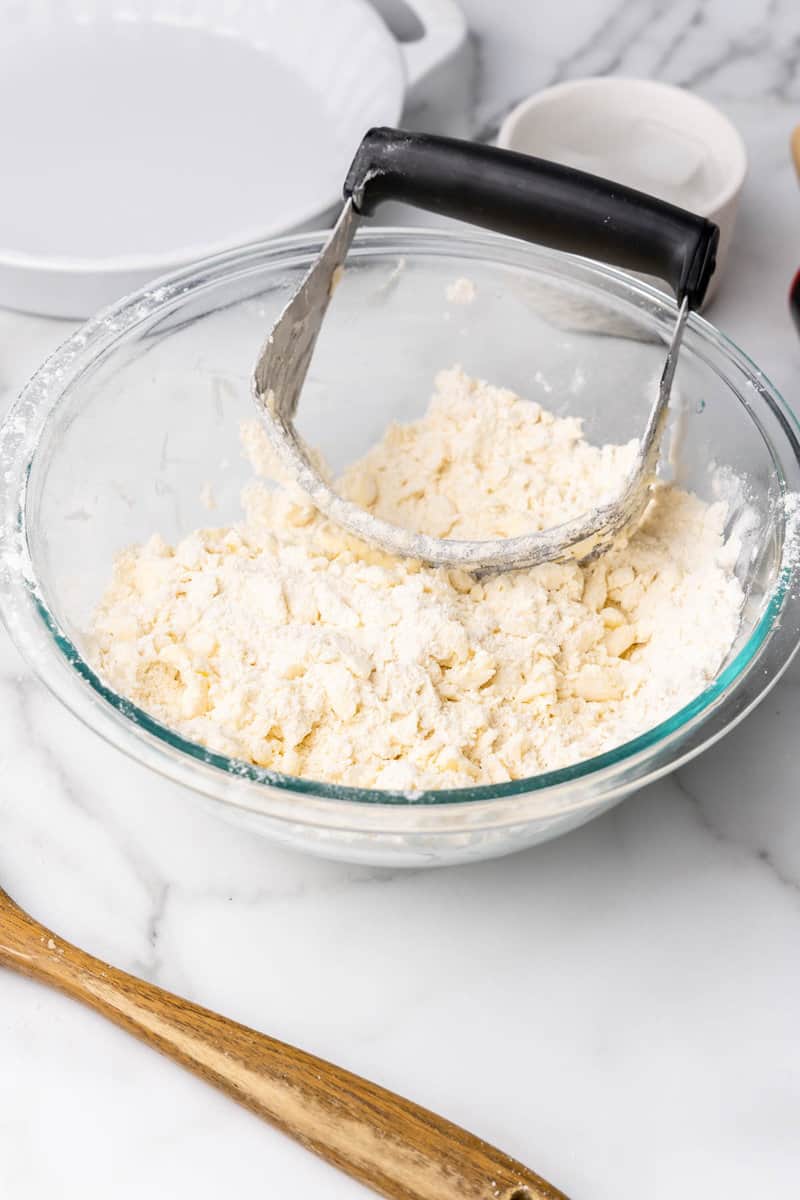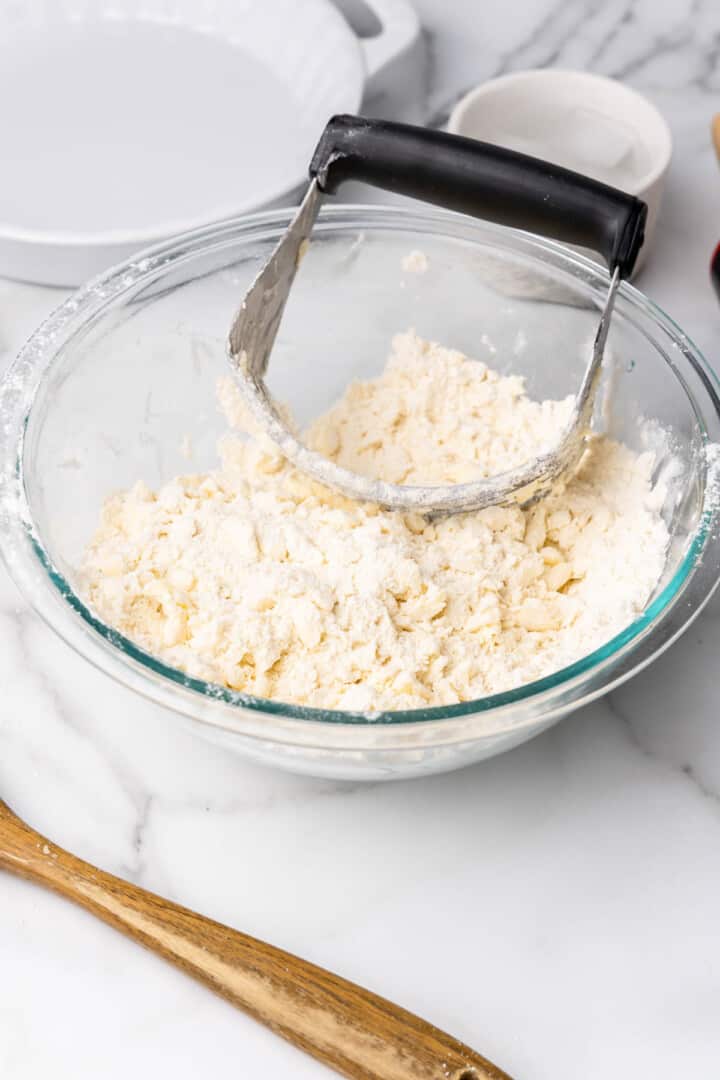 Step Three: Then add ICE COLD water! Using cold water is important so your crust does not get warm and sticky.
Tip: Don't add ice to the dough. You just want your water to be very cold. 
Step Four: Knead bread on a surface that has been sprinkled with flour.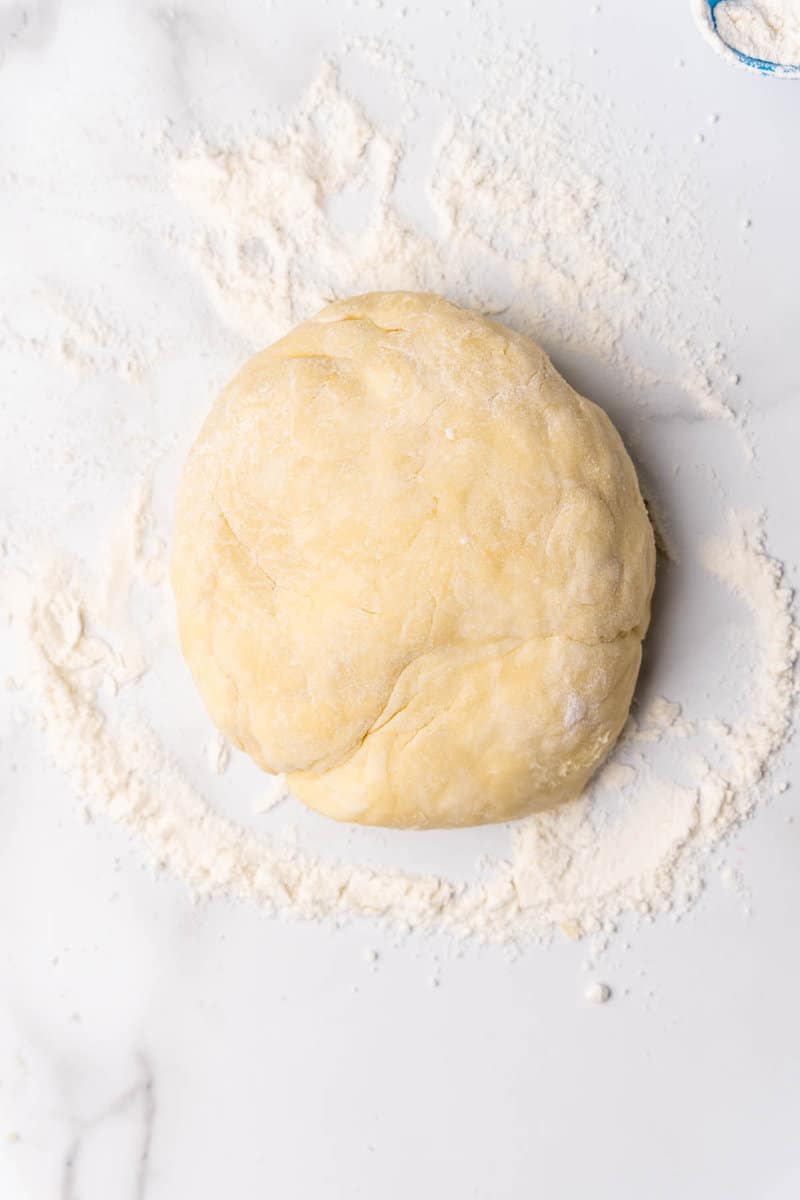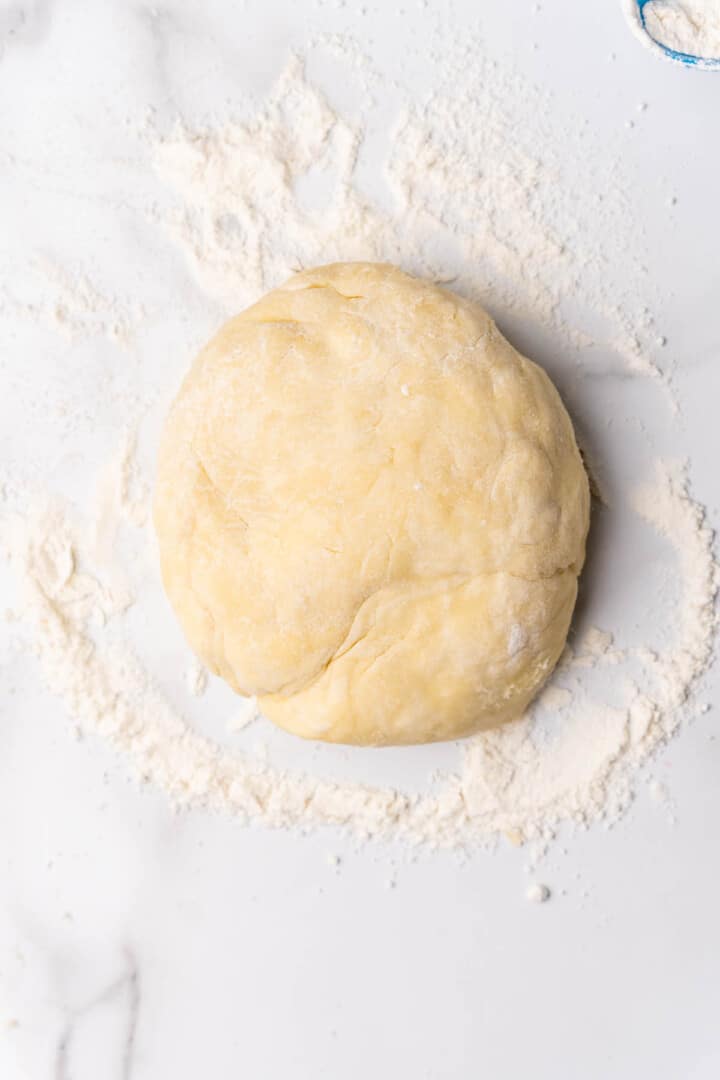 Step Five: Roll it out and your pie crust is ready.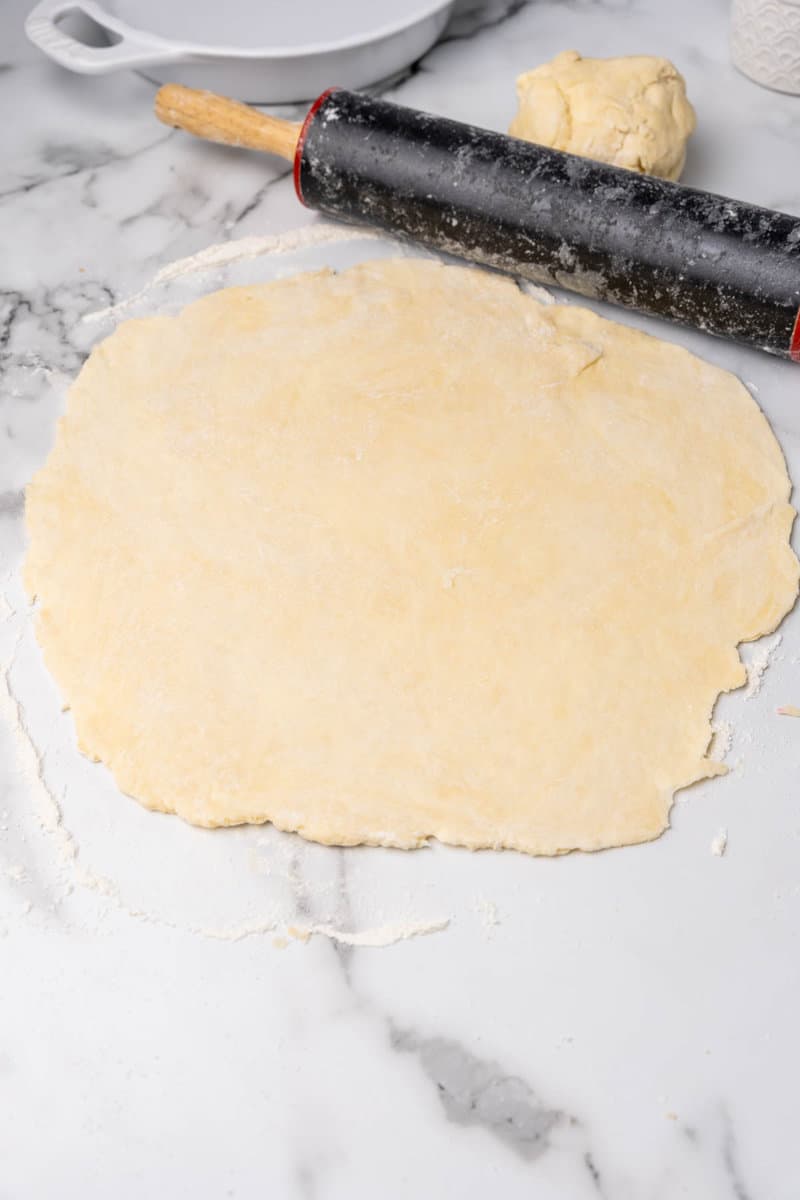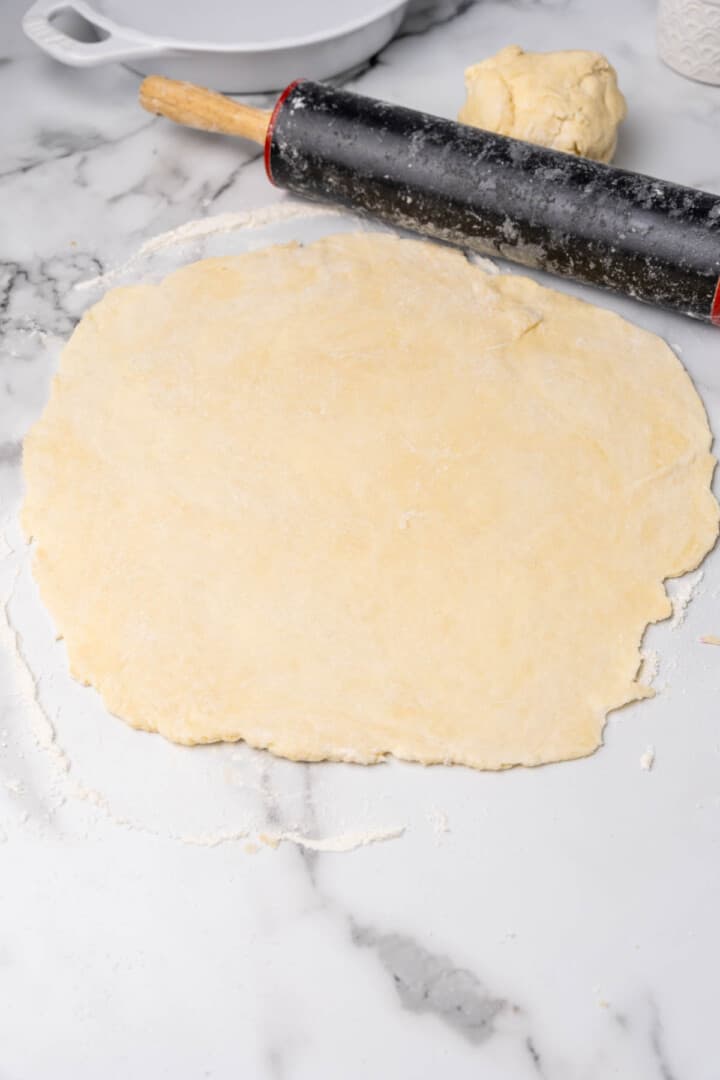 How do you place a pie crust in a pie pan?
Step One: Place rolled dough in the center for the pie pan.
Step Two: Gently press dough into the pan from the center to the edges. Make sure there is some overlap on all the edging.
Step Three: Crimp the edges of the pie crust.
To crimp the dough, you want to use 2 fingers on the outside of the pan, and then pinch together with 1 finger from the inside of the pie pan.
The crimped pie crust should have a small indentation on the inside of the pie crust as seen below. Do the entire edge of the pie.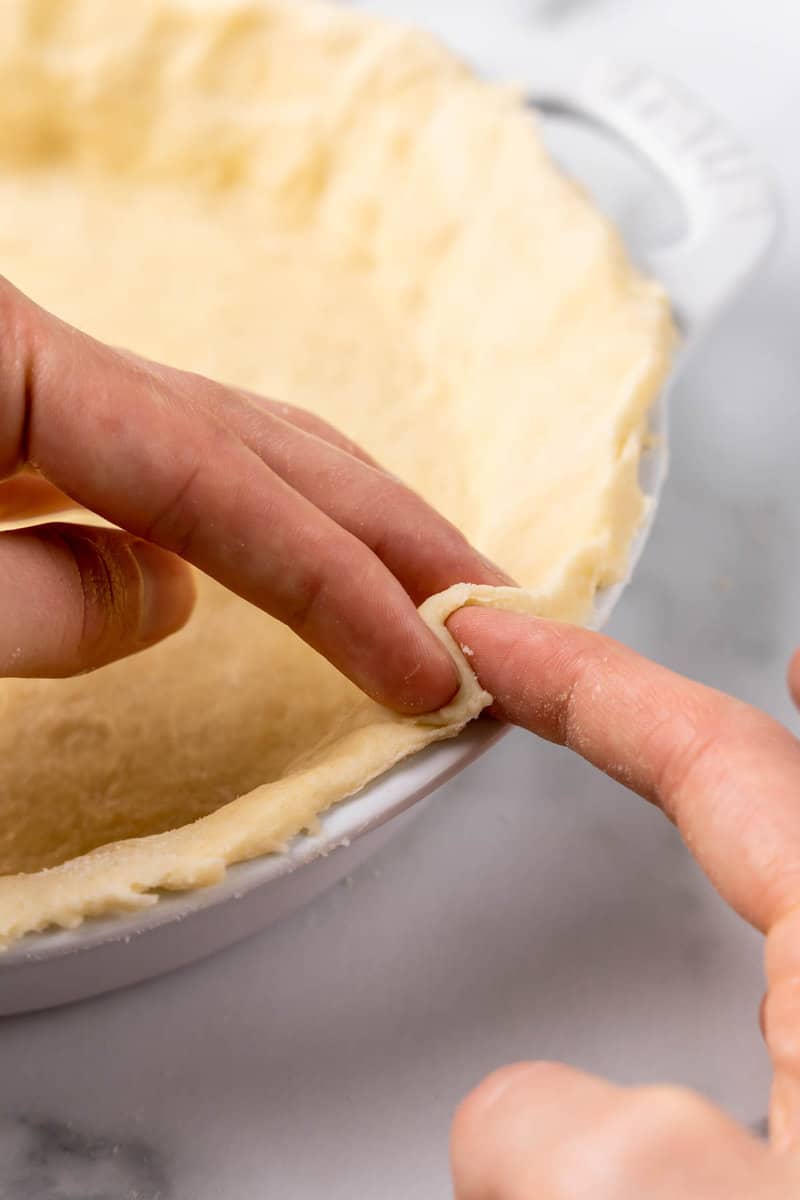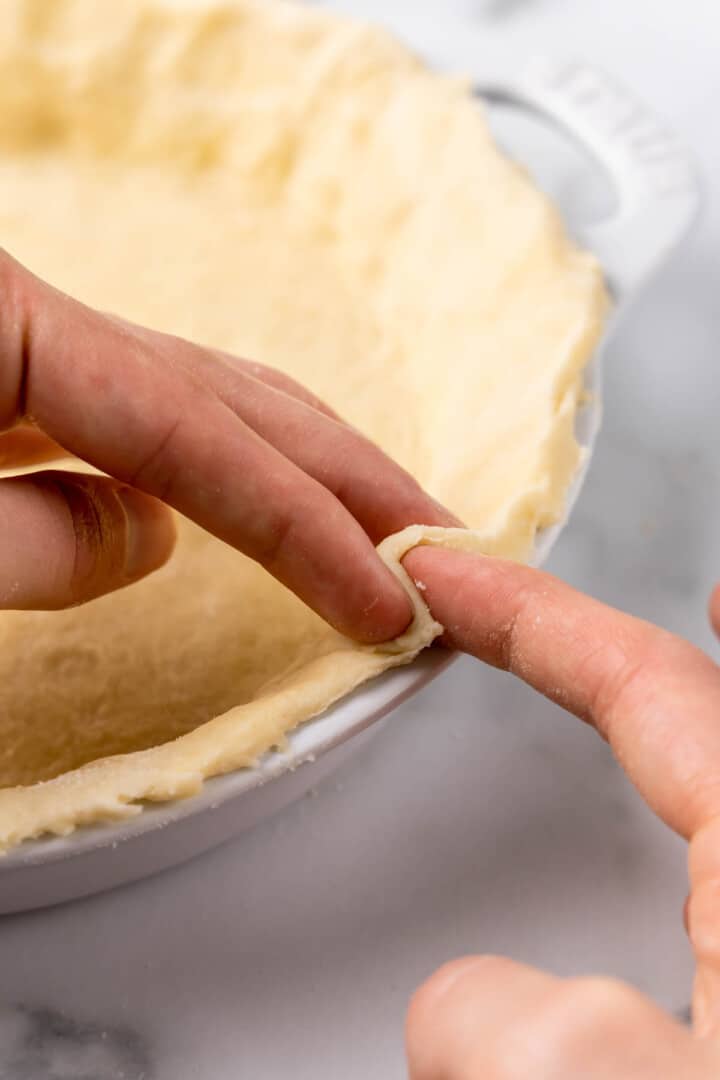 Step Four: Your pie crust is now ready to be filled.
How to store your pie crust:
To store roll your crust into a ball and wrap with plastic wrap. You can keep in the refrigerator for up to 3 days.
To freeze this pie crust, place your wrapped crust in a freezer bag and place in the freezer for up to 3 months.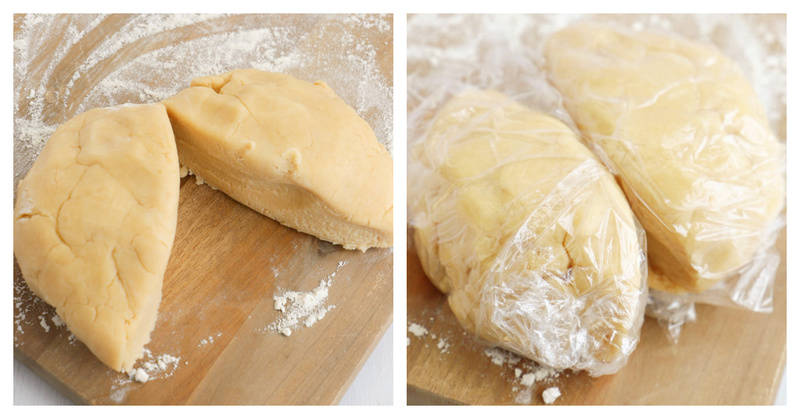 How to bake a homemade pie crust:
Bake with filling: If you are filling your pie with something that needs to be baked (apple pie, cherry pie) then make your dough, fill, and bake it according to the directions of that recipe.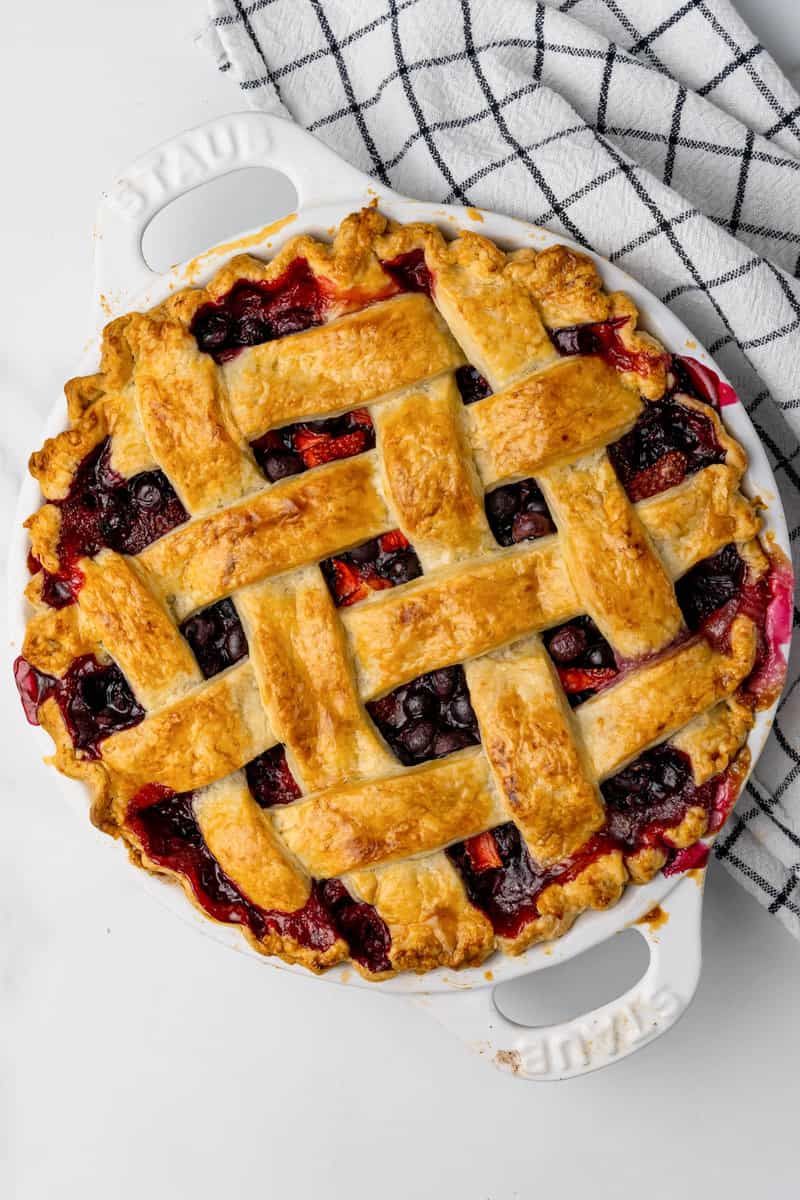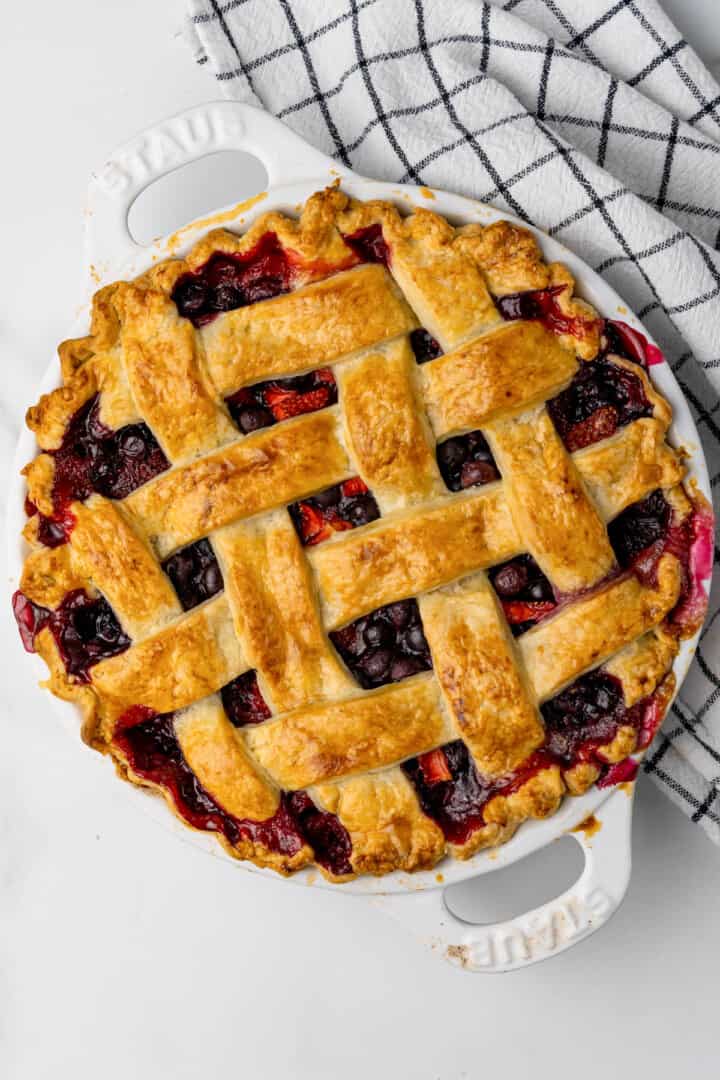 Blind baking: Otherwise, you can bake the pie crust and fill it with a no-bake filling like chocolate pudding or no-bake peanut butter filling.
When blind baking your pie crust to use for a no-bake pie filling place parchment paper side then fill with dried beans or pie weights.
This will help your pie crust from rising. Another option would be placing several small holes in the bottom of the pie and around the edge to make sure it does not rise.
I used a fork and when around the entire bottom of the pie before baking it. Bake at 400 degrees for 14-15 minutes or until golden brown.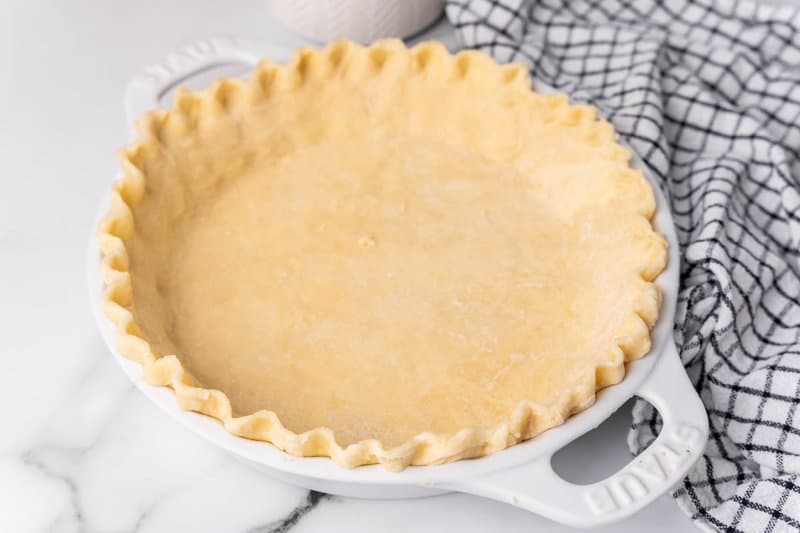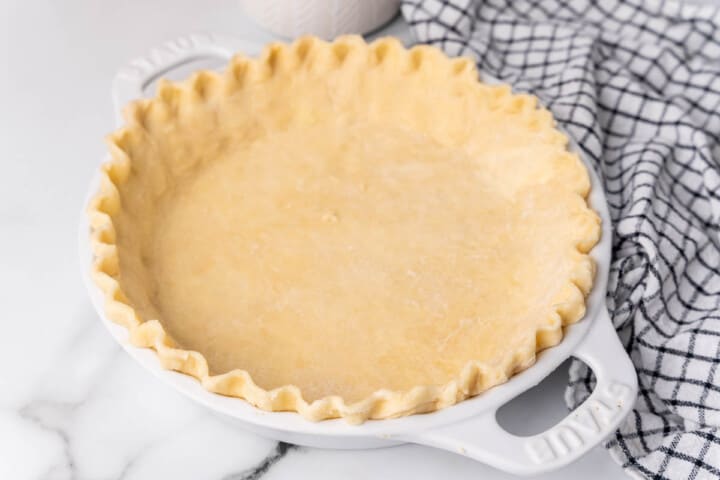 What are the different types of Pie Crust Tops?
There are a few different ways you can top your pies. Here are the most popular three ways to top your pie.
Full Top Crust - Using your split pie crust, roll out the second half of the dough and place on top. You can crimp it with the sides of the bottom pie crust, or kind of "tuck" it into the inside sides of the pie. Cut a cross or X in the top center to allow air and steam to escape during baking.
Lattice Crust - Using your split pie crust roll out the dough. Cut the crust into strips about a ½ inch wide. Then you want to layer them overlapping every other spot to make the lattice top.
Open Top or Streusel Top - Some pies don't need a top. You can just let your filling bake as is in the pie crust or put a Streusel topping on it. Streusel topping is usually a sweet brown sugar-based topping.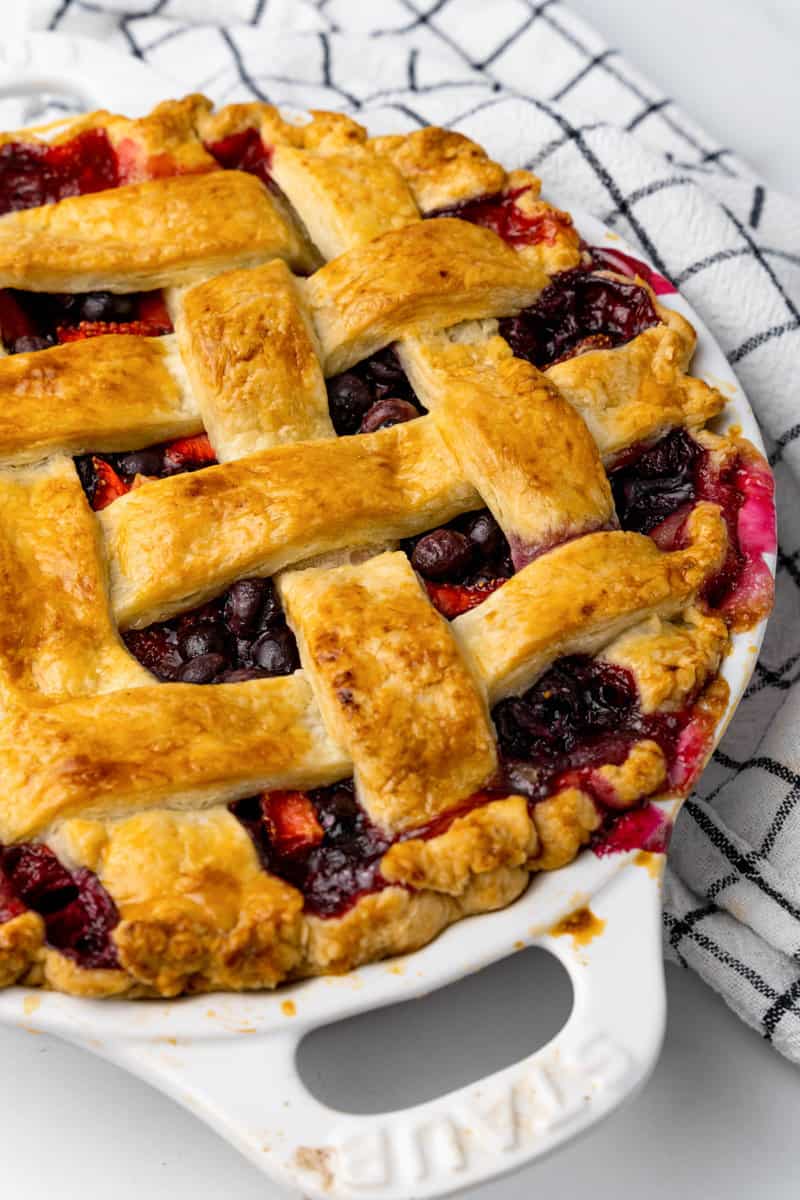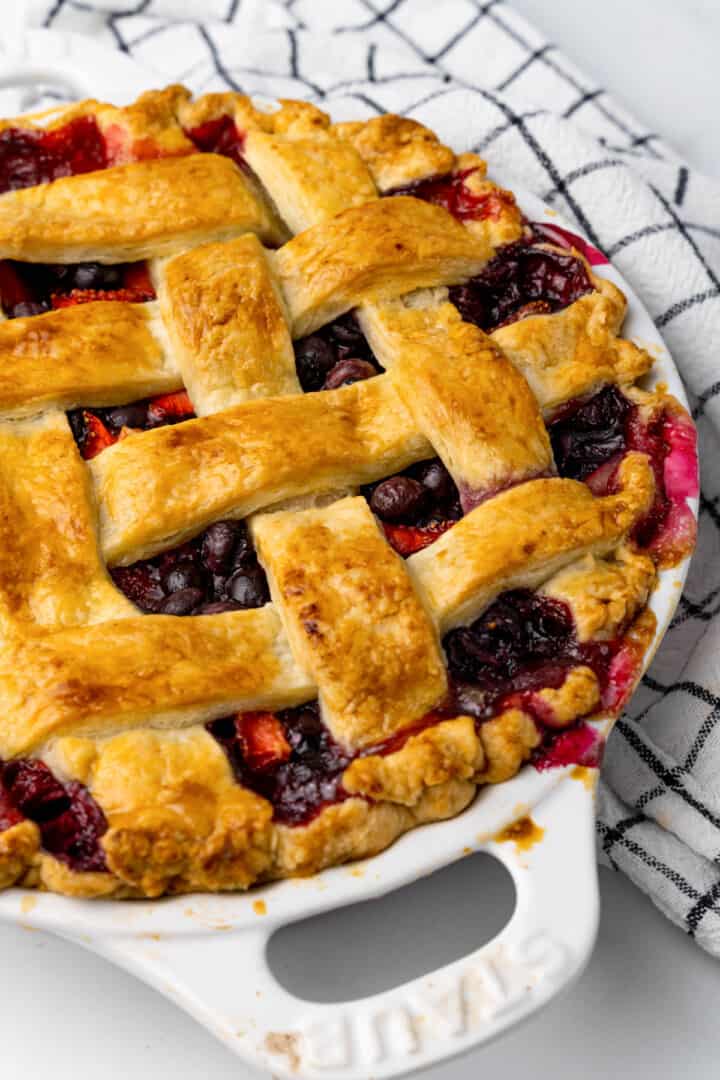 If you tried this recipe or any of my recipes I would love to hear from you, leave me a comment below. You can also connect with me on FACEBOOK, INSTAGRAM, PINTEREST, and YOUTUBE.
I would love for you to follow along and discover more amazing recipes.
Show me what you are making, tag us or use hashtag #TDOARH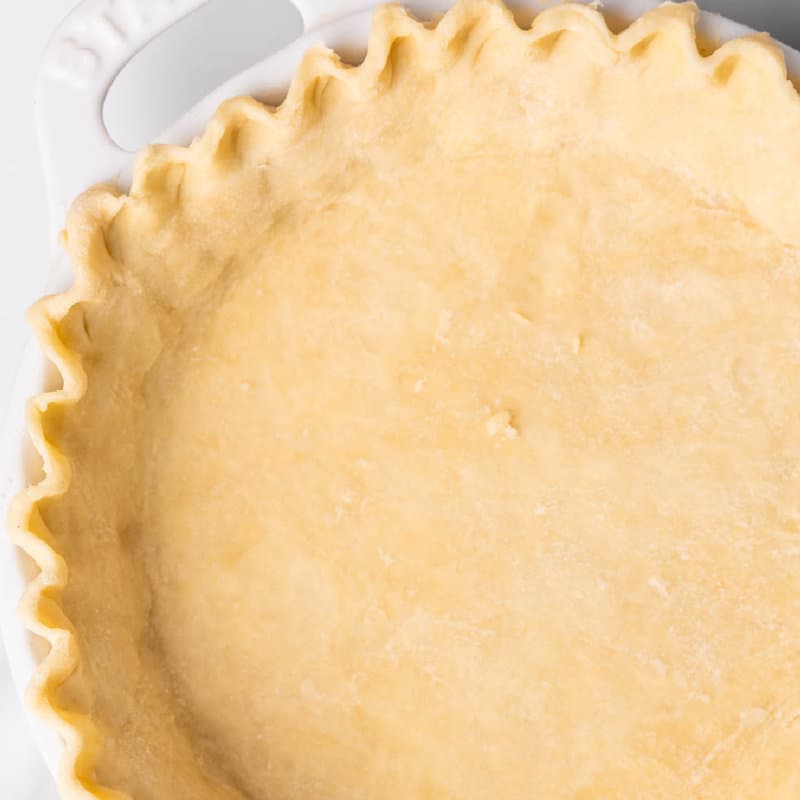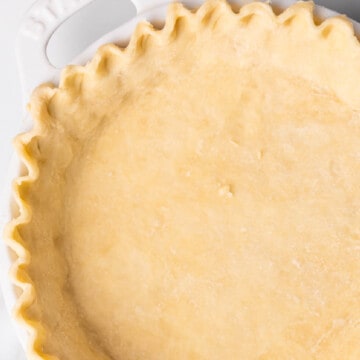 Homemade Pie Crust
Need an easy homemade pie crust for your next Dutch Apple Pie or Cherry Pie? This easy Homemade Pie Crust recipe only has 5 ingredients!!! This recipe makes two pie crust. One for the top and one for the bottom or for two bottom only pies.
Ingredients
2 ½

cup

all-purpose flour

½

teaspoon

salt

½

teaspoon

sugar

1

cup

cold butter

¼-1/2

cup

ice cold water
Instructions
In a mixing bowl add flour, salt, and sugar and mix together well. Slice butter and use a pastry cutter to mix in with flour mixture until you have a crumbly texture.

Next, add cold water slowly until you get the right consistency (you don't want your dough to wet and hard to roll). I added the full ½ cup to mine. When rolling the dough, sprinkle cutting board with flour.

Use hands to knead the dough then separate the dough in half.
For filled and cooked pies (like apple or cherry):
Roll out both sections of dough place one on the bottom of the pie pan, fill, and top with the 2nd rolled out dough. Seal and bake according to directions.
For no bake pies (blind baking):
Roll out and place in a the pie pan. Place parchment paper and weights or dried beans inside crust and bake at 400 degrees for 15 minutes. Allow to cool then fill and refrigerate according to directions.
Nutrition
Calories:
346
kcal
Carbohydrates:
30
g
Protein:
4
g
Fat:
23
g
Saturated Fat:
14
g
Cholesterol:
61
mg
Sodium:
349
mg
Potassium:
48
mg
Fiber:
1
g
Vitamin A:
710
IU
Calcium:
13
mg
Iron:
1.8
mg