This Easy Charcuterie Board recipe has everything you need to be the host with the most. People will love this board, and it will be the talk of the party!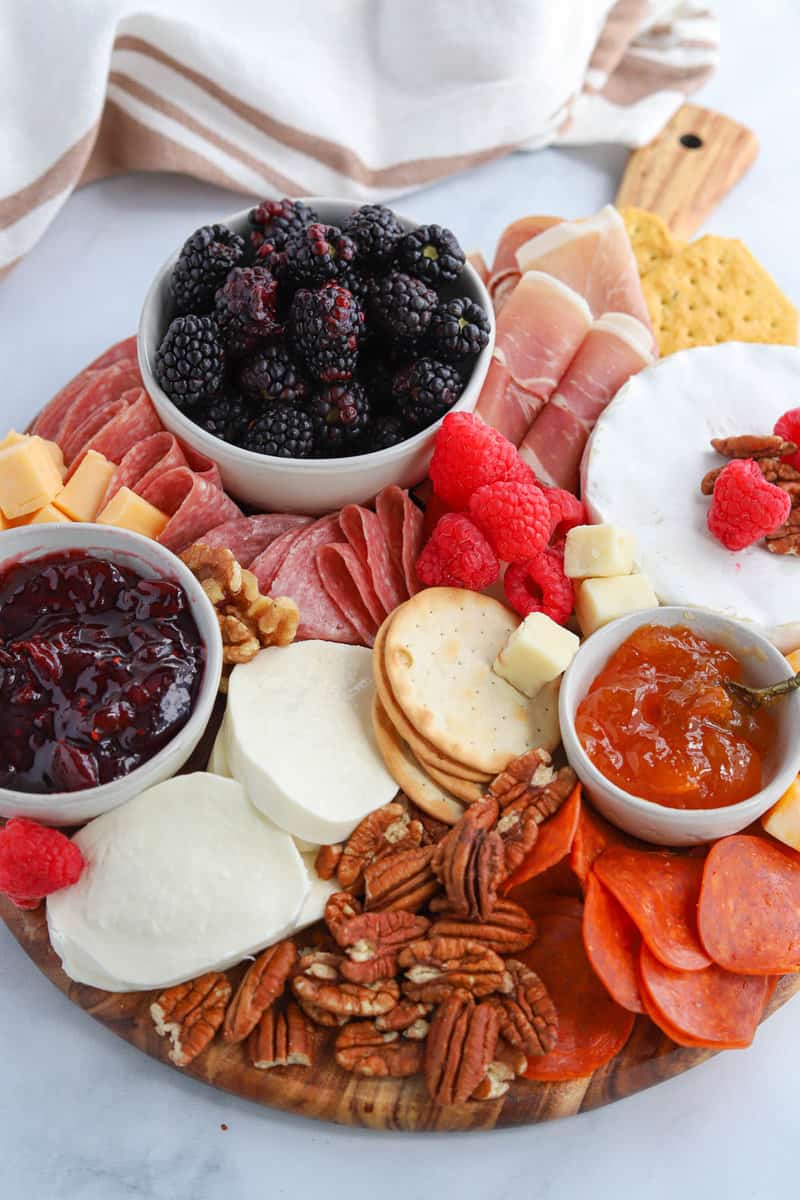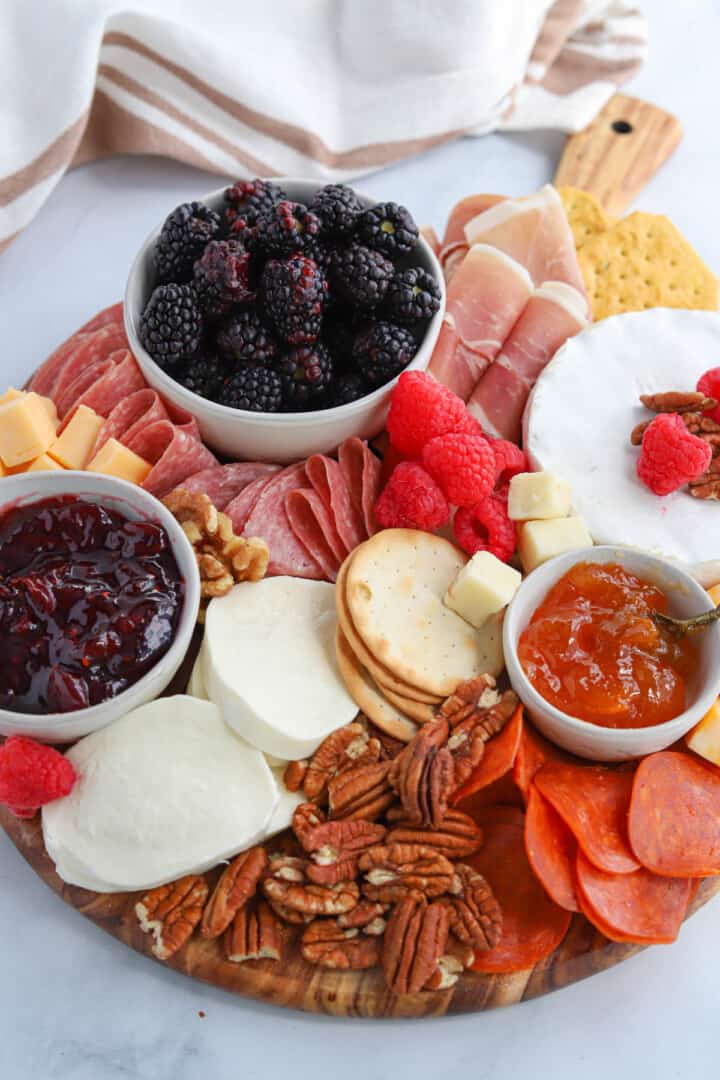 Charcuterie Boards have been all the craze lately! They are all over social media with viral posts of beautiful boards and Charcuterie Parties!
We are even hosting a Charcuterie Party this Christmas with our Sunday School class.
What is a Charcuterie Board?
A Charcuterie Board is a large, made to share appetizer. Cured meats, cheeses, nuts, fruits, pickled vegetables, spreads, and jams all make great ingredients for a Charcuterie Board.
Typically, they are served on a wooden board or serving tray.
You can serve it on whatever you want though! The key is to make it plentiful and full of items that really complement each other. There are so many choices, so have as much fun with it as you want!
Things you need to make a Charcuterie Board:
Serving Board - Use a serving board that is easy to handle and carry once you have loaded all your items to it. I love using this wooden board as it has a handle. A wooden board is also nice as it really helps hold that food to it. If you put the charcuterie board on a glass or metal serving tray things may slide around more than on a wooden board.
Serving Dishes - You want to separate any dips, spreads, or jams from spreading into the other items with some serving dishes, cups or little bowls. This will keep things a tad cleaner while everyone is enjoying the board.
Serving utensils - This may be a given, but make sure you have some spreading knives or serving spoons for each spread or jam you have on the board.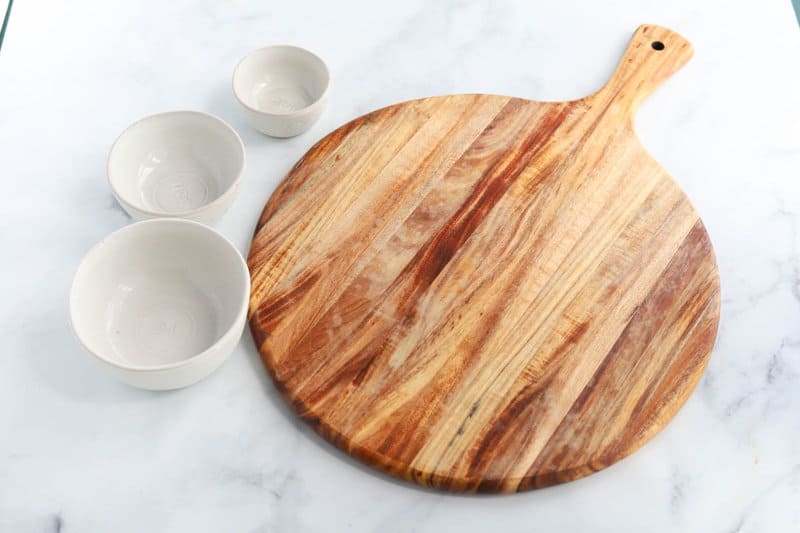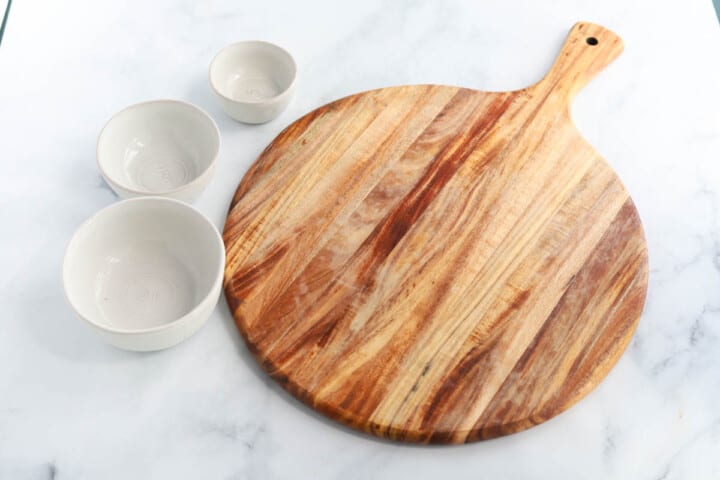 What cured meats did I use?
I used Salami, prosciutto, and pepperoni for my board.
You can use these items or add chorizo, bacon, pancetta, pastrami, or Capocollo. Whatever you prefer and is easy for you to get at the store.
How to fold meats on a charcuterie board:
You can simply fold or roll meats to make give them a nice look on your board. I just folded my salami in half and then in half again.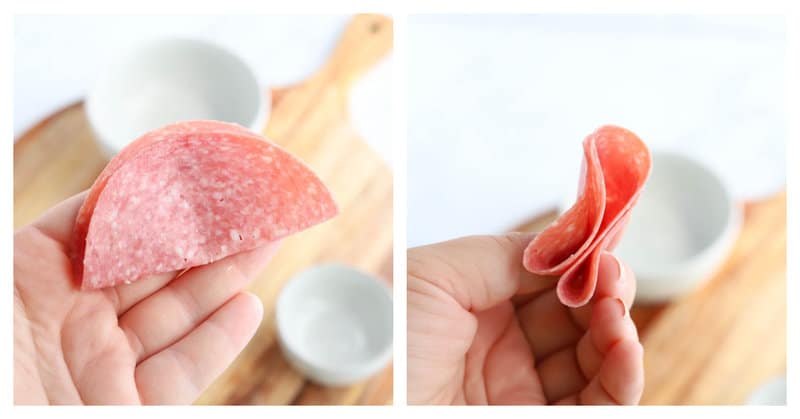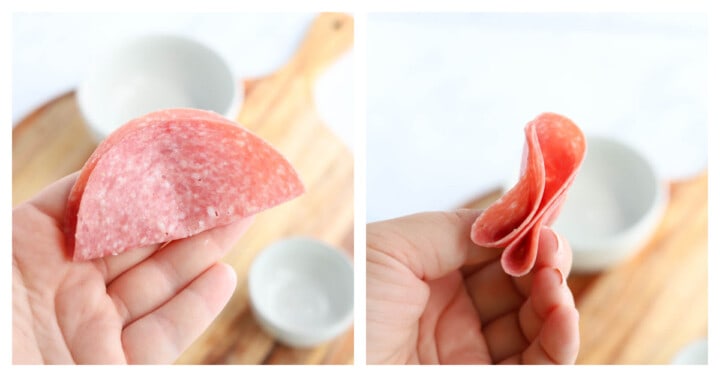 And placed them on the board like a waterfall. This is called the Quarter-Fold method for folding your meats. Rolling your meats works great as well!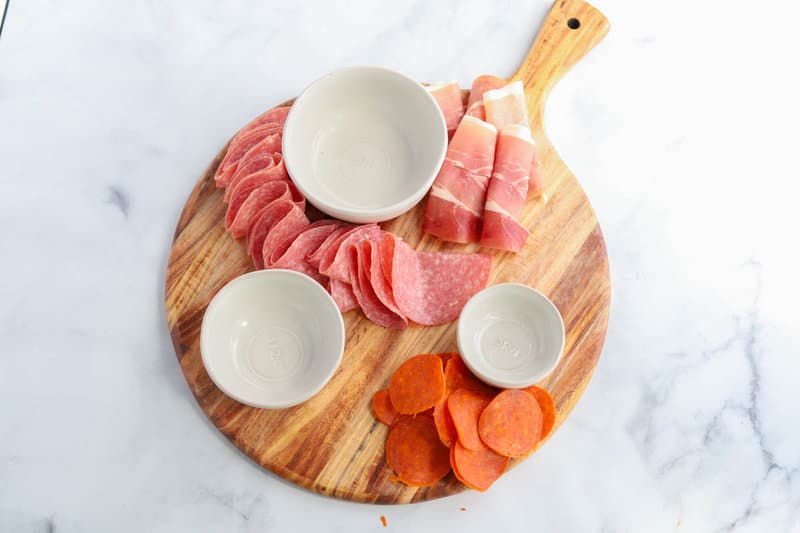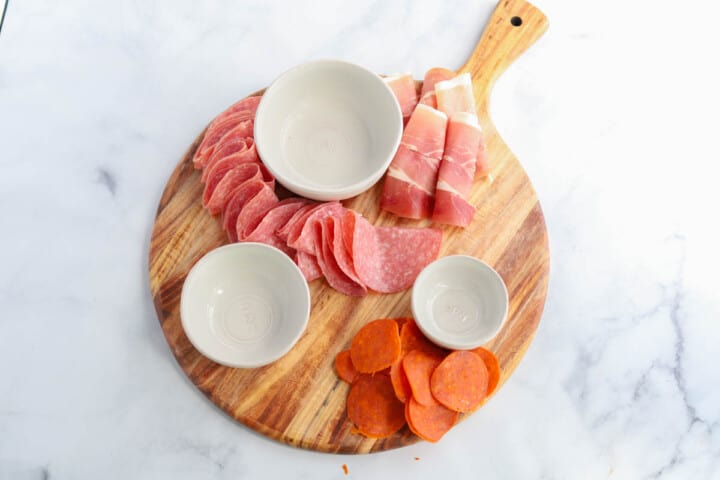 What soft cheese is best for a charcuterie board?
For my soft cheese I used Brie cheese and fresh sliced mozzarella.
Some other types of soft cheese you can use is feta, goat cheese, or camembert.
I left my Brie as a wheel and used a cheese knife to serve but you can also cut it into triangles and serve it that way.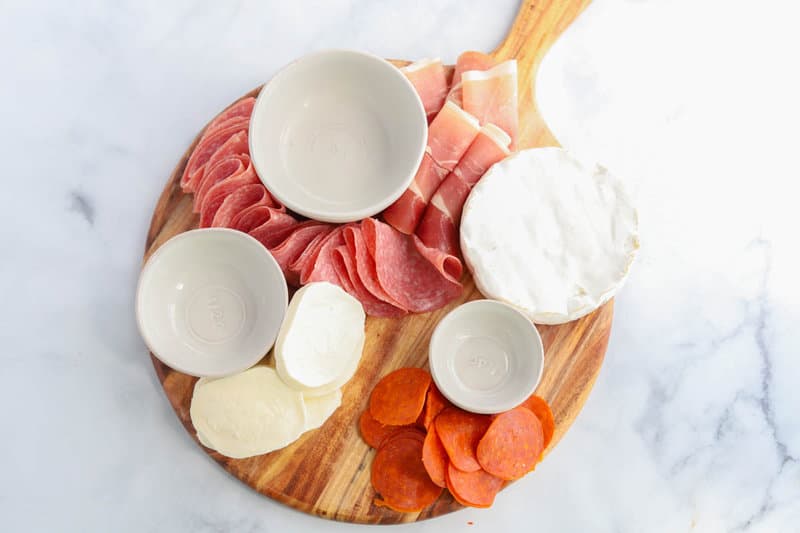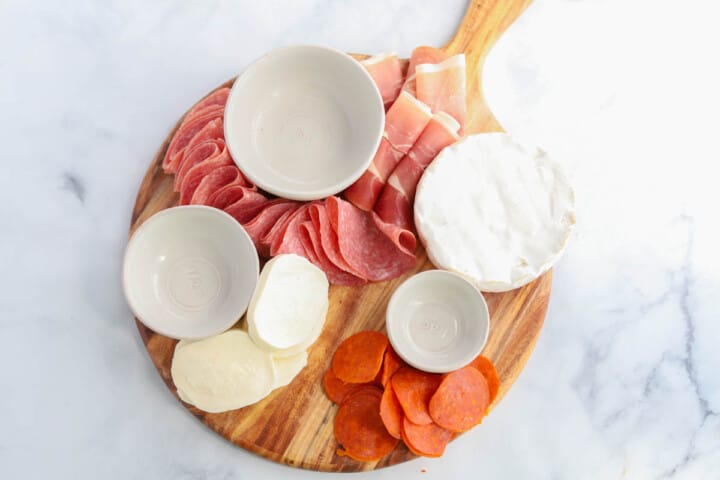 What kind of hard cheese is best for a Charcuterie Board?
I used cubed cheddar, Colby, and pepper jack cheese and placed handfuls around the board.
You can also use Gouda or Gruyere cheese.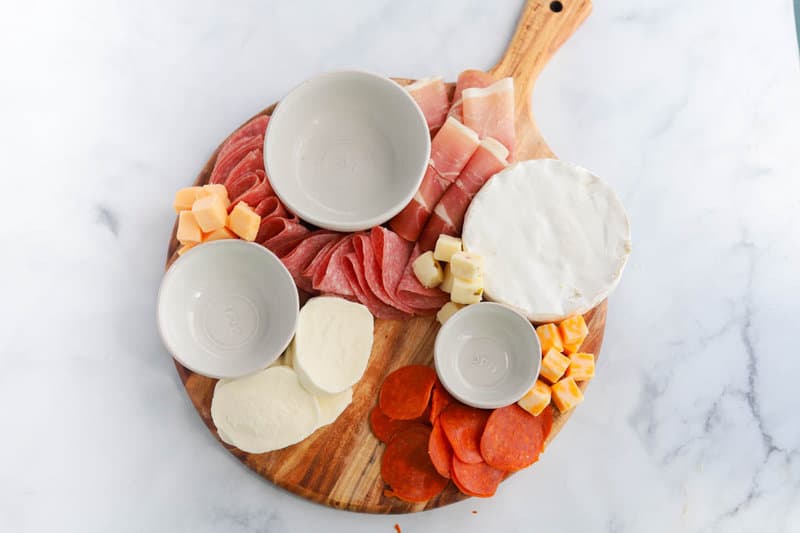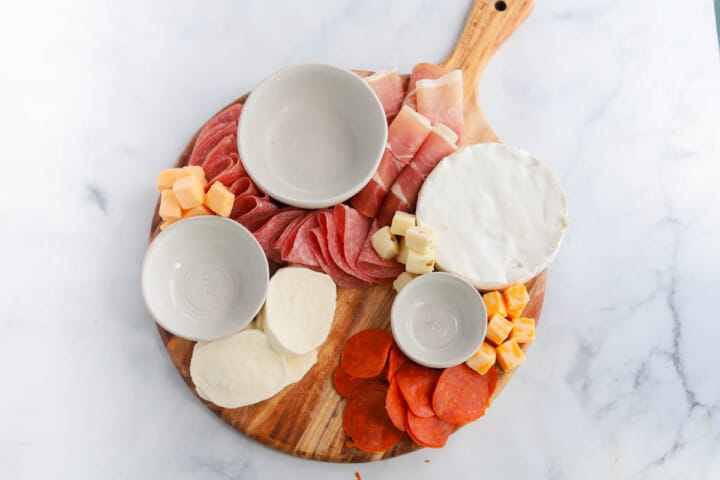 Add some Crackers and Jams to your board:
I used an apricot and a four-berry jam and placed them into the smaller bowls on my board with small serving spoons.
When it comes to crackers, I wanted different types so got a a variety pack with wheat crackers, vegetable crackers, classic, and water crisp crackers. You can add any cracker that you enjoy best to your board.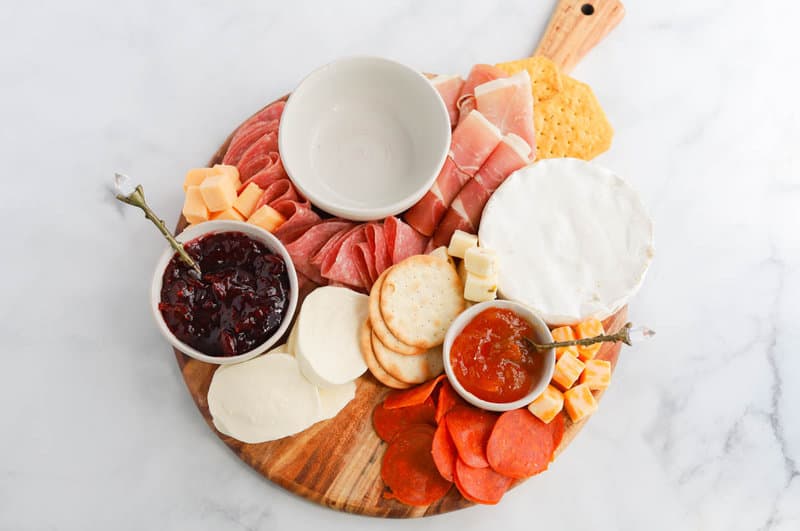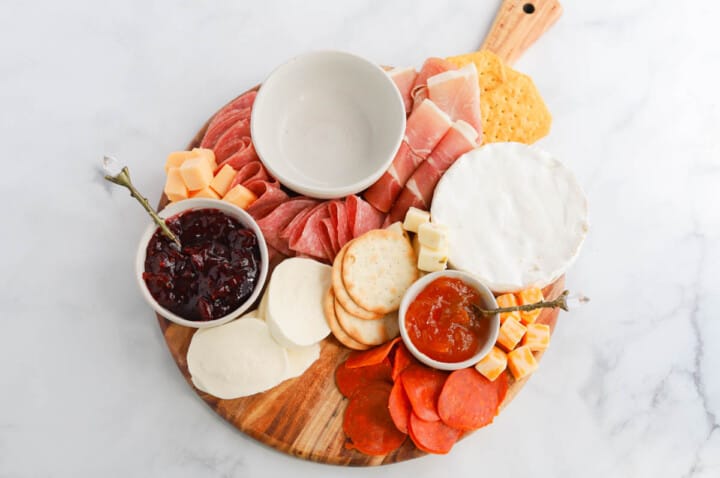 What nuts go best with a Charcuterie Board?
I used pecans and walnuts for my board but again add any nut that you enjoy.
You can also use almonds, peanuts, or even pistachios.
If you know you guests ahead of time, hopefully you know about any nut allergies someone may have.
If that is the case, serve these in a bowl near the charcuterie board, so people can still enjoy the nuts with the rest of the board.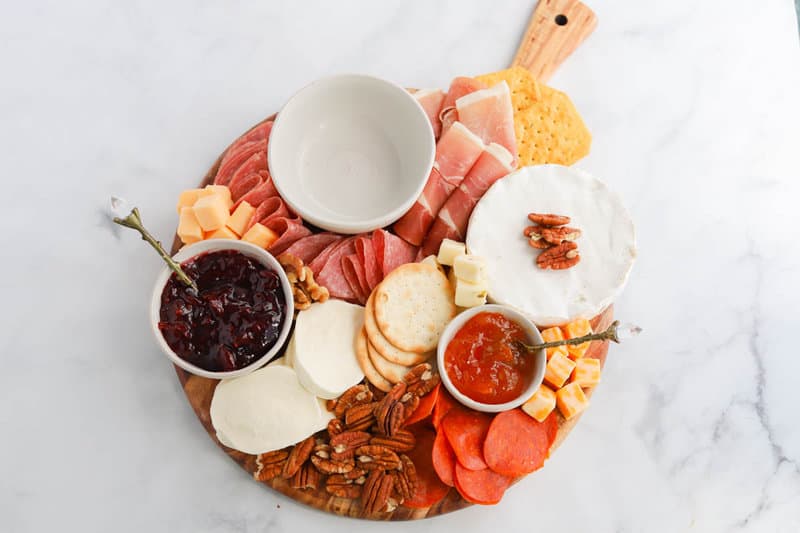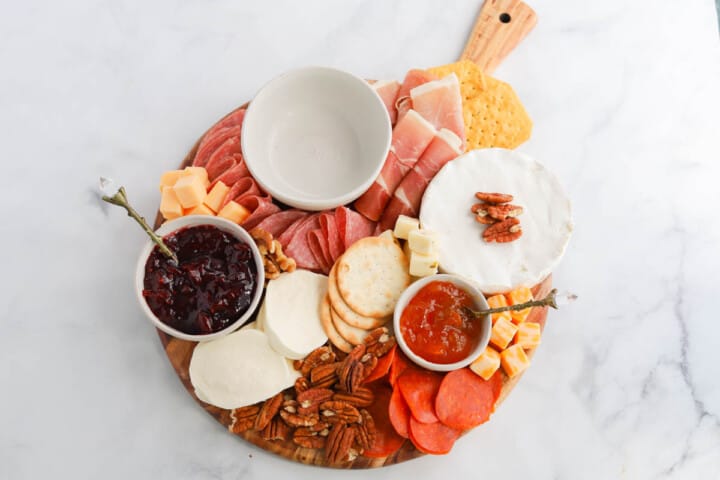 What are the best fruits for a Charcuterie Board?
I try to stay away from overly juicy fruits. Blackberries and raspberries are a favorite of my family's, so we added those to our board.
You can also add grapes, cherries, strawberries, blueberries, or whatever fruit you enjoy. Sliced apples are a great option as well.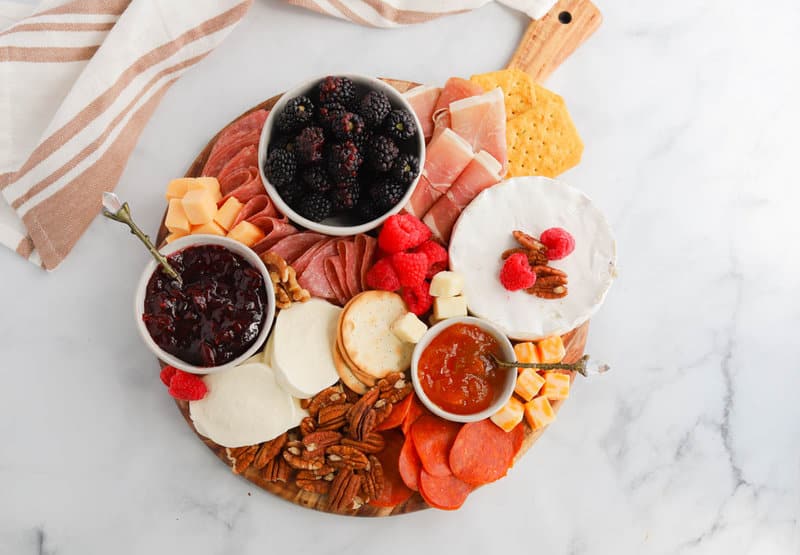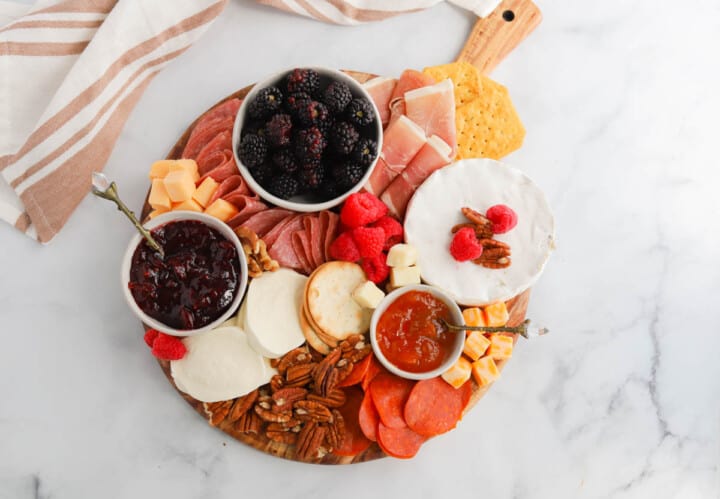 Can you make a Charcuterie Board ahead of time?
Honestly, these boards really are best served shortly after being made. A few hours ahead of the guests arriving or the meal is not a problem at all.
Just arrange your board and then wrap in plastic wrap and keep in the refrigerator until you are ready to eat it.
Due to the meats and cheeses being sliced and out in the open air, the longer they are out the faster the board will go. The meat and cheese can dry up if it is out too long.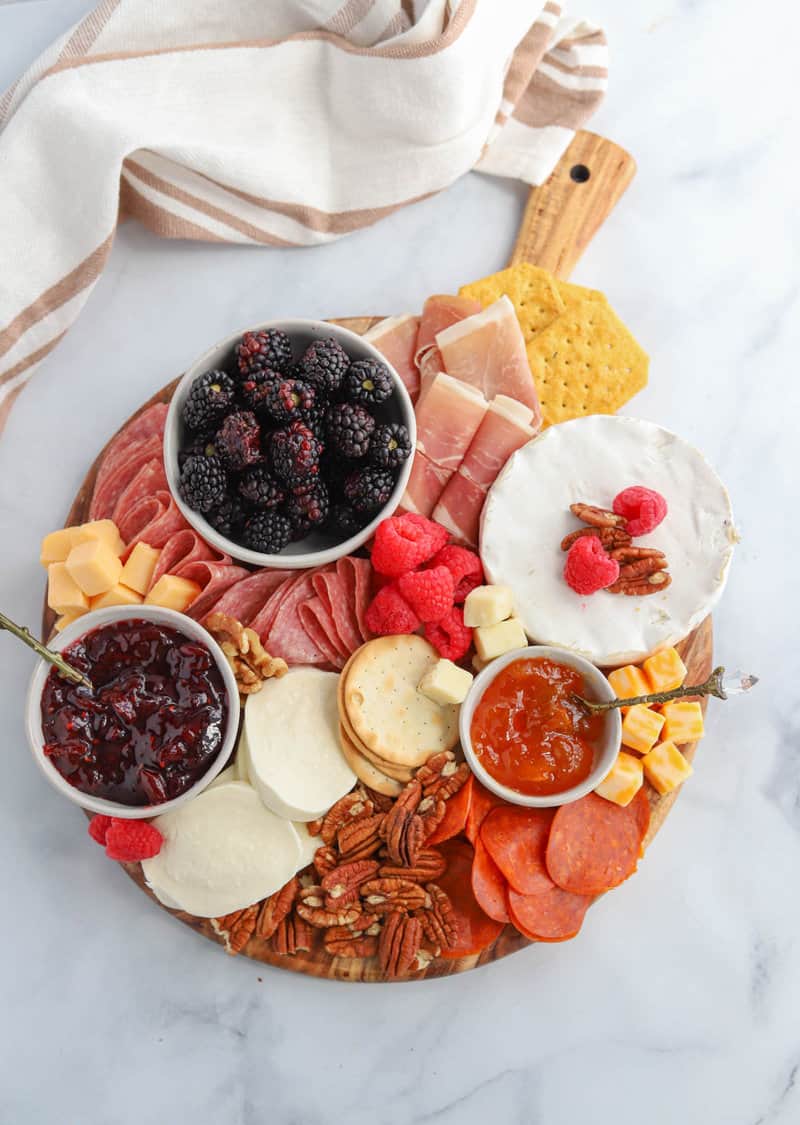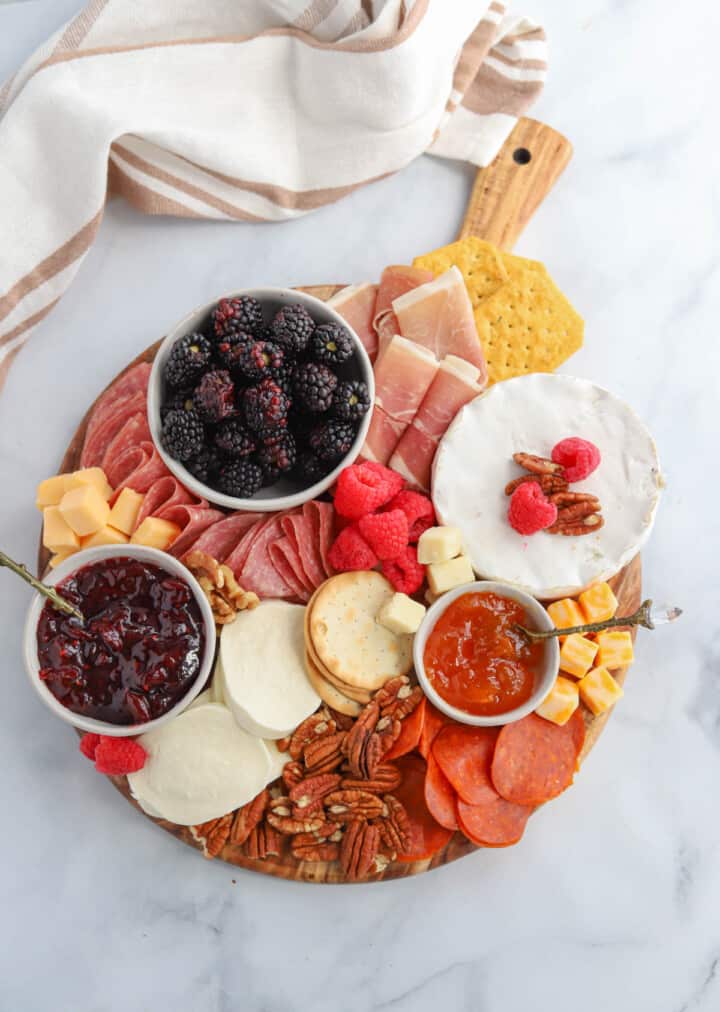 How do you store leftover Charcuterie?
Your best bet is to store the leftover cheeses, meats, nuts and whatever else you have in Ziplock baggies.
Keep everything separate, but do not put any of it back in the original containers or packages. Just store it all in baggies and enjoy later!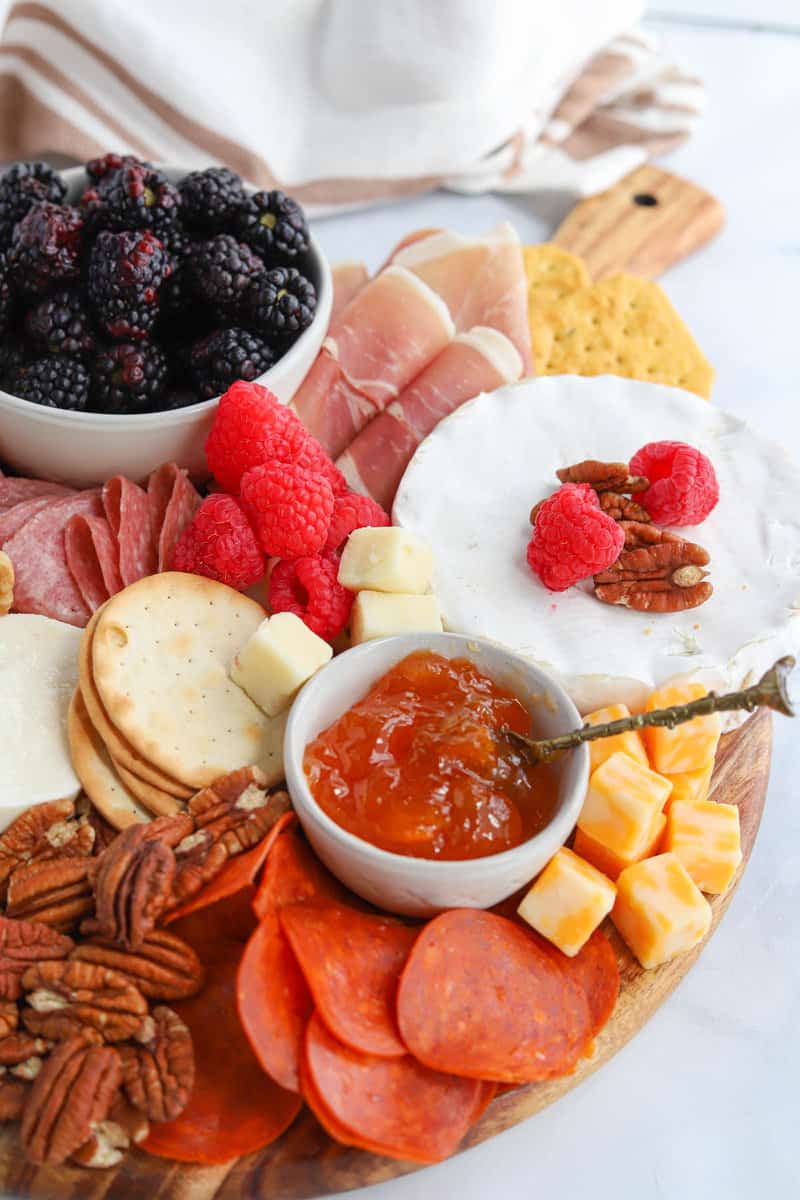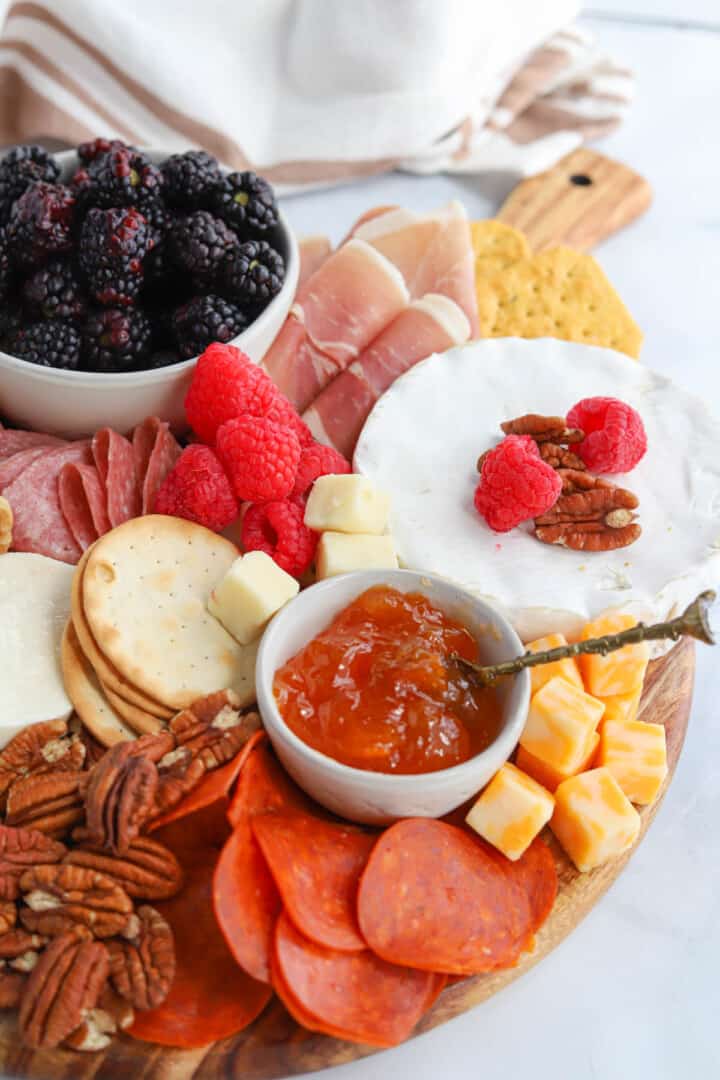 If you tried any of my recipes, I would love to hear from you, leave me a comment below. You can also connect with me on FACEBOOK, INSTAGRAM, and PINTEREST. I would love for you to follow along and discover more amazing recipes.
Show me what you are making, use hashtag #TDOARH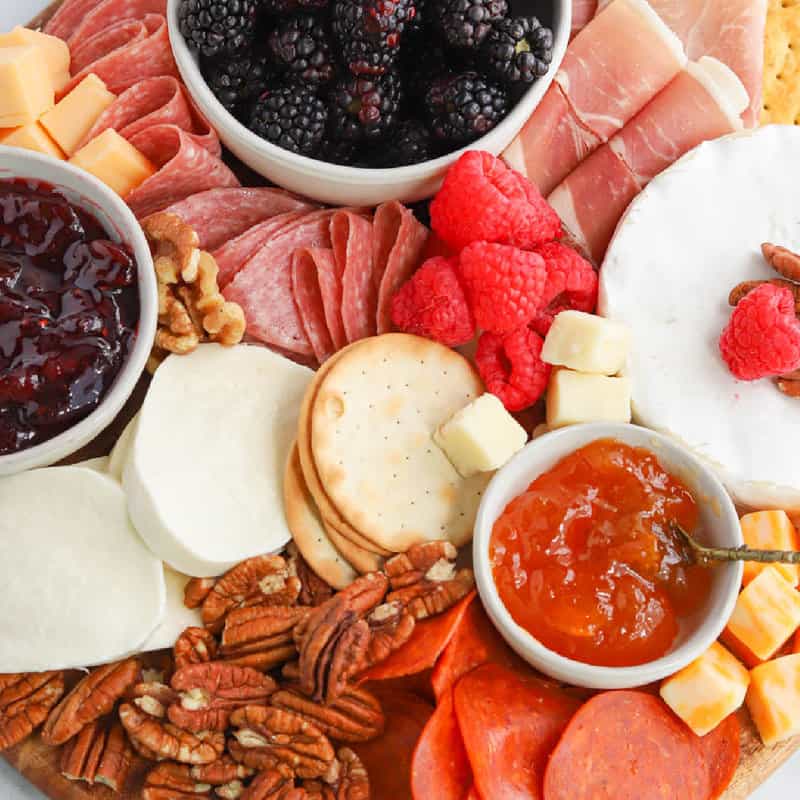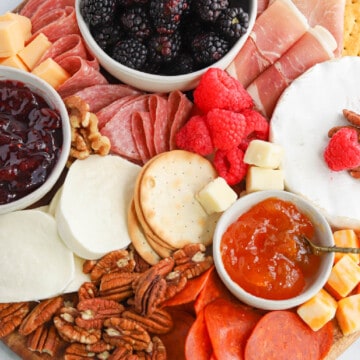 Easy Charcuterie Board
This Easy Charcuterie Board recipe has everything you need to be the host with the most. People will love this board, and it will be the talk of the party!
Ingredients
8

oz

cured meat

8

oz

soft cheese

8

oz

hard cheese

8

oz

crackers

½

cup

jam or jelly

1

cup

nuts

1

cup

fruit
Instructions
Add bowls, ramekins, or anything you will use on your board onto your board.

Add meat to your board. Roll or fold meats to give it a nice look.

Next add cheese to your board. I started with my soft cheese then added the cubed hard cheese.

Fill bowls with jam or jelly and place crackers around the board.

Add nuts to the board. I added nuts to the top of my brie cheese.

Last fill in with fruit. I placed some fruit into a bowl and placed the rest around the board.
Nutrition
Serving:
2
oz
Calories:
290
kcal
Carbohydrates:
23
g
Protein:
6
g
Fat:
20
g
Saturated Fat:
7
g
Polyunsaturated Fat:
4
g
Monounsaturated Fat:
8
g
Trans Fat:
0.2
g
Cholesterol:
23
mg
Sodium:
274
mg
Potassium:
164
mg
Fiber:
2
g
Sugar:
5
g
Vitamin A:
378
IU
Vitamin C:
1
mg
Calcium:
68
mg
Iron:
2
mg