These Thanksgiving Appetizers are perfect for your holiday get together.  These appetizers are some of my all-time favorites and they are all easy to make and real crowd pleasures.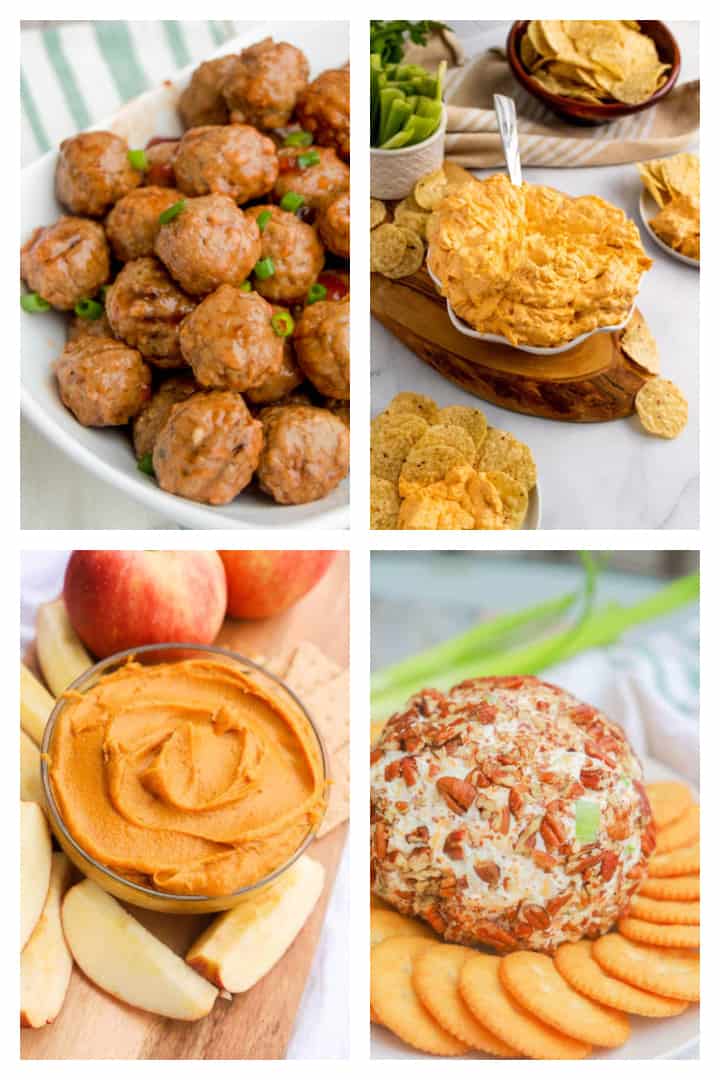 Easy Appetizers:
Appetizers are my favorite part of a party, and these Thanksgiving Appetizers are perfect for your holiday gathers. When it comes to appetizers on a big cooking day you want to make sure you pick recipes you can prepare in advance or something that is done really quickly.
On thanksgiving we usually serve the meal as an early dinner and skip lunch for our appetizers are perfect for holding us over until the meal is ready.
Cheese Ball Recipes:
A cheese ball is a classic holiday appetizer. I can't remember a year that went by that we didn't have one on our appetizers table.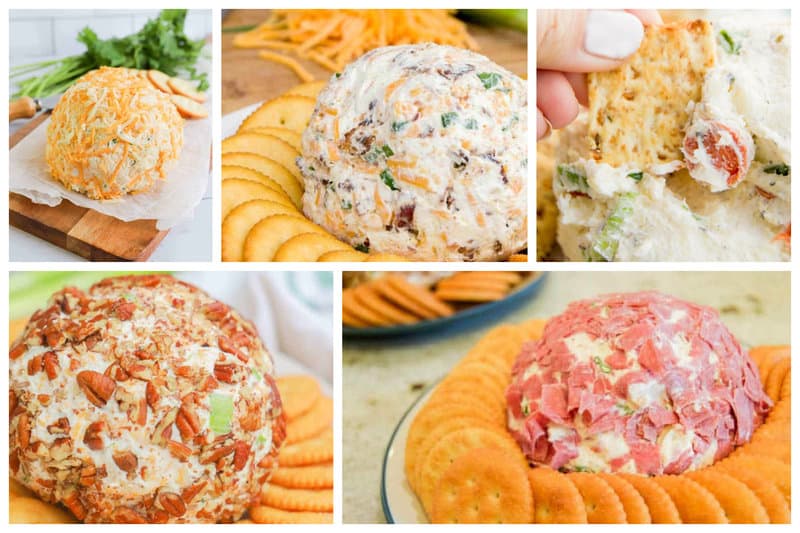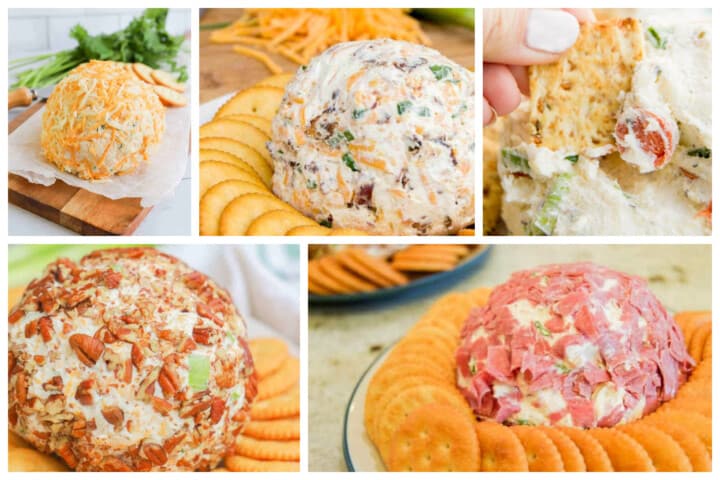 Pepper Jack Cheese Ball - A zesty take on a classic. This pepper jack cheese ball has a squeeze of lime along with cilantro and pepper jack cheese.
Cheddar Ranch Cheese Ball - This cheese ball is a classic and the one that we serve the most. It's so easy to make and has so much flavor.
Pepperoni Cheese Ball - If you love pizza then you are going to love this recipe. Pepperoni cheese ball is seasoned with Italian seasoning, sprinkled with mozzarella and finished with mini pepperoni slices.
Classic Cheese Ball - If you want a good classic this cheese ball will do the job. It's just like my mom would make and a tried-and-true recipe.
Chipped Beef Cheese Ball - This recipe comes right from my Mamaw. She made this one for us every Thanksgiving and it's a family favorite.
Make Ahead of Time:
When it comes to cooking for Thanksgiving you want to try and save yourself some stress and make a few things the day before. Cheese balls are perfect for making the day before. Just prepare according to the directions then wrap with plastic wrap or place in an airtight container to stay in the fridge overnight.
If you are making a cheese ball and added nuts to the outside, I would wait on them until the next day. This they don't lose their crunch and become soggy overnight.
Meatball Recipes:
I love these recipes because they are all so simple to make. Just toss them into the slow cooker and let it do the work while you get other dishes ready for the day.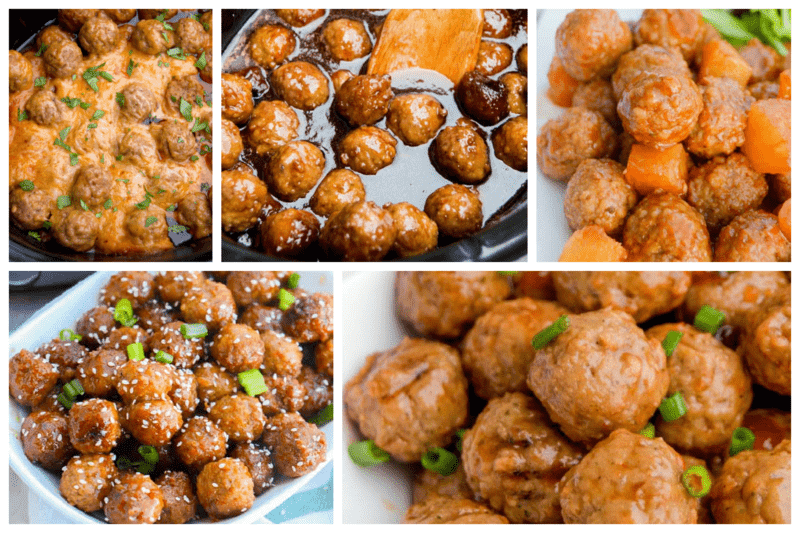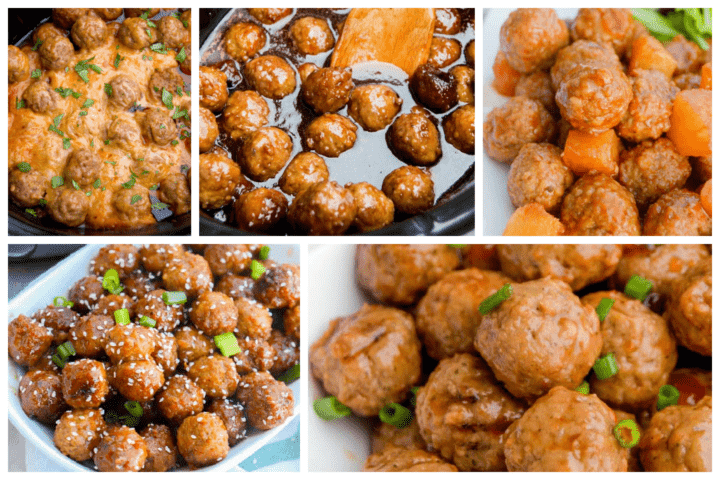 Enchilada Meatballs - Swimming in Enchilada sauce and topped with cheese. These Enchilada meatballs are a real crowd pleaser.
3-Ingredient Meatballs - BBQ Sauce and grape jelly is all you need to make the sauce for these incredible meatballs. Dump it int the slow cooker with your meatballs and in a few hours, you have a crowd-pleasing appetizers waiting for you.
Pineapple BBQ Meatballs - Four simple ingredients into the slow cooker to make these sweet and tangy pineapple bbq meatballs.
Asian Meatballs - with signature Asian inspired ingredients like soy sauce, honey, and ginger these Asian meatballs are delicious to eat and easy to make.
Cranberry BBQ Meatballs - Six simple ingredients make up this appetizer. I love the cranberry flavors of this one for Thanksgiving.
Do the Meatballs need to be thawed before cooking? Nope! All these recipes are made in the slow cooker, and you should add the frozen meatballs right from the freezer to the slow cooker.
Can I home make meatballs? Of course! You can definitely homemake your favorite meatball recipe, but you want to make sure they are frozen. This way you don't all stick together, and you end up with meatloaf instead.
Warm Dips:
Warm dips are easily my favorite appetizers. I was trying t narrow down my favorites and it was just too difficult; they are all my favorite 😂
All of these dip recipes are really easy to make and super delicious!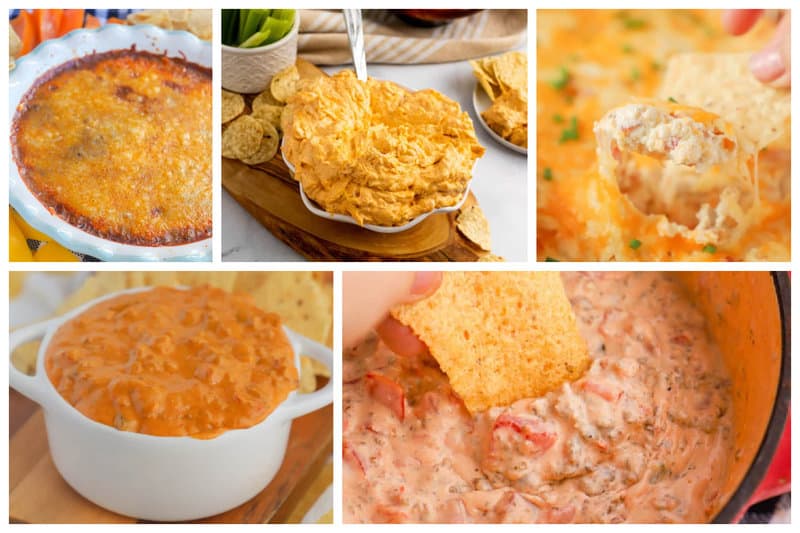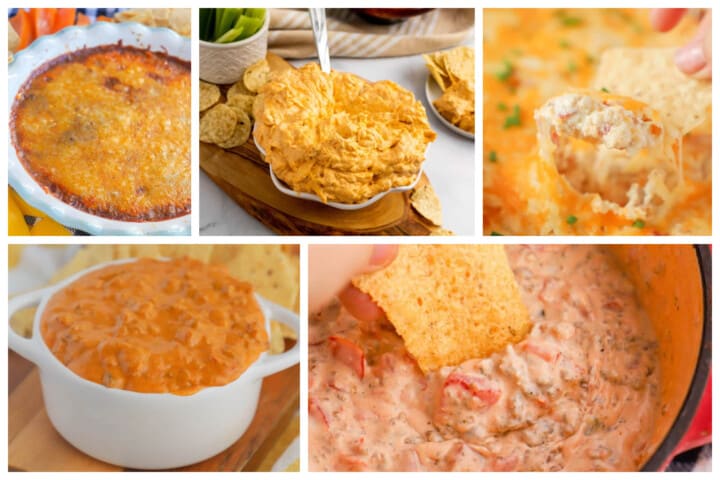 Chili Cheese Dip - This recipe is three ingredients only served with chips and a classic where I am from. I grew up right outside Cincinnati and skyline chili has always been a favorite. You can use it, or any can chili you enjoy for this recipe.
Buffalo Chicken Dip - Buffalo chicken is one of my favorite foods! I love this recipe and have been making it for years. I feel like I finally perfected it and can't wait for you to try it out.
Crack Chicken Dip - You will be able to stop eating this crack chicken dip! It's so cheesy and creamy and loaded with flavor.
Cheesy Salsa Dip - Growing up we had this recipe as an appetizer every year. My aunt made it, and it has become a family favorite that I continue to make each year.
Sausage Cream Cheese Dip - Another really easy to make dip recipe. This sausage cream cheese dip is definitely my all-time favorite dip recipe.
Cold Dips:
If you don't want to worry about cooking and keeping warm an appetizer, try these simple cold dip recipes instead.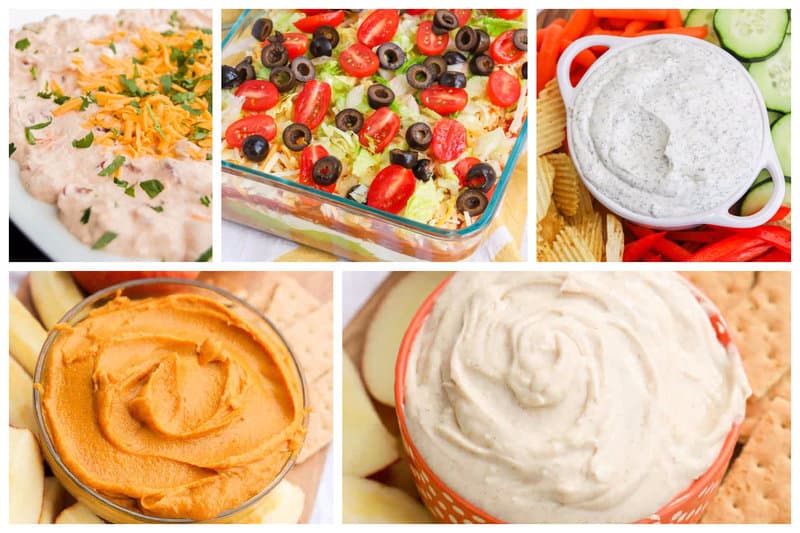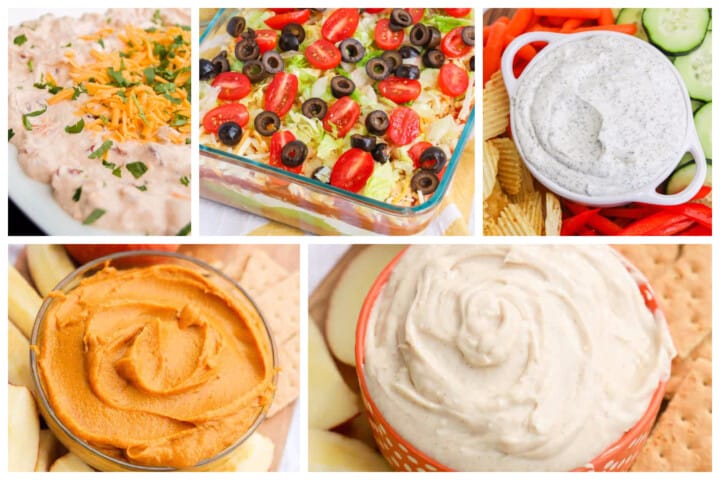 Fiesta Taco Dip - This recipe is is simple to mix up and is best served with tortilla chips or sliced bell peppers.
7-Layer Dip - Layers on layers of flavor! This easy 7-layer dip is piled high with my favorite things. We love serving it with tortilla chips and is best served right after you make it.
Dill Dip - This recipe is perfect to serve with potato chips, sliced raw veggies, and even pieces of bread.
Peanut Butter Pumpkin Pie Dip - I love serving this recipe with sliced apples and it has the perfect fall flavors for Thanksgiving.
Snickerdoodle Dip - This sweet dip is perfect served with apples or graham crackers.
Slow Cooker:
If you want something really easy to put together let your slow cooker do the work. These easy appetizers are all made in the slow cooker and taste so amazing!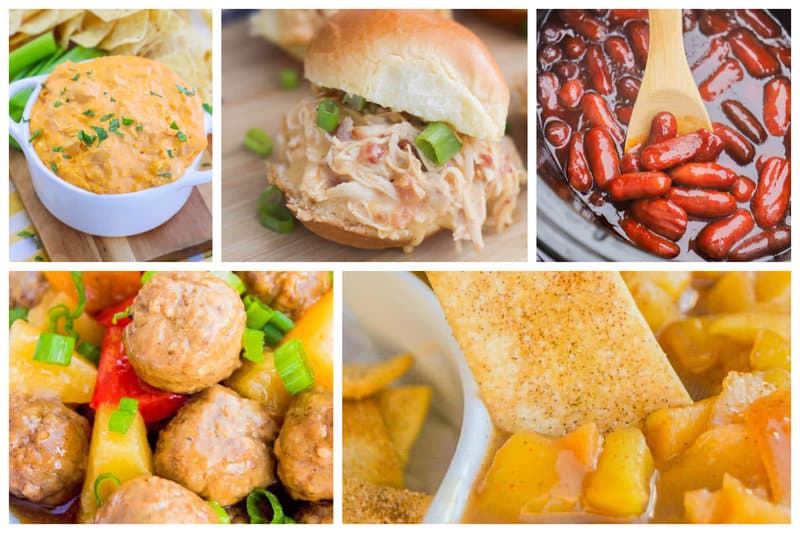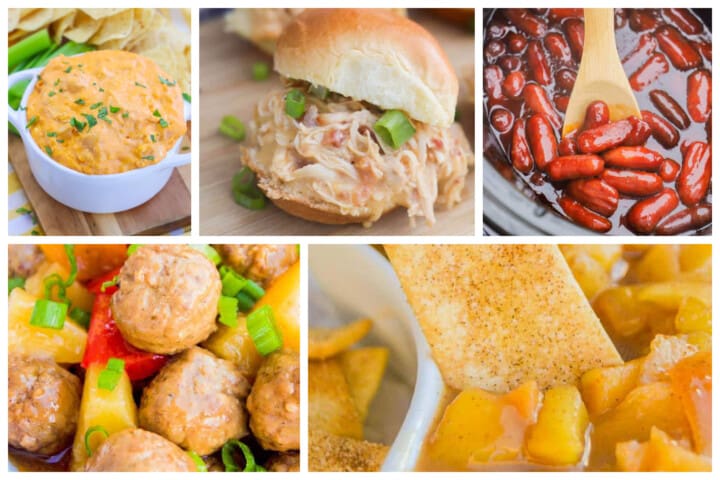 Slow Cooker Buffalo Chicken Dip - Buffalo chicken dip has always been a favorite of mine and making it in the slow cooker has been a game changer for me!
Slow Cooker Chicken Bacon Ranch Sliders - Sliders can make a great appetizer when you are waiting a while for dinner to be ready. These sliders are so good!
Slow Cooker Little Smokies - Little smokies are a classic appetizer recipe. These are made in the slow cooker and perfect to serve to guest.
Slow Cooker Sweet and Sour Meatballs - I really love meatball recipes and this one is a favorite of mine. It's made with frozen meatballs and sweet pineapples.
Slow Cooker Apple Pie Dip - Apple pie does not have to be just for dessert! This Apple pie dip is slow cooker and perfect served with homemade pie crust dippers.
If you tried any of my recipes, I would love to hear from you, leave me a comment below. You can also connect with me on FACEBOOK, INSTAGRAM, and PINTEREST. I would love for you to follow along and discover more amazing recipes.
Show me what you are making, use hashtag #TDOARH