Casseroles are the ultimate family friendly recipe. From breakfast to dinner these casserole recipes are loved by the entire family. This Roundup features some of my favorite casserole recipes on the blog!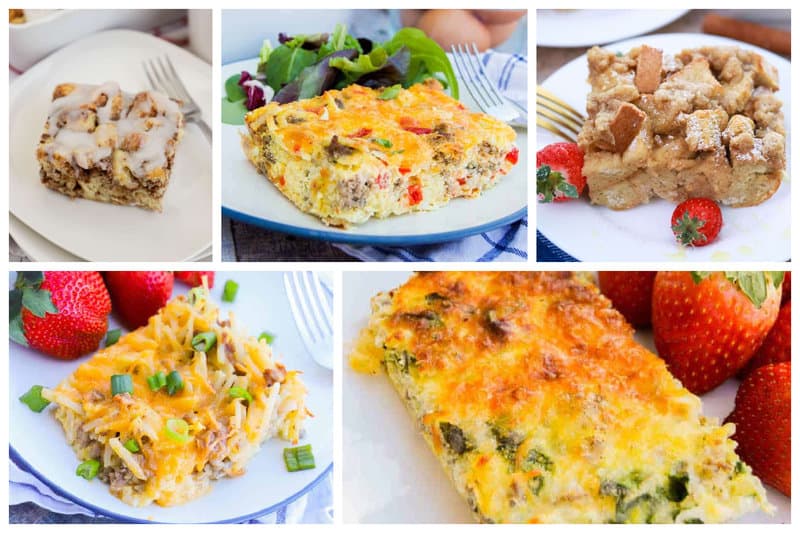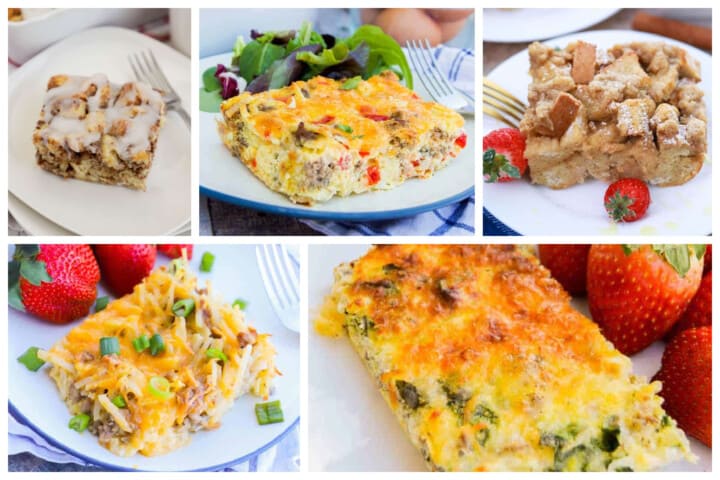 Breakfast Casseroles:
Savory and sweet, these breakfast casseroles are simple to mix up and bake. You can even make some of these the night before and just bake them in the morning. almost all of my casserole on my site can be made ahead of time.
Cinnamon Roll Breakfast Casserole - I love a good, sweet treat for breakfast! This one is so easy to make and tastes delicious!
The Best Breakfast Casserole - Shredded hashbrowns, sausage, onion, and peppers come together to make the BEST breakfast casserole!
Three Cheese Low Carb Breakfast Casserole - Full of flavor but low on carbs, this casserole is amazing! You'll love the combination of the eggs, spinach, and a delicious three cheese blend!
French Toast Casserole - It tastes even better than it looks! It's your favorite breakfast in the form of a casserole.
Breakfast Casserole - This simple and classic casserole is easy to make and tastes great! You can prepare the night before and bake in the morning!
Breakfast Casserole Tips:
Prepare the night before: Breakfast casseroles are great to make the night before to save you some time. Any of your egg base casseroles can all be mixed up, covered, and placed in the fridge overnight than bake it in the morning.
Change it up: These casseroles are so simple to change up to fit your taste. Switch out bacon for ground sausage or add in more veggies or cheese to your savory casserole recipes.
Here are a few things we like to add to our savory casserole dishes.
 Add more or different meat like, cooked ground sausage, cooked and crumbled bacon or diced ham.
Diced bell peppers
Diced onions
Mushrooms
Spinach
Cheese, you can add any shredded cheese you like, from pepper jack too cheddar.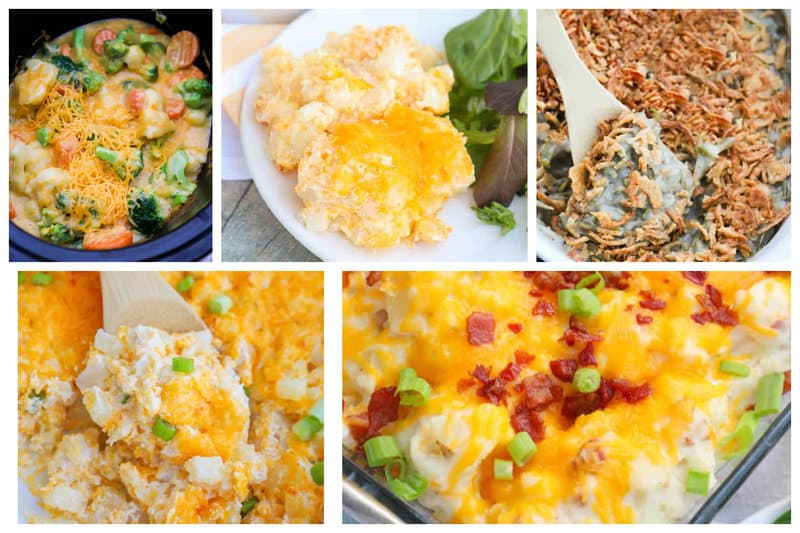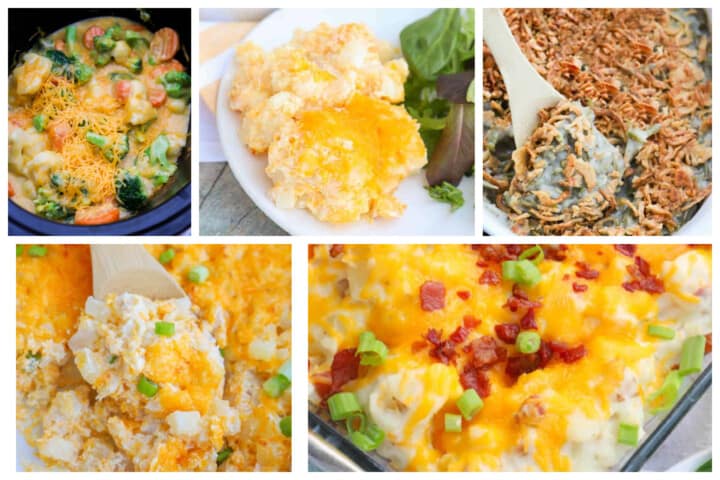 Side Dish Casseroles
:
Don't let the main dish steal the show, these side dishes are some of my favorite casserole recipes.
Cheesy Ranch Potato Casserole - I love a good side dish that pairs well with any dinner recipe! This is packed with ranch flavoring and covered in melted cheese!
Loaded Baked Potato Casserole - This is one of my favorite side dish recipes. It's loaded with flavor and topped with bacon and melted cheese!
Slow Cooker Cheesy Vegetable Casserole - Not only does this cheesy casserole taste amazing, but it's also incredibly easy to prepare. Dump in the slow cooker and walk away!
Green Bean Casserole - This is the perfect side dish with just three ingredients plus some seasonings!
Cheesy Potato Casserole - This is so good, I had to limit making this dish for special occasions so I wouldn't eat the entire thing by myself!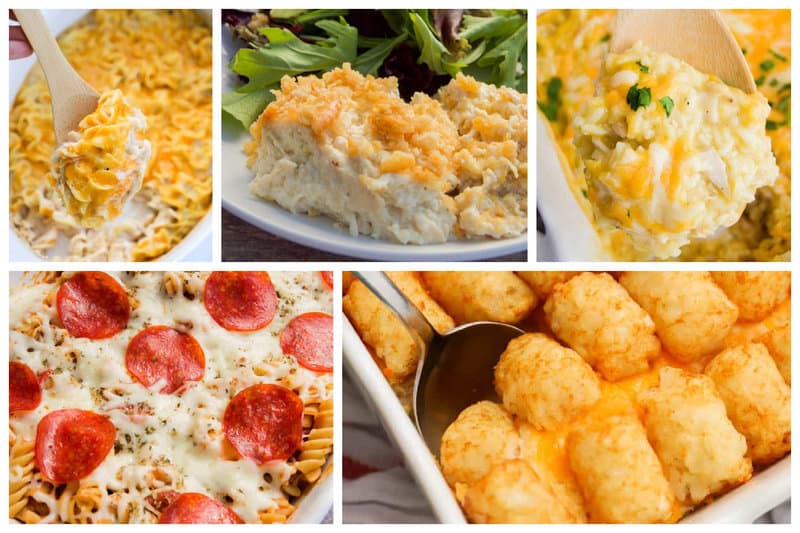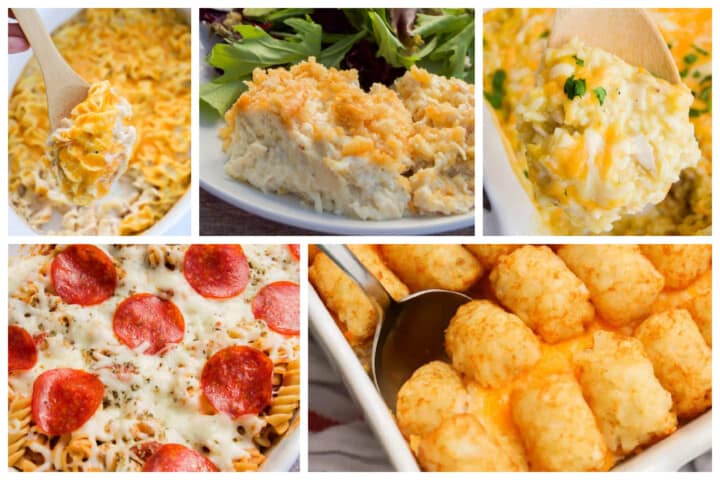 Main Dish Casseroles:
Chicken and Rice Casserole - Baked in 15 minutes with a few ingredients, you'll want to serve this cheesy and creamy casserole to everyone you know!
Ritz Cracker Chicken Casserole - This family favorite casserole includes delicious shredded seasoned chicken underneath a pile of crushed Ritz Crackers! 
Tuna Casserole - Your family will love this dish, my kids even asked for seconds! It's perfect with egg noodles, tuna, seasonings, all coated with cheese!
Pepperoni Pizza Casserole - You'll love this just as much as the kids! 5 ingredients and 30 minutes later, your taste buds will thank you!
Buffalo Chicken Tater Tot Casserole - Upgrade the classic tater tot casserole by adding a kick of buffalo flavor!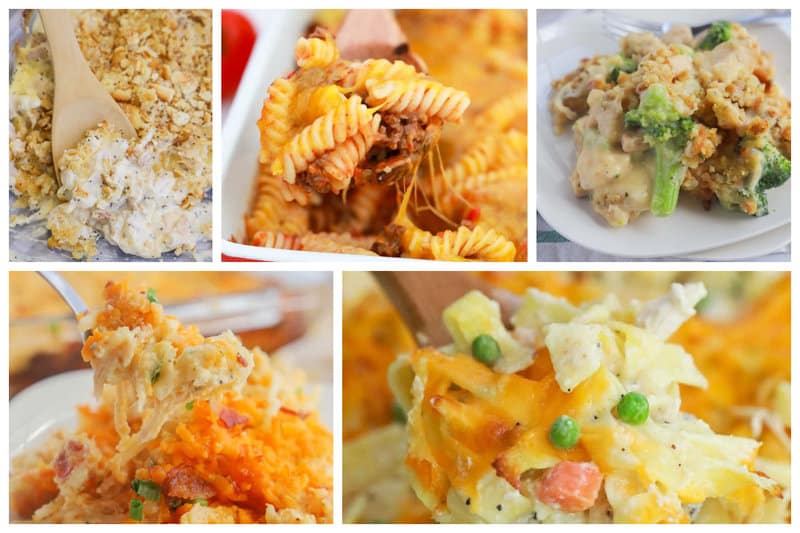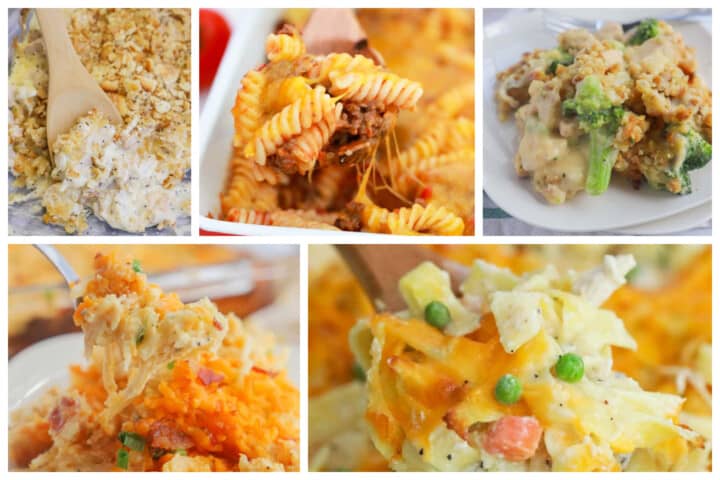 Poppy Seed Chicken Casserole - This Poppy Seed Chicken Casserole recipe is the perfect dinner to make for the family.
Cheeseburger Casserole - A classic dinner recipe that your family will be asking for again and again!
Chicken Stuffing Casserole - This hearty recipe features tasty chicken, buttery stuffing, and creamy chicken soup. My entire family loves the recipe and they always ask for seconds.
Crack Chicken Casserole - This Crack Chicken Casserole is made with shredded hashbrown potatoes, bacon, and ranch seasoning. It's a favorite with my family and a recipe you are sure to love.
Chicken Noodle Casserole - Chicken noodles are the perfect comfort food. This Chicken Noodle Casserole is a so creamy and delicious, one of the family's favorite dinners.
Casserole Freezer Tips:
Casseroles can be a great recipe to freeze and serve for dinner at another time. Here are a few tips on how to best freeze your casseroles.
Label it: Make sure to label what you are freezing and add the date and cooking directions.
Thaw before baking: Usually I will place what I am going to bake into the fridge the day before. This way it has time to thaw in the fridge overnight before I bake and serve it.
Skip the heavy-dairy dishes: Serve your casseroles loaded with dairy (such as sour cream and cottage cheese) right away instead of freezing since these items don't freeze well.
If you tried any of my recipes, I would love to hear from you, leave me a comment below. You can also connect with me on FACEBOOK, INSTAGRAM, and PINTEREST. I would love for you to follow along and discover more amazing recipes.
Show me what you are making, use hashtag #TDOARH